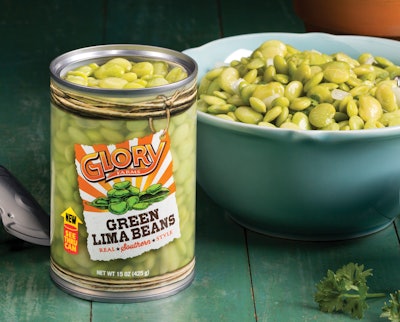 For many years now the idea of a clear retortable plastic can suitable for a wide variety of food applications processed in continuous rotary equipment has been nothing short of the holy grail where the packaging community is concerned. A few such cans have managed to make it to store shelves, but it's safe to say that for the most part, clear retortable plastic cans have been slow to take hold.
That may change with the launch late last year of seven bean varieties under the Glory Farms brand from Effingham, SC-based McCall Farms. The beans are in a clear, three-piece, five-layer coextruded can. Steel top and steel bottom are seamed on and then induction-sealed for good measure.
The launch is significant because it marks the commercial debut of the TruVue® can from Sonoco. That firm's Steve Gendreau, Vice President Sales and Marketing Global Plastics, joined McCall Farms' Marketing Director Annie Ham in a February 8 presentation describing the launch at The Packaging Conference, produced by Plastic Technologies, Inc. and SBA-CCI, Inc.
Differentiation on the store shelf is the key attraction that this container holds for McCall Farms, says Marketing Director Ham. "We saw this innovation as an opportunity to differentiate ourselves on the canned vegetable aisle with a new transparent package that gives the consumer the cues of freshness and superior quality that they can see. In addition, we received input from several area retailers that they would be interested in testing this new package."
It certainly helped, she adds, that Sonoco, a $5 billion global packaging company and innovation leader, was just a few miles down the road in Hartsville, SC. "Given their headquarters location and our long-standing relationship with them, they were the ideal partner for this project," says Ham.
Drop-in replacement
McCall was also drawn to this container because it's pretty much a drop-in replacement for the traditional steel can. In fact, McCall runs it on a line that is also used for metal cans. The line is anchored by a 42-pocket Zacmi filler and 60L PneumaticScaleAngelus seamer. The plastic container can be retorted at 267 degrees F, it offers a shelf life of 2+ years, and, just like its steel counterpart, it can be filled and seamed at 500 cans/min. Suggested retail price for the 15-oz can from McCall Farms is $1.49.
Early in the evaluation process, McCall Farms worked with AcuPoll Research on an on-line survey to see what consumers thought of the clear can. Encouraged by the results, they moved to an in-depth qualitative study with 55 consumers at Sonoco's IPS studios in Hartsville. The response from consumers was "overwhelmingly positive," says Ham, "particularly when we showed them light-colored products such as garbanzo beans where it was most obvious to them that the can was clear."
Armed with such quantitative and qualitative research, McCall Farms proceeded to launch seven bean varieties in Q4 last year in Harris Teeter and Ingles supermarkets. First, however, they had to come up with a new brand, Glory Farms, under which the plastic can could fly. Since the transparent can was aimed at pleasing a new target audience, one that is looking for a healthful, easy-to-use alternative to fresh, the firm felt that a new brand was in order, one that would appeal to this new customer base.
"We are encouraged by the initial results that we are seeing on shelf, we're actively testing new and different types of products for the TruVue can, and we are committed to our plans to grow the Glory Farms brand," says Ham.
Equally bullish on the can is Tom Outlaw, Vice President of Procurement for Ingles Markets. "Glory Farms' new clear can brings much-needed excitement to the canned vegetables aisle of the store," says Outlaw. "There's a lot of packaging innovation on the perimeter of the grocery store but nothing new in canned goods. McCall Farms' commitment to packaging innovation is a big plus for the category."
Body is coextruded
So how exactly is the TruVue can manufactured and how does it differ from others of its ilk? First of all, the can body isn't injection molded, blow molded, or thermoformed. At Sonoco's pilot plant in Hartsville, it's made by first coextruding a five-layer tube in a long horizontal orientation. The tube consists of PP/tie layer/EVOH/tie/PP. "The materials themselves are not unique, but the way in which we process and handle them is," says Sonoco Director of Corporate Communications Brian Risinger. "We produce a continuous tube, we cool it, and then we cut it into individual units that subsequently have 300 diameter easy-open steel ends applied on top."
When asked how difficult it was to come up with this continuous coextrusion approach to making can bodies, Risinger says it was one of the more challenging parts of this whole process. But it was helpful that Sonoco was able to piggyback on some of its own legacy technology in the adhesives and sealants cartridge business.
"Tubes and cores have to be cut," says Risinger, "and we know a thing or two about how to do it, whether it's spiral-wound paper or coextruded plastic. On approaching the clear plastic can, we were able to leverage some of our own existing and well proven technology. It was certainly helpful to have an existing platform and a knowledge base to build on."
As for the steel can ends, they're pretty special, too. The coils of steel from which they're converted have a polypropylene film laminated to them. Sonoco produces the ends in its Henderson, KY, facility in a manner similar to that used everywhere else in the world. The bottom ends are then sent to McCall Farms for application to filled cans. But the easy-open top ends go to Sonoco so they can be applied to the plastic can bodies using seaming technology that is relatively conventional. Decidedly unconventional, however, is that after seaming, the cans go through an induction sealing process, which explains why the ends have the PP laminated to them in the first place. This layer of plastic becomes a second means by which the end is affixed to the can body. "It creates a really tight, bonded seal throughout the entire seam area," says Risinger. The very same induction sealing step is made on McCall Farms' canning line after the bottom ends have been seamed on. According to Sonoco, "a partnership with Enercon, a leading induction sealing company, helped develop our proprietary sealing process."
This FUSION Fresh Lock Technology® is what really sets Sonoco's three-piece container apart from plastic retortable cans developed by others. Milacron's co-injection-molded Klear Can®™, for example, is a two-piece approach where only the metal top is being seamed on. And when that top is seamed on, that's it. There's no induction sealing going on at all. Similarly, the Straight Wall Can from Silgan, made by a process Silgan calls "exclusive rotary thermoforming technology," has one double-seamed end and no induction sealing.
Numerous advantages
Among the reasons Sonoco believes that TruVue has a bright future is that, with the exception of the induction sealing station that needs to be added just downstream from the seaming equipment, it runs on existing and, in most cases, fully depreciated equipment assets. Risinger, who says the container has been granted four U.S. patents, also points to these advantages:
• The heat transfer rate through the top and bottom metal ends during retorting offers improvement over two-piece plastic containers having just one metal end, thus reducing required cook-cycling times compared to those required by two-piece plastic offerings. "The can's metal ends allow for good rolling action through the continuous cooker, providing a uniform heating performance throughout the retort process," says Risinger.
• The flangeless body makes it easier for brand owners like McCall Farms to double seam the can ends than when a flanged plastic body is involved.
• With two metal ends in the picture, the container has additional strength that helps it maintain is shape throughout the retort process. By comparison, a two-piece plastic container can be subject to bottom deformation, which makes it more difficult to manage throughout the high-pressure, high-temperature retort process.
• TruVue weighs 12.5% less than a two-piece steel can and 18.5% less than a three-piece steel can.
• The use of a continuous multilayer extrusion process produces a straight-walled cylinder, delivering wall thickness uniformity, barrier consistency, high output, and low to no scrap in the can-making process.
One remaining piece of the Glory Farms container that should be explored is the label, which carries two key messages about the package. One is on the front: NEW See Thru Can." The other is on the back: "Non-BPA Lining."
Supplied by Smyth Companies, the label is a 57-micron clear PP printed offset in six colors plus white. Since this can is all about transparency, a paper label was obviously out of the question, and yet it was cut and stacked paper labels that McCall's roll-through labelers, from Bear Label Machines, were accustomed to applying to the millions of cans McCall produces each year. Using a Bear MODEL XS-1250 to apply clear film labels to a plastic can had never been done before. "Smyth had to develop a special coating to get the necessary coefficient of friction," says Ham.
The other issue that had to be addressed was adhesive application. Ordinarily the Bear roll-through labeler relies on cold glue. On paper that works fine, but with a label made of PP, the cold glue adhesive just doesn't set up properly, certainly not at 500 cans/min. With input from Roy Cook, Label Line Manager at McCall Farms, Valco Melton replaced its cold-glue applicator on the Bear XS-1250 with its hot-melt EcoStitch™ dotting guns. Because they are electronically controlled, they apply less adhesive and they apply it much more precisely than the pneumatically controlled hot melt applicators most commonly found on roll-through labelers. So with EcoStitch in place, the Bear labelers apply either paper or PP labels without a hitch.
Observers all agree that the McCall Farms launch will be interesting to watch. One thing that's bound to surface are questions about sustainable packaging. Risinger says that the can's lighter weight compared to steel allows it to score positive carbon footprint points because less fuel is consumed in distribution. As for recyclability, he points out that independently, the steel ends are recyclable, and the can body could be burned off for energy capture; but he acknowledges that few recycling centers are equipped to separate the materials. (See this article for a look at pyrolysis, a promising new kid on the recycling block that substitutes "chemical" recycling for "mechanical" recycling.)
Ultimately, says Risinger, it comes down to this: "We aren't the only innovative new format whose status from a recyclability standpoint is complicated. In trials done at our company owned recycling centers we've shown promise with the TruVue can being collected with metal cans magnets and then burned off as fuel. We're working on it.
Companies in this article