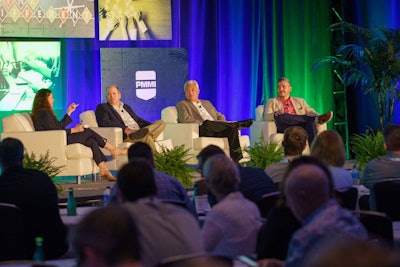 At PMMIs' Executive Leadership Conference last week in Palm Springs, a panel of packaging experts from three consumer packaged goods (CPG) companies spoke candidly about workforce challenges, obstacles in automation projects and the need to improve business relationships with OEMs.
The panel included Josh Becker, senior manager of packaging systems for The Hershey Company; Brett Butler, vice president, Santa Fe Springs Operation at Bumble Bee Seafoods; and Shawn French, director of packaging performance and technology for Danone North America. The conversation started with a question about the workforce crisis and how the companies' experiences have impacted their approach to the problem.
All three panelists agreed that the greatest challenge right now is how to find — and keep — people with the right skillset, as there is so much competition inside and outside of the manufacturing industry.
"The top two challenges we face in our Santa Fe Springs plant is [finding the people] for the trade jobs and retaining the employees," said Bumble Bee's Butler. "The state of California is aggressive with minimum wage increases, and we have municipalities around us that are increasing their wages to steal the talent."
As a result, Bumble Bee is experimenting with ways to elevate employee interest in the company. "I have to emphasize the importance of engagement….Keep what you have and make it better, that's the approach we are taking. We are finding that there's talent within," he said, noting the company recently hired an outside consultant group to help implement a program that establishes new ways to increase employee commitment.
Hershey's Becker has a similar approach, but adds it's important to think holistically when hiring."When I look at hiring into the packaging systems group, I would always love to hire the best at packaging systems and equipment but you can't do that. You want to hire someone who is capable of doing more in two to three years…So l try to hire someone who can offer the Hershey Company different roles throughout their career."
To automate or not
Of course, the CPGs are always interested in how automation can help solve workforce and productivity issues on the plant floor, but some of the early trials have either missed the mark or were too narrow in focus.
At Danone, for example, the packaging machines require that materials are loaded into them, and that's a job that falls to an operator. But 12-hour shifts are challenging for an aging workforce, so Danone turned to collaborative robots [cobots] to help alleviate the manual labor.
"Unfortunately, we've not been terribly successful," said French. "At the end of the line we have industrial robots moving pallets. We've done that for the last decade and we are good at it. But with the lighter duty applications, what we've learned is that they are less expensive, but they are not any less complex."
So while French and team have amassed much knowledge from the first few cobot deployments, "We haven't executed one that has given us the benefit we wanted," he said. "We are not walking away from it, we are continuing to go at it, but it's been difficult."
Butler, too, said that Bumble Bee has not done a lot with automation on the canning and packaging lines to date because the company could not calculate a successful payback or ROI on the technology. Butler says he's heard the automation success stories, but he needs someone to interpret how this can be done at a tuna canning manufacturing plant which is mainly manual and mechanical. This is where machine builders can help.
"I'd love to have an OEM expert on automation come to my facility, sit down and discuss the opportunities," Butler said.
The possibility of new partnerships
There's a learning curve associated with automation, and CPGs are looking to OEMs to act not just as an equipment provider, but as a trusted partner.
"It's not just about buying a piece of equipment and that's the end of it, but developing the solution together," said Hershey's Becker. "It shouldn't be the initial sales visit, and then we're great until the [factory acceptance test]. It's all along the time of the development to talk through how this piece of equipment will best operate for me."
For example, with the workforce changing, Hershey relies on the human machine interface (HMI) to behave "as the voice of that piece of equipment," feeding information to the operator. But the HMI shouldn't be an obstacle. "I don't want a machine to come in and then have to have 12 software revisions to make it what we want after it's installed. I'd rather have those conversations along the way," Becker said.
Danone's French added that manufacturers are looking for sustainable solutions that move away from the islands of information and more toward an integrated approach to the packaging lines.
"We call it respect for the operator," French said. "Imagine you have a packaging line with 10 different pieces of equipment and 10 different HMIs, each with a different look and feel and screens. Are we respecting the operator when we do that? When we ask OEMs to modify their systems, it's less about you and more about us. What's going to be a long-term, sustainable solution that is easy for someone to move from one machine to the next and it's easy for them to learn and understand. [Try] more to make it the same. It may be uncomfortable or difficult for you, but it's really what makes us as packaging equipment systems people more successful."
Having system interoperability on the packaging line will be increasingly important as manufacturers embark on Industry 4.0 initiatives that require more digitization to extract information for analysis—which relies on interconnected machines that can talk to each other.
This also requires that OEMs talk to their customers.
Promises, promises
When it comes to customer service, Becker says he doesn't want an OEM to tell him about the latest and greatest machine they have to offer if it doesn't solve his problem. And, pay attention to field service technicians, he added, as they are an extension of the company. So be sure they represent the company values.
Butler says he's bugged by OEMs that don't deliver on what was promised, leaving Bumble Bee stuck with the machine. "That's a battle we are actually going through right now with one OEM," he said. "They are still trying to get it up to spec, and so where do we go from here? It's an ongoing issue. We find ourselves being the guinea pig sometimes, and someone pays the price. Which is why we get hesitant."
French emphasized the need for honest and open communication. "There's lots of conversations about the application and the schedule, but things change. So if you are late let's have that conversation, tell me you're late. Or if you don't have a solution or what you thought it was going to be didn't work out, I'd much rather know as soon as possible so that I can react to it," he said.
He also said, with regard to the field service technicians, that he'd rather have them focus on training and teaching the Danone operators about how they identified the problem and what they did to fix the machine so that the Danone team can figure it out in the future.
"But the biggest opportunity is honest, open communication," French reiterated. "If we are in the middle of startup and I have a problem, I have a problem. If I need your help, I really need help, so don't spend time telling me how it can be fixed and it's not that big of a deal. Let's work together and partner together. We put a line in and everyone is making an investment to get a payback, so when a line is not running as it should be, we are losing money, time and we are shorting the customer….Believe that it's a partnership and help me be successful. We understand a lot of times if it's the first package like this or [first] speed like this, we'll fail, but it's not about how you fail, it's about how you recover."
For some of the OEMs in the audience, it was a frustrating dialogue, as one CEO expressed his concern that CPGs aren't giving machine builders the opportunity to solve the problems they have or to deliver more options that would be applicable. For example, if the manufacturer is interested in remote management technology and services, but it's not being including in the bid specification, then the OEM has no way of knowing that it is something they should be talking about.
"I'm concerned that the traditional mechanism for how you guys bid projects isn't allowing for the industry to give you the solutions that are really available out there," the audience member said. "Is there another way to work to try to get more creative ideas into the organization?"
The consensus was, yes, there needs to be change on both sides of the table, and Butler pointed to the OpX Leadership Network as a good place to start.
"There's so much out there I don't know," Butler acknowledged, admitting he and his colleagues could learn more from the machine builders. "CPGs need to have a broader mind and go through the practices we are learning with OpX to make sure we are picking the right company for the project. I think everyone wants to see the best [of both] worlds."