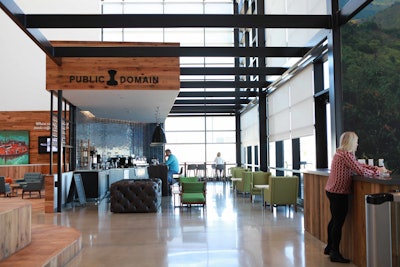 Farmer Brothers is a manufacturer, wholesaler and distributor of coffee products and a distributor of tea and culinary products to foodservice establishments and retailers nationwide. The company sells approximately 2,700 products (excluding private label), including roasted coffee; liquid coffee; coffee-related products, such as coffee filters; sugar and creamers; assorted teas; cappuccino; cocoa; spices; gelatins and puddings; soups; salad dressings; pancake and biscuit mixes; and jellies and preserves. Approximately 50 percent of its total sales are from roasted coffee products.
"Sustainability is really in the DNA of our company," states Daniël Gerritsen, director of engineering and operations strategy for Farmer Brothers. He says one of Farmer Brothers' priorities is to collaborate with its farmers to improve existing processes. In keeping with its planet-friendly credo, the headquarters campus construction incorporated recycled materials, energy-efficient lighting and HVAC, and reflective paving of roof materials to reduce cooling load.
A particular focus in the facility was energy consumption. For example, the manufacturing processes in the roasting plant use new technology to provide high energy efficiency and process intensification that yield substantial energy and cost savings. An automated system controls all of the programming and product selection options for the manufacturing process as well as highly sensitive storage capabilities for the coffee beans to maintain food safety and prevent spoilage. The technologies are unique to the coffee industry and represent a leap forward for Farmer Brothers' manufacturing capabilities.
The company generated net sales of more than $600 million in fiscal 2018 and has approximately 1,500 employees nationwide. Its primary brands include Farmer Brothers, Artisan Collection by Farmer Brothers, Superior, Metropolitan, Cain's, McGarvey, China Mist and Boyds.
To read more about how Farmer Brothers incorporated advanced automation into its new state-of-the-art coffee processing plant, please read "Great from the ground up."
Learn more about how to bring sustainability to your manufacturing plants at PACK EXPO Las Vegas Sept. 23-25 at the Las Vegas Convention Center. Register by Aug. 30 to save 70 percent off the registration fee.