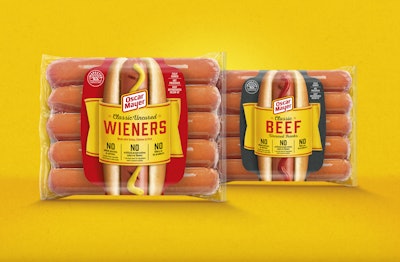 At a time when consumers are more closely questioning product ingredients, the added nitrates, nitrites, artificial preservatives, and byproducts notoriously found in packaged meat products have caused a slump in sales for the category. Addressing consumer concerns, The Kraft Heinz Company has revamped the recipes for its entire line of Oscar Mayer Hot Dogs to include clean, quality ingredients. To coincide with the launch of the new recipes in May 2017, the company enlisted design agency Bulletproof to overhaul its package graphics.
In developing the design platform, Bulletproof did a deep dive into the world of packaged meats as well as mined Oscar Mayer's 125-year history, gathering valuable insights in the process. "By analyzing key hot dog competitors as well as reviewing the category as a whole, we uncovered codes and conventions to help us figure out where Oscar Mayer needed to play within this," says Bulletproof. "The hot dog category visual vernacular is stuck in another era. Overly commercial graphics and overly staged photography present an 80's take on food. We realized we needed to capture the perfect balance of Oscar Mayer authority and modern taste appeal."
Oscar Mayer's history delivered up the ideal asset to convey the hot dog company's category leadership: a yellow paper band. "Going all the way back to the man himself, we found thatOscar Mayer Hot Dogs were originally wrapped in a simple yellow paper band, which soon became a beacon of quality and consistency at a time when the meat industry was untrusted," explains Bulletproof. "Our 'Iconically Oscar' design platform pairs a modernized version of the yellow band with deliciously simple and mouth-watering food photography. The band gracefully enrobes the irresistible hot dog to form our one-of-a-kind design architecture."
To ensure consumers could still find their favorite hot dog varieties, Bulletproof retained the background colors Oscar Mayer had used in their previous package design for each meat (e.g., orange for Cheese Dogs, red for Wieners, black for Beef, etc.) but dialed up the richness to help cue quality.
Says Bulletproof of the effectiveness of the new graphics: "Shoppers and retailers have embraced the new package design, because it boldly delivers the news that every Oscar Mayer Hot Dog has changed for the better."
"Oscar Mayer is the first national brand to renovate its entire line of hot dogs to have no artificial preservatives in its meat, no added nitrates or nitrites, and no byproducts—it's 100 percent of the great taste you love in a hot dog with zero percent of the mystery," says Kraft Heinz Brand Manager Christian Badger. "Bulletproof's iconic design solution perfectly encapsulates this, reaffirming the brand's position as market leader while ensuring Oscar Mayer Hot Dogs are the clear choice for many years to come."
Companies in this article