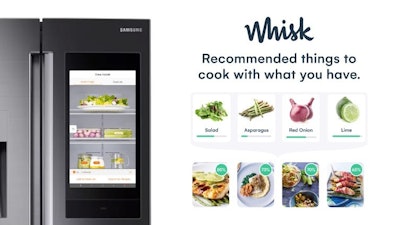 Whisk, a smart food platform acquired by Samsung NEXT last year, unveiled its Food AI (artificial intelligence) developed in a collaboration with nutritionists, food scientists, software engineers and grocery retailers from the US, UK, Korea and Europe.
Food AI brings together user preferences, intent and context to deliver personalized cooking experiences. Users can save their favorite recipes in Whisk's recipe box and share personal food preferences (e.g. likes, dietary restrictions, usual retailers) and their location. Users then receive personalized food recommendations based on their preferences, saved recipes and other context (e.g. local weather, seasonal goods).
The personalized cooking experience shown this week at CES 2020 was created by the combination of Food AI and the new Samsung Family Hub with the ViewInside camera, where AI-powered image recognition is used to first understand what's inside the fridge. Then, the fridge recommends a curated feed of recipes that incorporate the ingredients you already have with your preferences, desires and situational needs.
The technology goes beyond the individual cooking experience to help families make smarter food decisions, according to Whisk. "In the US, an average person wastes 238 pounds of food per year – that's a staggering 21 percent of the food they buy. Wasted ingredients also costs the average US household $1,800 per year," said Nick Holzherr, head of product, Whisk at Samsung NEXT.
Last month, Whisk launched its first set of multi-platform apps to give users with a faster way to plan and shop for meals by turning saved recipes into collaborative, smarter shopping lists. Learn more here.