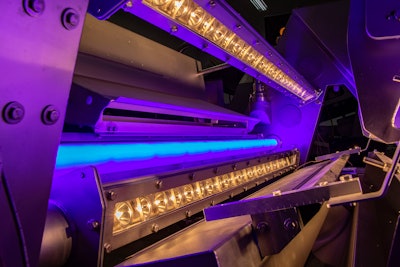 Key Technology, a member of the Duravant family of operating companies, introduced the first VERYX BioPrint digital sorter at PACK EXPO Connects. As the only sorter that combines near infrared (NIR) hyperspectral detection with color cameras, VERYX BioPrint analyzes a richer set of data about the materials it is sorting to improve detection performance and maximize process yield.
The VERYX BioPrint C140 sorter for nuts removes shells, foreign material (FM), and product defects, as well as shape sorts and color grades to maximize product quality, while virtually eliminating false rejects. It can be equipped with front- and rear-mounted hyperspectral imaging sensors for all-sided inspection of each object in the product stream. It can also be configured with color cameras and Key's new Bio Fusion detection technology, which fuses information from both sensor types to identify and remove a wide range of foreign materials and defects from the product stream.
The accuracy of the BioPrint detection system uses VERYX's high-resolution ejection system, which features minimal spacing between air nozzles to better target objects identified for removal without inadvertently sorting out good product.
According to Marco Azzaretti, director of marketing at Key Technology, the BioPrint inspection technology uses hyperspectral imaging and powerful software to create a unique digital fingerprint for every type of substance that goes through the food processing line. "It enables our VERYX digital sorter to see and remove more foreign materials and product defects and, as a chemometric inspection system, can even detect internal product conditions and the chemical characteristics of foods," he states.
Going forward, Key Technology plans to develop VERYX BioPrint sorters for other applications where chemometric detection offers unique performance and customer value.
"As it continues to develop, chemometric inspection technology enables a digital sorter to know more and more about every object in the product stream," says Azzaretti. "Greater detection accuracy helps deliver a safer, higher-quality product, while simultaneously ensuring a more efficient sort process to maximize yield. What's especially exciting is the ability to leverage chemometric inspection to profile internal properties and even the taste profile of foods by sorting product batches based on sugars, solids content, and other chemical attributes."
For example, the VERYX BioPrint C140 sorter can help processors of Spanish-style almonds detect individual so-called "bitter almonds."
Visit Key Technology's PACK EXPO Connects virtual showroom to learn more and watch product live demos here.
Companies in this article
Videos from Key Technology, Inc.