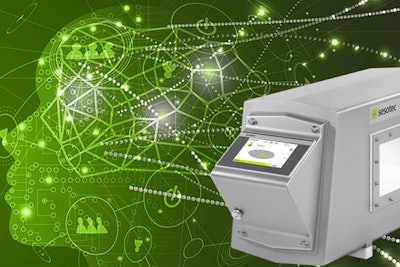 THiNK, a new artificial intelligence tool integrated on Sesotec metal detectors, is designed to help food processors produce safe food, comply with food safety guidelines and regulations, reduce waste, and protect their consumers and brands. The tool can virtually eliminate the influence of product defects and provides accurate detection of metal parts, with fewer false rejects.
"We're using artificial intelligence in metal detection to detect smaller contaminants than before," states Christian Stadler, group director of marketing at Sesotec. "This allows for higher food safety."
According to Sesotec's live demo at PACK EXPO Connects, it's difficult to detect metallic contamination in a product if the packaging contains metal or metallic film. THiNK technology has the advantage of working well with metalized packaging.
To learn more about this technology and to view the THiNK demo, visit Sesotec's virtual showroom on PACK EXPO Connects here.
PACK EXPO Connects Reports Record Numbers
At a time when a global pandemic constrains the world, PACK EXPO Connects is bringing the industry together in record numbers this week, with over 17,000 attendees as of Wednesday and more registering every day. Over 700 committed exhibitors are driving the event, taking advantage of every aspect of a completely new interactive platform.
Companies in this article