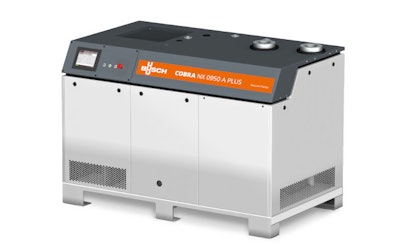 The Busch Vacuum Solutions COBRA NX 0950 A PLUS is the second vacuum pump in the company's new PLUS series. It is a dry, oil-free vacuum pump, which can run with pressure control or at a constant rotational speed, making it energy efficient. The COBRA PLUS maintains desired pumping speed at a prescribed rotational speed. It can also sustain the required vacuum level, regardless of how the process conditions change.
Using a variable speed drive, the screw vacuum pump covers a pumping speed range from 200 to 950 cubic meters per hour and reaches an ultimate pressure of 0.01 millibar. Operating data is constantly recorded and saved. This data can be accessed directly on the built-in display or transferred via a Modbus TCP/IP client/server protocol. As a result, the vacuum pump can also be controlled remotely from a PC.
Learn more about Busch Vacuum Solutions in the company's virtual showroom at PACK EXPO Connect here.
PACK EXPO Connects Records Record Numbers
At a time when a global pandemic constrains the world, PACK EXPO Connects is bringing the industry together in record numbers this week with over 17,000 attendees as of Wednesday and more registering every day. Over 700 committed exhibitors are driving the event, taking advantage of every aspect of a completely new interactive platform.
Companies in this article