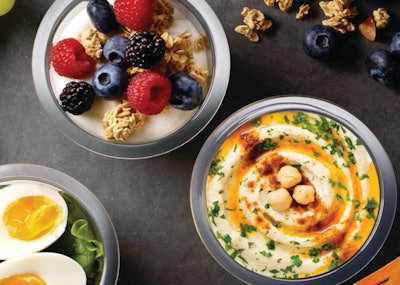 NOTE: Materials wasn't the only area of interest at PACK EXPO. Click the links that follow to read more about innovations in:

Pharma Robotics Controls Machinery
The Association of Plastics Recyclers (APR) wants to ensure the health and economic success of the plastics recycling industry by providing critical guidance. The challenges of flexible packaging are pushing new innovations, and a number of these were touched on during a PACK EXPO Connects Innovation Stage presentation. During that presentation, Sandi Childs, Director of Film and Flexible Programs at APR , had this to say: "The entire supply chain has to work together to increase the supply of plastics available to be recycled, enhance the quality of the material that's expected to go back into the marketplace, and ensure that there's adequate demand for products made from recycled plastics."
Childs also said that "a package doesn't have to be ugly or brown in order to be 'green.' It can still be sexy and functional and lots of fun." To that end the APR has created the APR Design Guide for Plastics Recyclability.
Recyclability is more than just resin numbers, and includes factors such as the polymer, the closure, the label, any inks that are directly printed, barrier layers, or other materials incorporated for product protection. Said Childs, "All of these features can interact with each other and can combine with the polymer to have a fairly significant effect on the recycling process."
The APR has a recyclable classification program, which is met when all of the different features of a package are compatible with recycling, or, in the language of APR, "preferred." These preferred features, according to Childs, include "standard workhorse additives; fully compatible; direct printing is preferred over labels. If a label is going to be used, it should be a polyethylene-compatible label. And for the widest range of end uses, the color should be a light color, a buff or a white color, for putting the material into more uses."
With flexible packaging, said Childs, recycling compatibility can be a significant challenge because the entire recycling system for these materials is different than it is for rigid containers. There are also challenges in the collection channel, which is based on a store drop-off system, as opposed to a curbside system. Some of the recyclers use washing, some of them don't, and there is no way to tell when a package might go to a recycler that uses a washing system or not.
Childs said another end-use question is that of circularity. "Can we design a system where a flexible package is recycled directly into another flexible package? I know there's a lot of work going on in that area right now, and it's becoming more and more top of mind to get that done," she said.
PVC, PVDC, metal foils, and thick metal labels have a significant negative impact on recyclability, for both sorting and mill filtration. These detrimental features, however, are motivating a lot of innovation. Said Childs, "The metalized layers are getting thinner and thinner, and the metal detectors in the recycling facilities are being modified to not be so much of an issue. Darker colors are called detrimental, but there's also beginning to be a recognition in the industry that those dark colored materials can absorb more post-consumer recycled material."
There are many other materials and technologies that are used in flexible packaging that we don't have guidance for yet. Childs said there is currently an APR work group working on nylon and EVOH, and different compatibilizers.
Childs was also joined by Rebecca Mick, PhD, Technical Sustainability Lead at Amcor Flexibles North America. Amcor has been active in testing and developing guidance and has received acknowledgement for sustainable design from APR. Mick said Amcor's AmPrima PE Plus received APR's Responsible Innovation Acknowledgement, recognized as a groundbreaking package that doesn't impede mechanical recycling. The How2Recycle label also granted AmPrima PE Plus a prequalification for its store drop-off label for a variety of barrier and non-barrier specs, which allows Amcor's customers to avoid having to test these films to get the store drop off label.
The next step, said Mick, will be to test the film against the newly released APR critical guidance protocol to prove that it is suitable for truly circular film to film recycling.
To see this Innovation Stage presentation in its entirety (available through March 31, 2021), go to pwgo.to/5843.
Dairy and yogurt focus
Klöckner Pentaplast, which goes by kp these days for short, used its demonstration time at PACK EXPO Connects to illustrate some recent improvements in their stable of food and consumer containers, particularly as it applies to dairy and yogurt applications.
A high-impact variety of PS, a material it calls HIPS, is a company standard for dairy due to its ease of thermoforming and moisture and oxygen transmission barrier properties. This tried-and-true product is available in a range of thicknesses, and transparencies from clear to opaque have been available.
But newer to the PS lineup for cultured dairy products, the kp Klearcup PS solution (1) is a lightweight application that brands can customize. The thermoformed cups provide significant benefits and still meet lightweight and durable performance needs by foaming the core of the film. With a 30% improvement in clarity over natural polystyrene and a 25% reduction in haze versus natural polystyrene, Klearcup allows brands to make their product the star of the show, and stand out on the shelf.
In terms of filling and sealing, no equipment changes from legacy cups are necessary, and the cups meet the same top-load requirements of the standard PS line. Multi-packs are fully snap-able to separate individual cups, so consumers don't notice any functional difference in their interaction with the product. Just like the traditional PS line of cups, Klearcup comes in a variety of densities, thicknesses, and even colors if transparency doesn't translate to your product. The lightweighting of the cup makes the product transport more efficient compared to other similar cups.
Optional additional barrier layers are available depending on the oxygen and moisture transmission needs of your application, with a common extra layer being a PE/EVOH/PE sandwich for enhanced barrier on top of PS's already strong barrier properties.
Check out the many packaging solutions featured by Klöckner Pentaplast at their PACK EXPO Connects Virtual Showroom, found at PE.show/511.
Mono-materials are on the way
The move away from multi-material constructions in favor of mono-materials that fit more readily into existing recycle streams is well underway. Among the exhibitors at PACK EXPO Connects, at least five highlighted the progress they've made in this area. We begin with Amcor Flexibles.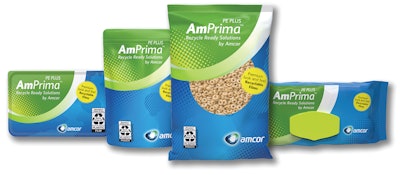 Having committed in 2018 to make all of its packaging recyclable, compostable, or reusable by 2025, Amcor Flexibles has launched a line of polyethylene films—including both barrier and non-barrier—for flexible film packaging that has been pre-qualified for the How2Recycle Store Drop-Off label. "Today, a majority of our products are already designed to be recyclable, and our R&D teams are working in a globally coordinated fashion to push the limits even further," explained Fabio Peyer, Sustainability Director at Amcor Flexibles. "By taking a platform approach, like we have for AmPrima, we are now able to offer a recycle-ready alternative for a number of applications and formats that are currently served by multi-material laminations."
The AmPrima portfolio (2) was introduced in summer 2020 and was featured in Ampac's PACK EXPO Connects Showroom. Said Peyer, AmPrima brings together under one brand all solutions and technologies that are compatible with the PE film recycling stream. "It is the culmination of many years of development work spearheaded by the Amcor global core R&D team," he added.
The portfolio includes AmPrima PE and AmPrima PE Plus, both of which are available in ultra-clear and heat-resistant versions. As Amcor Flexibles Sr. R&D Fellow Otacilio Berbert explained, AmcorPrima PE is the company's standard offer of non-oriented PE-based films, featuring both laminations and surface-printed coextruded options. The products under AmPrima PE are designed for applications with straightforward technical requirements, including pouches and bags, and vertical form/fill/seal or horizontal form/fill/seal applications.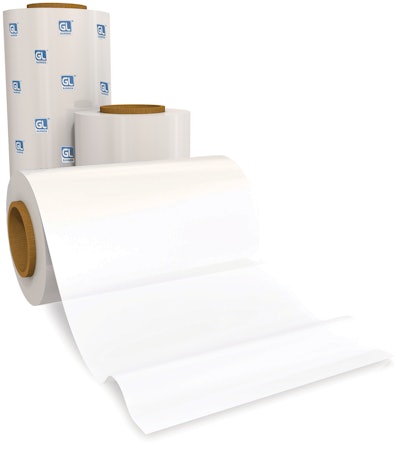 The AmPrima PE Plus portfolio involves laminations with oriented recyclable films, designed for applications that require superior stiffness, shelf appeal, optical properties, and heat resistance. "All versions of AmPrima are available in barrier or non-barrier options, and AmPrima PE Plus was uniquely designed to match non-recyclable laminations in critical applications that require high packaging speeds, for example, flow wraps, or that demand heat stability when sealing attachments like spouts to the film," Berbert explained. "It is also designed to survive typically abusive sealing processes, like sealing lidding to trays and cups, without seal distortion."
According to Amcor, AmPrima employs a variety of technologies, including proprietary techniques unavailable elsewhere. "Amcor has creatively leveraged several technologies into the AmPrima portfolio," Berbert said. "On the converting process side, those technologies include multilayer and multi-material film orientation, annealing, extrusion die design, and others. On the materials side, we have leveraged compatibilization technologies, barrier coatings and additives, and blends of high-performance polymers, among others. The result is a complete portfolio of products that allows Amcor to offer recycle-ready solutions with no compromise on performance."
In late September, the AmPrima portfolio received prequalification to carry How2Recycle's Store Drop-Off label, subject to conditions like product application and final package design. According to Peyer, a brand owner using the material still needs to submit their package to How2Recycle for approval, but their submission will be fast-tracked, due to the pre-approval Amcor secured by working with The Association of Plastic Recyclers and How2Recycle. "All brand owners need to do is to attach the prequalification letter to their submission," he said. "This translates into lower costs, increased speed to market, and less risks in the development phase."
Check out the many packaging solutions featured by Amcor Flexibles at their PACK EXPO Connects Virtual Showroom, found PE.show/124.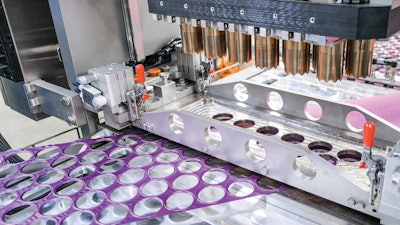 Also working hard on the mono-material front is the Italian firm ITP, and they took advantage of PACK EXPO Connects to introduce a new monolayer PE specifically for frozen foods or for standup pouches. Called Monoflex, it's a blown coextrusion that can be either five or seven layers. The film is coextruded with different types of PE. Even the tie layers used to marry the PE components together are PE-based. The only material that is not PE is EVOH, which is included for oxygen barrier purposes in pouches that are not designed for the frozen food chain. But the amount of EVOH is low and well below the levels allowed by European guidelines that determine what is or isn't recyclable.
When asked if the PE resins used to make the film come from any special suppliers, ITP says some are conventional and some not so conventional. The not so conventional ones are considered proprietary. As for the machines on which this material will run, both vertical and horizontal form/fill/seal systems can be used. Apparently, pre-made pouches are not in the plans. In time, however, a version of the material will also be developed for use as lidding material for heat sealing to trays. In the meantime, ITP said it has one commercial application in the detergent stand-up pouch sector.
Check out the many packaging solutions featured by ITP at their PACK EXPO Connects Virtual Showroom, found at PE.show/549.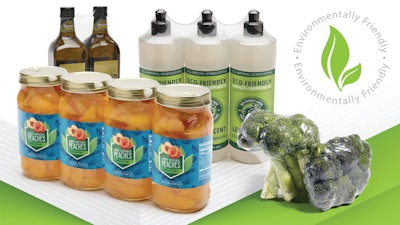 While schemes for the recovery and recycling of mono-material polyethylenes are starting to be seen in the U.S., there's also some notable work being done in developing polypropylene as a recyclable material in Europe and other regions. At PACK EXPO Connects, David Derfler, Sales Manager at Toppan USA, Inc., demonstrated how the company is responding to these trends by driving the shift to mono-material functional packaging. Toppan USA, a subsidiary of Toppan Printing (Toppan), announced that it has completed preparations for the production and supply of PE- and BOPP-based additions to its series of GL BARRIER transparent vapor-deposited barrier films (3). Full-scale sales of PE-based "GL-LE-G" and BOPP-based "GL-LP-G" launched this month, initially for the U.S. and European markets. Toppan can now offer GL BARRIER films with PET, PE, and BOPP substrates to facilitate a full range of functional, mono-material packaging.
According to Toppan USA, samples of GL-LE-G and GL-LP-G have been made available to selected customers around the world since late 2019 under the provisional names GL-X-LE and GL-X-LP-G, and extensive assessments have been conducted to confirm their performance and market viability. Said Toppan USA, with GL-LE-G, the company has employed its advanced processing technology to overcome the difficulty of vapor deposition on PE and has created the world's first transparent vapor-deposited barrier film with a PE substrate.
GL-LP-G, meanwhile, claims it has achieved the world's highest-level barrier performance for a BOPP film. Said Toppan USA, "Both films demonstrate outstanding processability for printing and lamination with other materials, making them suitable for a wide range of purposes."
Sales of GL-LE-G, GL-LP-G, and GL-BP—a BOPP-based high-barrier film for boiling water sterilization and hot filling—will be targeted at the food and toiletries sectors.
"GL-LE-G and GL-LP-G have been made possible by taking full advantage of the technologies Toppan has developed over more than 30 years as a global leader in the manufacture of transparent vapor-deposited films," said Masa Tatewaki, Toppan USA President & CEO. "With strong demand for eco-friendly and recyclable packaging solutions in light of such issues as the problem of plastic waste, we have received considerable interest in these new films and are targeting sales of $20 million in 2025. We will continue to advance more readily recyclable mono-material packaging for wide ranging contents and target the development of eco-friendly packages facilitating the circulation of plastic resources for a sustainable society."
Check out the many packaging solutions featured by Toppan USA at their PACK EXPO Connects Virtual Showroom, found at PE.show/491.
Another development of mono-material solutions involving PP is being pushed by this group of companies: Saentis, wipf, and Optima. Their "GreenLution" project (4) is aimed at coming up with at a fully recyclable coffee capsule featuring a PP-based single material. The seven-layer capsule material, coextruded and thermoformed by Saentis, consists of PP/regrind/tie layer/EVOH/tie layer/regrind/PP. While the outer and inner layers of PP are virgin material, the regrind layers can include recycled content. Total thickness, said Santis Head of Sales Marco Reiss, depends on several variables, including the size of the capsule. But generally, he said, the thickness is in the range of 800 microns.
Reiss said that a key component in these PP coffee capsules is a new grade of EVOH from an unnamed supplier. Because it has improved barrier characteristics, less of it is needed in the cast coextrusion. Consequently, the sheet going into the thermoforming system is about 98% PP.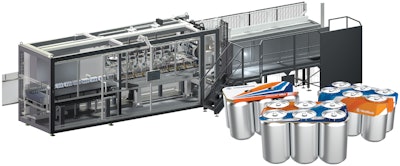 Wipf's contribution in the GreenLution project is the lidding material, which is described only as a "recyclable film." Optima, of course, is the supplier of the CFL machine on which the capsules are filled. Optima said this machine boasts optimized film utilization—the lidding material is fed at an angle (see photo) and punched in a way that ensures optimum material utilization—lower energy consumption, and a production reject rate below 0.05%.
One final note on the PP capsule material. Reiss said that it includes an NIR-detectable component that makes the PP capsules more readily detectable in the all-important sortation process that takes place at the Municipal Recycling Facility.
Check out the many packaging solutions featured by Optima at their PACK EXPO Connects Virtual Showroom, found at PE.show/483.
Another innovator in the mono-material space is Clysar LLC, which used PACK EXPO Connects to introduce its family of Clysar® EVO™ recyclable shrink films (5) approved for the Store Drop-Off label by the How2Recycle program. Explained Clysar, these new polyethylene films allow brand packagers and retailers to meet critical package recyclability goals, fulfill retail labeling mandates, and address increased consumer demand for sustainable packaging.
Clysar EVO shrink films have been developed in collaboration with the Sustainable Packaging Coalition and have been verified by third-party testing to meet the requirements of the Association of Plastics Recyclers, ensuring they are safe and fully acceptable for Store Drop-Off recycling. Offering official letters of prequalification from the How2Recycle organization, Clysar EVO allows brands to bypass the material testing and verification steps that are required when obtaining permission to use official recycling labels. Explained Clysar, most shrink films are not recyclable under current protocols and will only qualify for the "not yet recycled" package label.
According to Clysar, Clysar EVO films offer strength, sparkling clarity, and consumer appeal, are similar to traditional cross-linked shrink films, and run on virtually all types of packaging equipment. The line includes two options—Clysar EVO all-purpose films and Clysar EVOX™ high-speed, high-strength films—that provide targeted performance for individual product applications and process demands.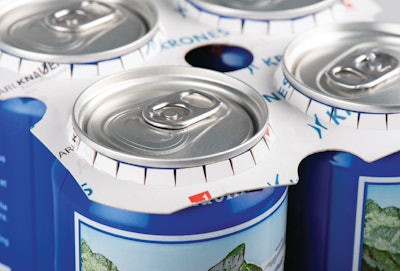 A versatile multipurpose solution, Clysar EVO shrink film is suited for most retail packaging applications. Noted Clysar, the film offers excellent optics, clean even shrink, and strong seals, and it runs trouble-free on most shrink-packaging equipment under a wide range of operating conditions.
Clysar EVOX films are suitable for high-speed packaging applications requiring extra strength, protection, and durability. The film was engineered as a high-performance option for demanding products like heavy multipacks or irregular shapes. According to Clysar, EVOX films were developed to run effortlessly on highly automated, high-speed equipment and deliver trouble-free sealing and shrink characteristics.
The new films are available in multiple gauges and a variety of put-ups. Complete technical and development support is available—from supporting new applications or assisting with drop-in replacements that make existing shrink packages more sustainable. Official letters of prequalification from the How2Reycycle program are available from Clysar, which can be used by How2Recycle members to fast-track individual label use approvals.
Check out the many packaging solutions featured by Clysar at their PACK EXPO Connects Virtual Showroom, found at PE.show/245.
Paper making a play
A notable trend in the packaging materials space that is also driven by environmental concerns is the emergence of paper can carriers to replace plastic. Among the leaders in this area is Graphic Packaging International and its KeelClip technology, the winner of an AmeriStar 2020 Award. Go to page 96 to see how Coca-Cola HBC is successfully leveraging this innovative concept.
Also making progress in this fascinating area is WestRock and its CanCollar concept highlighted at PACK EXPO Connects. The company showed a modular can handle application machine (6) that is capable of 600 cans/min. It's intended to be integrated into existing canning lines and either run parallel to, or replace, more traditional can handle applicators.
The most basic can handle is CanCollar Eco, the most economical of the options with a minimalist design that, in form and function, accomplishes the same task as traditional can handles. The basic or core Fortuna module applies this entry-level CanCollar.
Optional modules can be added to the base applicator machine, such as one for PremCollar Pure, a can handle format that adds some vertical paperboard billboarding space to the paperboard collar, allowing brands to print messaging on the paperboard. It also can mask bar codes printed on individual cans so that the bar code printed on the multipack is what gets scanned at the checkout counter. A third option is CanCollar Shield, which brings coverage to the top of each of the cans, a hygienic feature some breweries look for. These two upgrade modules can be delivered on day-one with the purchase of the machine or be retrofitted to integrate into the system later in its life cycle.

Another optional feature is a can orientation module that orients cans so that any chosen or preferred messaging faces outward, toward consumers on a shelf. But for the cans themselves, all major can height and can diameters are able to be run on the core module, including sleek cans and 8-oz minis that are all the rage right now. Formats of 2x2, 2x3, or 2x4 are standard on the core module.
A few trends in canned beverages these days affect material handling after the fill, notably low-CO2 and thinner aluminum walls for lightweighting and material reduction. So linear starwheels on the CanCollar systems carry cans gently, avoiding scuffing and denting or worse. Quality assurance can be expanded with optional inspection systems that, for instance, can reject incorrect colors of the can handle, or situations where the can handle doesn't fully engage and 'clip' onto the top of the can, among others. All are automatically coupled with a rejection system on the optional divider module.
Downstream of the applicator, a discharge module can either divide or rotate and divide the can handled packs exiting the machine, to accommodate any further secondary or end-of-line packaging infeed requirements. For a more turn-key solution, a tray or wrap-around case packing module can be added downstream of the Fortuna. And for the entire Fortuna family of machines and modules, automatic adjustments and common change parts for repeatable changeovers are advantages.
Check out the many packaging solutions featured by WestRock at their PACK EXPO Connects Virtual Showroom, found at PE.show/158.
Krones also featured a concept for paperboard can handles for four-and six-pack aluminum cans or PET bottles. The company debuted its LitePac Top secondary packaging system (7), a modular paperboard can-handle applicator that will seamlessly integrate with upstream Krones packaging equipment.
"LitePac secondary packaging follows the principle of the circular economy because it can be manufactured from recycled materials," the company said in its Virtual Showroom, "and after use, they can be recycled themselves."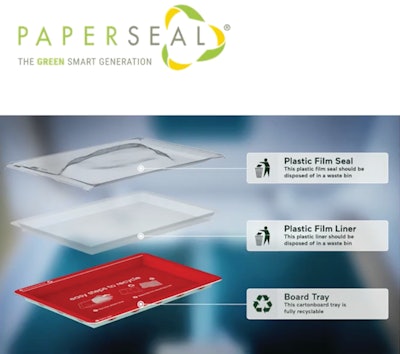 The system features continuous container infeed and can process packs with four, six, or eight cans at up to 416 cans/min. During the production process, the LitePac series scores high in terms of lower energy consumption and less waste than with shrink-packs.
As we've seen with other paperboard can handle applicators, an optional can orientation system can be added to ensure the containers display outwardly in an optimal orientation (i.e., the front of the can with the brand logo shows outward on the shelf or in the cooler case for maximum shelf impact.) Cans can even be oriented to form a consistently harmonized motif across several different cans.
The can handle application is done without any hotmelt or plastic, and the handle itself is designed to use a minimum amount of paperboard material—it's only 3g in weight. Despite its minimalist approach to material usage, the company says it has a "well-thought-out clip design for maximum pack stability."
Check out the many packaging solutions featured by Krones at their PACK EXPO Connects Virtual Showroom, found at PE.show/707.
Reusable box
Orbis Corp. introduced its PlastiCorr (8) fully reusable all-plastic box for inbound packaging and finished goods packaging applications. PlastiCorr is a drop-in replacement for customers' current brown boxes and is most effective in closed supply chain loops–including inbound receiving and finished goods to co-pack. This system was designed to drive ROI for today's CPGs.
PlastiCorr is made to have the same functionality as corrugated fiber boxes with enhanced features. Integrating PlastiCorr into existing automation systems should be seamless, according to the company. The system is meant to be reusable up to 70 times; is water and moisture resistant; has high-quality in-line screen printing; and has edges that seal to reduce potential harbor area for contaminants, and improve safety and ergonomics. Enfold technology is used to return box flaps to the straight position after each use and the boxes don't have any extra thickness for easy transition.
View Orbis Corp.'s PACK EXPO Connects showroom at PE.show/484 for more sustainable products.
Not just can carriers
Needless to say, it's not just can carriers that are being re-engineered into paper as opposed to plastic. PaperSeal, presented at PACK EXPO Connects by Graphic Packaging International (GPI), is a fiber-based replacement (9) for high-barrier plastic trays for modified atmosphere packaging (MAP) and vacuum skin packs (VSP). It recently won the 2020 Sustainability item of the year award from the Paperboard Packaging Council. The PaperSeal packaging system as a whole is a collaboration between G. Mondini and GPI, where Mondini builds the tray forming and lining equipment, while GPI developed the trays themselves and converts them for the brand owner.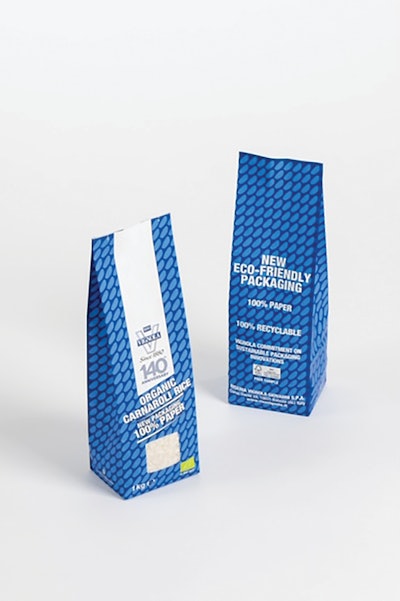 During a PACK EXPO Connects demo, Jeff Voyzy, Business Development Director at Graphic Packaging, demonstrated via video exactly how the system works. The paperboard trays act as the supporting structural protection for the packs, with a thin internal film lining providing all necessary barrier properties. This paper tray with film lining—once filled with foods usually found in MAP or SVP trays, including meat, poultry, and fish—is then MAP or VSP sealed with another thin film to enclose the product. After consuming the pack's contents, consumers need only separate the internal, food-contact film (and lidding film) and place each layer in the appropriate bin for recycling.
The structure being mostly paperboard translates into 80-90% reduction in plastic in the consumer product. And compared to its CPET plastic equivalent tray, it also boasts a 35% CO2 reduction compared to plastic, and 40% energy used in production.
An added benefit is the vast increase in billboard space, including the bottom and vertical four sides of the tray—even the inside of the tray can be decorated or branded since the film liner is clear, only the food product contents may obstruct the view.
GPI says food brands can either do the forming themselves, or have GPI do the forming depending on how much of the supply chain they prefer to control. It's up to the customer how much they want to bring in house.
Check out the many packaging solutions featured by Graphic Packaging International at their PACK EXPO Connects Virtual Showroom, found at PE.show/514.
Elsewhere in the food-packaging scene, Mondi, a global supplier of paper and flexible packaging materials, was busy demonstrating some paper-based sustainable packaging materials. One intriguing application from Mondi is said to be an industry first. The rice company Vignola has introduced Italy's first recyclable paper bag for rice (10), which is made of 100% recyclable Mondi Advantage Smooth White Strong paper. The paper is 134 microns and is printed flexo in four colors. The 500-g and 1-kg packages, in addition to being recyclable, meet the technical requirements where shelf life of the rice is concerned. Vignola appears pretty committed to this packaging format, seeing as they had to install a new form/fill/seal machine from Italpack suitable for paper-based bags.
Check out the many packaging solutions featured by Mondi at their PACK EXPO Connects Virtual Showroom, found at PE.show/614.
Sonoco spent its time at PACK EXPO Connects on a handful of nifty new fiber-based packaging solutions (11), with two fairly significant ones already in early commercialized projects that can be found on shelves. The first, EnviroSense™, consists of rigid cylindrical canister-style containers, one with a paper bottom, the other with a steel bottom. The mind's eye drifts immediately to the form of a Pringles can, so it's appropriate that one of a few similar versions of the EnviroSense line is already in the market in the UK in a Pringles application.
This paperboard canister solution has been third-party validated via PIQET test to show lower life cycle impact on the environment compared to HDPE, glass, PP, and other rigid structures comparable in size and use. Recycling instructions appear on-pack (depending on market, via How2Recycyle), and may vary depending on steel bottom (steel channel) or fully paper structure (paper channel). A next-gen version of the EnviroSense paperboard can is in development now that would include a paper overcap, too, though a film lidding (disposable by the consumer as instructed) may be required depending on the application.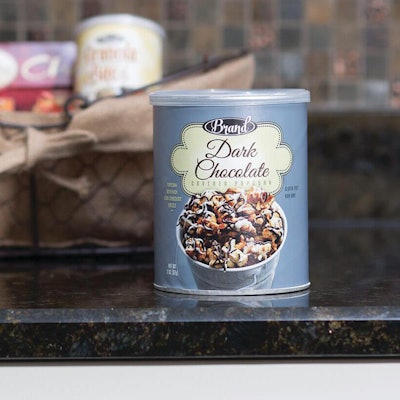 Natrellis is another fiber-based product, this time a molded fiber tray that is dual-ovenable and oil-resistant. The molded tray, which replaces its plastic counterparts, recently found a commercialized home in KraftHeinz brand Primal Kitchen (read more on page 64). The pack is currently on the path to achieve sustainability certification, but pandemic-related delays have slowed the typical certification process.
Check out the many packaging solutions featured by Sonoco at their PACK EXPO Connects Virtual Showroom, found at PE.show/136.
Labeling developments
Weber Packaging Solutions demonstrated its stalwart Pack Leader PL501 p-s labeling and date coding system, a piece of equipment that has evolved over the years, but by now is tried and true in craft brew circles (read more on the system at pwgo.to/5841 or pwgo.to/5842).
But the labels themselves, Weber said in a PACK EXPO Connects demo, are changing significantly. Not to mention that the craft beverage industry is known for small batches, seasonal brews, and limited-availability varietals. And that's not limited to craft brew—kombucha, cold brew coffee, seltzers, and even wine may particularly benefit from Weber's wide range of label materials, even digitally printed for small batch rolls down to 500, making MOQs no problem. Standing out on the shelf is more important than ever.
"As one of the largest label printers in the world, we can help you pick the best label material to enhance your label design," said Paul Johnson, Labeling Solutions Specialist. "We've had many successes providing design ideas and helping you create unique labels that help your brand stand out in a crowd."
Metallics, estate papers, silver, and clear BOPP films enhance the look of your label and add tactile elements that go beyond visual appeal. Particularly interesting was a wood veneer label (12) made of actual wood, rather than printed fiber or pulp (pictured).
All of this variety at high quality is available at such low MOQ thanks to Weber's heavy investment into HP digital label presses that translate to short, economical label runs for seasonal or experimental brew varieties.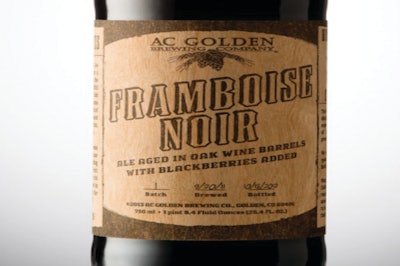 Check out the many packaging solutions featured by Weber Packaging Systems at their PACK EXPO Connects Virtual Showroom, found at PE.show/126.
Building on its existing RafCycle® label liner waste collection and recycling service, UPM Raflatac has now closed the loop by using the collected liner material to produce its new LabelLoop™ line of pressure-sensitive paper labels, with facestocks made from 30% recycled liner (13).
"It's absolutely unique," shared Scott Conrad, Segment Manager for UPM Raflatac, during PACK EXPO Connects. "The only reason we're able to do this is because we're the only label company in the world right now that's collecting recycled liner and turning it into any sort of resource. With LabelLoop, we're definitely the first company using a platform where we're able to create a truly circular solution."
RafCycle by UPM Raflatac was launched in 2010 in Europe and in 2018 in the U.S. to collect PET and paper label liner waste from converters and packagers free of charge for recycling. There are now more than 200 partner companies globally, with approximately half a million pounds of liner recycled through the program per year in the U.S. alone.
Until UPM's launch of LabelLoop, the waste liner material went back into the typical pulp or PET recycling stream. Said UPM, "Silicone and adhesive residue on waste liner causes major contamination, so liner that does get recycled is often downcycled into lower-quality material."
To create LabelLoop, which focuses on paper waste, UPM partner Sustana Fiber de-siliconizes and converts the material collected by RafCycle into recycled pulp, which is then turned into paper label facestock by other suppliers. In the final step, UPM uses the post-consumer waste (PCW) facestock to make new label material. The LabelLoop line currently comprises five products, including four different semi-gloss, or prime, options, and one laser direct mail option. Said Conrad, UPM plans to expand the number of LabelLoop offerings in the future.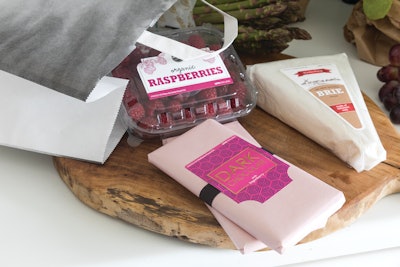 According to Conrad, it took nearly two years to bring LabelLoop to market, with one year spent vetting potential partners and six to 12 months developing and testing the processes and materials. "Being a big company, we have many suppliers, but we had to select one that was not just a high-quality supplier, but one that was a like-minded sustainability partner," he said. "We really put some of our suppliers through the ringer, if you will, to find someone willing to do this for us. We really needed someone who could use this pulp and turn it back into a high-quality facestock, and the only way they could do that was by taking extra care within their process and making sure they had all their quality stations in check."
Conrad added that a lot of work was required on UPM's end as well to develop the product. "We had to think about whether the facestock was compatible with the adhesives we're using, was it going to function as a label out in the market, and was it strong enough to convert," he said. "We also had to take printing into consideration and a lot of other technical parameters. All of that work was done behind the scenes by our technical team, and they did a fantastic job with this particular face."
According to UPM, LabelLoop labels offer the same high standards of print quality and high-speed converting as its standard offerings and are suitable for a variety of end uses. The labels are also Forest Stewardship Council (FSC™)-certified, which allows brands to show their commitment to responsible raw materials sourcing.
Check out the many packaging solutions featured by UPM Raflatac at their PACK EXPO Connects Virtual Showroom, found at PE.show/221.
Placard Label Holder
Filmloc debuted its new placard label holder, the INTELLI-PLAC Silver series (14), during PACK EXPO Connects. The patented silicone-free intelligent surface placard label holder is now protected with Biomaster silver ion antimicrobial technology. This ensures a 99.9% cleaner surface from damaging microbes versus untreated surfaces. The durable Biomaster protection will last the lifetime of the INTELLI-PLAC placards. These durable placards with X2 extra durable adhesive can also be cleaned and sanitized multiple times. No silicone so they can be recycled with HDPE and PP containers and do not contaminate surfaces.
Visit the exhibitor's PACK EXPO Connects showroom at PE.show/452 for more systems.
Finally, a word on prototyping
In development before COVID-19 but fast-tracked once the pandemic hit is ProAmpac's new online packaging design configurator, MAKR (pronounced "Make Er"). MAKR (15) allows users to remotely create custom 3D package designs online in both film and paper formats that can then be prototyped at the company's Design and Sample Lab (DASL, pronounced "Dazzle").
According to Sal Pellingra, Vice President Global Application & Innovation for ProAmpac, one of the main reasons the company developed the tool was to reduce the time involved with the traditional sample request system. Typically, the process is very iterative, with much back and forth between the customer and salesperson as the customer adjusts their vision for the design. MAKR, he estimated, can take a week off of the prototype design process.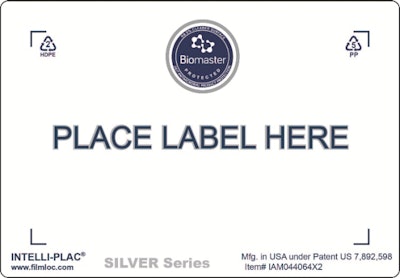 "No one has time these days, and so we looked at similar apps for designing—you know, if you were to design shoes online or if you were to design some other product online where you go in and change colors and you can spin things around and look at them. That was kind of the thought behind this," Pellingra explained. "Fortunately, we got this almost done at the end of the year, and then when COVID happened, we just ratcheted the project up to get MAKR launched because then everyone was working from home and it was even more important to have it done."
MAKR allows users to choose almost any flexible packaging format ProAmpac produces. The user can then custom design their own package employing features such as package dimensions, closures, handles, and even the shape of the pouch. An ingenious feature of the tool is that it only allows customers to choose features that can actually be manufactured.
Shared Pellingra, many times ProAmpac has worked with brands that submit a number of pouch designs created by a designer that end up not being able to be produced. "We have to be the bearer of bad news and say, 'This one isn't really manufacturable. This one we could probably manufacture, but we can't sell this one. There's no way to develop this.' And so, one of the benefits of MAKR is that it ensures the prototype they design can be filled and made."
Options include pouch styles like flat, pillow, flow-wrap, stand-up, shaped quad, and even retail bags, among others. Pouch dimensions can be easily adjusted as can the shape of the pouch. Closures such as child-resistant zippers can be added, as well as a number of fitments. As the user manipulates the pouch, options are added or deleted, depending on whether they are available with that design. If a customer would like a design feature that's not available through MAKR, there is an area where they can add notes for the DASL team.
One unintended consequence of the tool, Pellingra added, is that it gives users the ability to explore new ideas they may not have been considering going into the design process. "Even just scrolling through the different pouch types when you start the process you start to think, 'Oh, I was thinking about a pillow pouch, I didn't even think about using a shaped pouch,'" he said. "And then you get into the features, and you start thinking, 'Maybe I wouldn't want to hang this pouch, which I didn't even think of either.'"
Further enhancing the prototype, users can add graphics and logos to the pouch design, with the added ability to change colors, artwork, and materials. Currently, Pellingra notes, to visualize how a pouch design will look depending on the material type, consumers can select options such as clear or opaque film, foil lamination, and bleached paper.
When the prototype design is complete, users submit their order online, with the total cost calculated using an algorithm that determines how long it will take ProAmpac to produce the prototype and the number of prototypes ordered. ProAmpac's DASL team will then ensure all details are correct, finalize the order, and create and ship the custom prototype directly to the customer.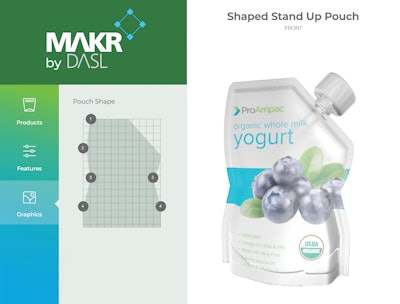 As Pellingra shared, ProAmpac and its proprietary partner had to start nearly from scratch in creating the program, which he said, as far as the company is aware, "is the first totally configurable pouch app in the industry." Currently, they are working toward MAKR 2.0, which will offer more photorealistic graphics and additional pouch shapes.
The tool is available free for both existing and potential ProAmpac customers. Thus far, Pellingra said, the company is getting 40 to 80 users per week. "This is another great example of ProAmpac's industry-leading innovation. We've consistently differentiated ourselves, not only with world-class manufacturing, but also by providing packaging design services rivaling those of design firms. MAKR expands our collaborative resources and makes it easier for customers to get products from design to market in record time," he added. "We've already had great feedback from our soft launch partner customers and will build out MAKR and other virtual capabilities to continue to make it easier for customers to bring new packaging ideas to a commercial reality."
Check out the many packaging solutions featured by ProAmpac at their PACK EXPO Connects Virtual Showroom, found at PE.show/227.
Companies in this article
Videos from Klöckner Pentaplast Food Packaging