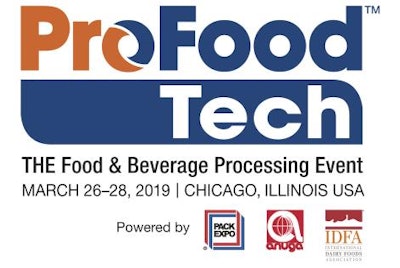 Fresh off a successful 2017 debut that brought together nearly 10,000 food and beverage professionals, ProFood Tech 2019 returns with the support of the Exhibitor Advisory Council. Exhibit sales have launched for the show that will return to Chicago's McCormick Place on March 26—28, 2019.
Powered by international trade show leaders PACK EXPO, Anuga and the International Dairy Foods Association (IDFA), and with strong support from an Exhibitor Advisory Council that reads like a Who's Who of food and beverage processing, the biennial show is unprecedented in its ability to bring the industry together and address key issues.The advisory council meets regularly to guide show producers in understanding the most critical trends and issues facing the industry.
"The inaugural ProFood Tech reaffirmed our belief that North America needed a comprehensive food and beverage processing event," says Jim Pittas, COO, PMMI, The Association for Packaging and Processing Technologies and the producer of the PACK EXPO portfolio of trade shows. "Working with our new Exhibitor Advisory Council ensures that ProFood Tech 2019 has not only support across market segments but also gives us the most current insight into the processing landscape."
After surpassing expectations in the 2017 event, ProFood Tech 2019 projects even more attendees, exhibitors and exhibit space with early forecasts of more than 7,000 visitors, 450 exhibitors and in excess of 150,000 NSF.
"The results of the 2017 premiere of ProFood Tech confirm that our projections for the industry were correct, instead of participating in many smaller [annual] exhibitions in [North America], the industry will concentrate on one must-attend event for both, exhibitors and visitors," says Denis Steker, VP International at Anuga/Koelnmesse. "We are happy that Koelnmesse can contribute its knowledge and services to cater for the industry not only in Cologne but also [in North America] - successfully."
ProFood Tech 2019 Council member companies include:
Deville Technologies
Delkor Systems
Tetra Pak
GEA
Polypack, Inc.
Azo, Inc.
Harpak-ULMA Packaging, LLC
Chr. Hansen
Serac, Inc.
Bizerba USA, Inc.
"The inaugural event set just the right tone for the show," notes Neil Moran, SVP, International Dairy Foods Association. "Based on conversations with attendees and exhibitors, we heard the new show provides countless growth opportunities for companies willing to employ new technology and techniques to boost production, efficiency and profits. The attendees will have new supplier contacts, inventive ideas and powerful business solutions they can use to meet their needs and goals. And the conference program provides a commanding overview of the latest trends and advancements in food processing throughout the food and beverage industry."
The deadline for applications to participate in priority booth selection and receive early bird space rates is Nov. 3, 2017. Applications can be completed at www.profoodtech.com.