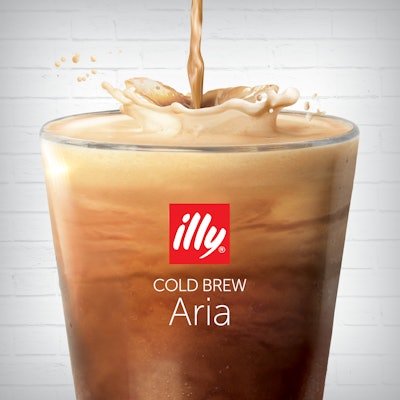 Illy, a maker of premium coffee products, has jumped on the nitro cold brew coffee bandwagon. The Italian company debuted illy Cold Brew Aria, a tap handle-mounted valve system that injects ambient air into cold brew coffee to create a nitro effect, easily turning it into nitro cold brew coffee without the need for bulky air compressors or nitrogen tanks.
Inventor of the modern espresso machine in 1935, illy claims that the illy Cold Brew Aria is the first cold brew system that uses ambient air rather than nitrogen to make nitro cold brew coffee. Created for the foodservice and hospitality sectors, including restaurants and hotels, the the illy Cold Brew Aria system features a tap handle with an embedded adjustable valve. The patent-pending valve is at the heart of the system. The valve captures ambient air — already 78 percent nitrogen rich by nature — and immediately infuses it at high pressure into illy cold brew coffee as it's dispensed, eliminating the need for steeping or space-consuming nitrogen tanks or air compressors. The process creates a richer-tasting and effervescent nitro cold brew coffee with a rich, creamy head.
An operator can adjust the illy Cold Brew Aria valve to vary the levels of air and effervescence infused into the cold brew coffee, all the way down to no bubbles at all. That means the illy Cold Brew Aria can produce both nitro cold brew and regular cold brew coffee with only one tap handle and one coffee source, saving real estate behind the coffee bar or in the kitchen.
The system is designed with minimal internal lines, making maintenance quick and simple. It simply requires a five minute daily soaking of the spout and weekly flushing of lines.
Illy is offering the illy Cold Brew Aria exclusively for use with its cold brew made from its Classico blend, comprised of nine distinct Arabica coffee beans from different countries.