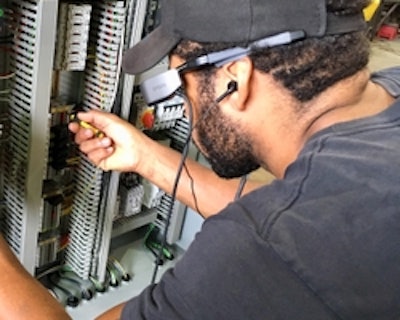 Epson (booth #LS-5989) is demonstrating its Moverio Assist remote assistance and inspection technology at PACK EXPO Las Vegas, announcing that it is now available and has a new end-user, Encotech, Inc.
Encotech, a provider of environmental products, systems, and services is now using Moverio Assist as part of its environmental remediation business for troubleshooting, site walk-throughs, customer support, and service calls.
Using Moverio smart glasses with Si-OLED display technology, the set up enables enterprises to address difficult repairs and work tasks out in the field in a cost-effective manner. Moverio Assist enables "see-what-I-see" real-time collaboration between remote experts and on-site personnel. Field technicians are able to view instructions, photos, PDFs, and videos in high quality while communicating with remote company personnel in real-time. This collaboration accelerates repairs with fewer mistakes and without an expert having to travel to the site.
"Previously, phone conversations with field teams would sometimes stretch into hours," said Jason Lalli, vice president of Encotech. "This has practically been eliminated by using Moverio Assist."
Moverio Assist offers an affordable, hands-free remote assistance and inspection solution for small, medium and large enterprises. Unlike using handheld tablets or smartphones, field technicians wearing the Moverio BT-300 or BT-350 ANSI smart glasses with a built-in camera have their hands free to make repairs while collaborating in real-time with company experts using the Moverio Assist app.
"We have tried handheld screens in the past but having two hands available for work is game-changing for us," Lalli said. "Jobs and support that might have taken entire days can be done in hours or minutes, and we can focus on revenue generation while keeping our customers happy."
Moverio Assist is available now with monthly subscription plans based on minutes starting from as low as $29.99 a month per pair of Moverio glasses. For environments that require safety glasses, the Moverio BT-350 ANSI model includes indoor and outdoor safety shields that meet ANSI Z87.1 safety certification requirements.
Companies in this article