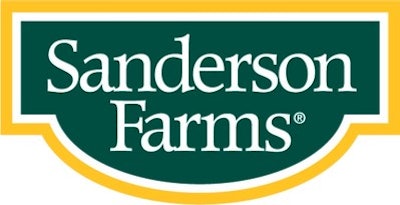 Mississippi-based Sanderson Farms, the country's third-biggest chicken producer, has agreed to sell itself for around $4.5 billion to Cargill and agricultural-investment firm Continental Grain. The transaction is expected to close by the end of 2021 or early next year, and will be subject to regulatory and Sanderson Farms stockholder approval, and other customary closing conditions.
Upon completion of the transaction, Cargill and Continental Grain will combine Sanderson Farms with Wayne Farms, a subsidiary of Continental Grain. Sanderson Farms will become a private company. Wayne Farms CEO Clint Rivers will lead the combined company.
The combination of Sanderson Farms and Wayne Farms will create a best-in-class U.S. poultry company with a high-quality asset base, complementary operating cultures, and an industry-leading management team and workforce. The new company will be well positioned to enhance its service to customers across retail and foodservice and drive organic growth in an industry fueled by affordability and key consumer trends around the health, sustainability, and versatility of chicken.
The new company will have state-of-the-art operations and will continue to invest in its workforce and in employee safety. Operations will include poultry processing plants and prepared foods plants across Alabama, Arkansas, Georgia, Louisiana, Mississippi, North Carolina, and Texas.
---
---
"Since my grandfather founded Sanderson Farms 75 years ago, our many significant achievements have been driven by our commitment to providing the very best chicken products in a profitable manner that benefits each of the constituents who contribute to our success," says Joe Sanderson, chairman and CEO of Sanderson Farms. "We are proud to be joining with Cargill and Continental Grain, and we are confident that they will be strong stewards of the Sanderson Farms team, brand. and assets going forward. As part of the newly created company, Sanderson Farms and its new owners will remain committed to the employees, poultry producers, customers, communities, environment, and animals under our care, and to continuing to deliver the highest-quality products and the best service in our industry to our customers."
"At Cargill, we are committed to nourishing the world in a safe, responsible and sustainable way," says David MacLennan, chairman and CEO of Cargill. "Expanding our poultry offerings to the U.S. is a key enabler of our ability to meet customer and consumer demands. With these great businesses, and our strong partnership, we believe we will deliver a superior portfolio of products and services to our customers."
Companies in this article