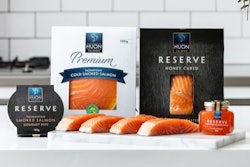 JBS has agreed to buy Huon Aquaculture, Australia's second-largest salmon producer, for more than $400 million, following a six-month strategic review and auction run by Huon and its advisers Grant Samuel and Ashurst. Huon has 13 production sites and three value-added product processing units that are included in the deal. The transaction already has been approved by controlling shareholders and is expected to close by the end of this year.
"This is a strategic acquisition, which marks the entry of JBS into the aquaculture business," says Gilberto Tomazoni, global chief executive officer of JBS. "Huon has 33 years of experience in sustainable production, superior technology, and superior quality products widely recognized by the Australian consumer, in an industry with excellent growth prospects worldwide. We will repeat what we did previously with poultry, pork, and value-added products—to make our portfolio even more complete. Aquaculture will be a new growth platform for our businesses."
---
---
According to data from the United Nations' Food and Agriculture Organization, per capita consumption of fish is forecast to grow 5% globally over the next 10 years. In Oceania and China, the rate is projected to reach 7% and 15%, respectively, over the same time period.
In March of this year, JBS Brazilian subsidiary Seara Foods announced it was beginning to distribute products in the fish and seafood segment, with products like salmon, tilapia, shrimp, and others. With the Huon acquisition, JBS will have its own production.
JBS has had a presence in Australia since 2007, when it acquired the operations of Swift. It also has a beef cattle processing unit at Longford in Tasmania.
Companies in this article