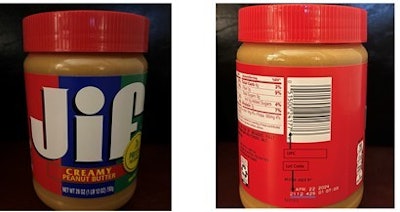 J. M. Smucker is recalling more than 45 kinds of Jif peanut butter products sold in the U.S. and Canada, including creamy and crunchy peanut butters, peanut butter to-go packs, and the natural squeeze pouch, due to potential Salmonella contamination. The recalled products have lot codes from 1274425 to 2140425, which are included alongside best-if-used-by date. Consumers who have Jif products with these lot codes should dispose of them immediately. The recall is being conducted in cooperation with the U.S. Food and Drug Administration and the Canadian Food Inspection Agency.
U.S. health officials are currently investigating a multi-state outbreak of Salmonella illness tied to the products. According to a statement from the U.S. Food and Drug Administration, 14 cases tied to the Salmonella Senftenberg strain of the bacteria have occurred in Arkansas, Georgia, Illinois, Massachusetts, Missouri, Ohio, North Carolina, New York, South Carolina, Texas, Virginia, and Washington. To date, no one has died from the illness.
---
---
Salmonella can cause serious and sometimes fatal infections in young children, frail or elderly people, and others with weakened immune systems. Healthy people infected with Salmonella should monitor themselves for some or all of the following symptoms: nausea, vomiting, diarrhea or bloody diarrhea, abdominal cramping, and fever.
Rarely, Salmonella can result in more serious ailments, including arterial infections, endocarditis, arthritis, muscle pain, eye irritation, and urinary tract symptoms. Consumers exhibiting these signs after having contact with this product should contact their healthcare providers.
Consumers who have questions or would like to report adverse reactions should go to www.jif.com/contact-us or call 800-828-9980 Monday through Friday, 8 AM to 5 PM ET.
Companies in this article