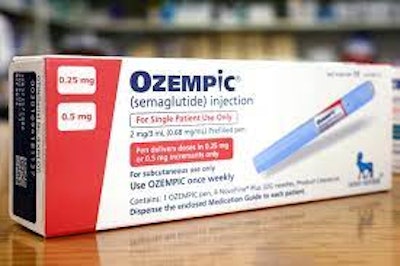 There's no doubt Americans are increasingly using weight loss drugs like Ozempic. In fact, it's been estimated that up to 1.7% of the population has been prescribed a drug containing semaglutide (the active ingredient in Ozempic) so far this year.
And that's just the beginning of the new trend. Morgan Stanley has predicted that, over the next 10 years, 7% of the U.S. population could be taking these drugs—24 million people possibly consuming 20% fewer calories by, more than likely, cutting high-calorie snacks and fast food out of their diets. Put another way, Americans' consumption of soda, baked goods, and salty snacks could drop by around 3%, according to Morgan Stanley analysts.
---
---
For some companies, the Ozempic effect may have already begun to dampen higher-calorie food sales. For instance, Walmart CEO John Furner told Bloomberg that Walmart customers taking Ozempic are buying less food, although the amount is small at this point.
"We definitely do see a slight change compared to the total population, we do see a slight pullback in overall basket," Furner explained. "Just less units, slightly less calories."
Still, some major food executives are taking note of the possible shift in eating habits. In a call with Wall Street analysts, Conagra CEO Sean Connolly said the company will make adjustments as needed. "Let's say they [consumers] go to smaller portions, then we evolve the innovations, and we design smaller portions," Connolly said. "If they switch to different types of nutrients…we switch to different types of nutrients. If they change the kind of pack sizes they snack on, we'll change that."
Kellanova CEO Steve Cahillane also is taking a wait-and-see-approach. As he told CNBC earlier this week, "It's just far too early to forecast this [the Ozempic trend] is a headwind. Like everything that potentially impacts our business, we'll look at it, study it and, if necessary, mitigate."
Companies in this article