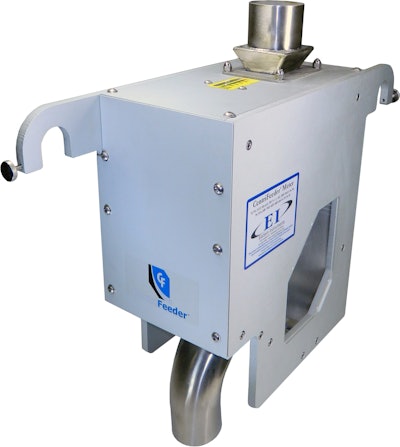 The Eastern Instruments CentriFeeder MCV gravimetric feeder controls the flow rate and total of a variety of granular materials, such as cereals or grains, and typically offers an accuracy of better than +/-0.25% over the entire range of the feeder.
The MCV feeder consists of a flow measurement device and a precision control valve. As product flows across the measurement portion of the feeder, the flow rate and total of the product are measured. This information is then fed back to the control valve to control the product's flow rate and total based on predetermined set points. Because the device is able to control both flow rate and total simultaneously, the MCV can be used for nearly any batching or blending application.
For blending applications, the MCV's control valve modulates based on the flow data being sent from the measurement portion of the feeder to maintain the pre-specified flow rate. For batching applications, the MCV takes the added step of shutting off or closing when the total has reached its predetermined set point.
Companies in this article