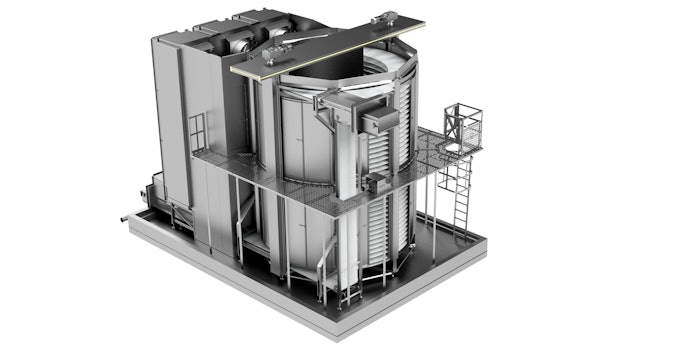 From May 14 to 19, GEA will be showcasing its new ProEdge Drive spiral freezer at IFFA (in Frankfurt/Germany, Hall 8, booth G20), the leading international trade fair for the meat industry. The GEA ProEdge Drive features a drum-free design using fewer components for a more hygienic and sustainable solution. Its innovative spiral drive with robust patented sprockets ensures that the belt runs smoothly and extends the service life.

Standard ProEdge Drive Series models are suitable for 400 mm-, 600 mm- and 750 mm-wide lines and offer freezing capacities of 460 to 3,600 kg/hr of fully cooked products. This new alternative to traditional freezing systems with a drum-free design also offers more flexibility in adding tiers, increasing freezing capacity up to 12% for the same footprint. The reduction of the number of structural parts, combined with external drives, makes it easier to clean and maintain, resulting in enhanced hygiene and a lower total cost of ownership. Another important aspect is that the drum-free design also makes production more sustainable, as the consumption of resources, such as steel and other components, is greatly reduced.
The GEA ProEdge Drive is also an intelligent freezer system that provides perfect synchronization of the drives in all operating environments. The innovative and patented sprocket construction is a top performer, even under the most demanding cooling, chilling, and freezing conditions. The positive-edge drive limits belt tension and allows less product movement on the belt. This helps to preserve the product shape and ensures safe product handling with smooth, continuous product flow. Multiple belt width and layout options offer a seamless integration into the customer's processing line.
The GEA ProEdge Drive integrates GEA's latest freezer innovations: continuous monitoring and control of product frozenness with Callifreeze, optimizing and controlling the air temperature in the freezers with the dynamic intelligent valve system, and up to 14 days of operation without stopping to defrost with sequential defrost combined with static pressure control system automated air balance.
Companies in this article