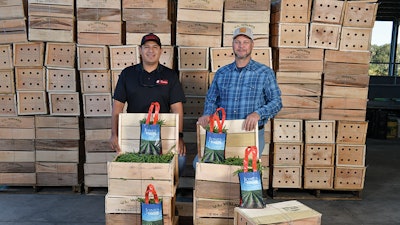 Photo courtesy of Key Technology
The U.S. agriculture industry has faced decades of declining farmworkers, both among family and hired hands. As available workers have become scarce, wages continue to rise. "The lack of available labor is a major concern for all agricultural producers right now," notes Alan Jones, president and CEO of Jones Potato Farm. "It's very difficult and expensive to recruit and retain 20 good workers to manually inspect our green beans, especially during our peak season when we regularly operate seven days a week."
Along with potatoes, beans, citrus, and cattle, Jones Potato Farm in Parrish, Fla., produces more than 250,000 bushels of green beans every year. Jones needed a system to quickly and reliably sort its fresh pack green beans, which go to market under the V.L. Walker and Sons brand. Given the workforce situation, in 2020, Jones opted for Key Technology's Veryx B175 digital sorter for its green bean line—not only reducing manual labor but also ensuring high product quality and maximizing yield.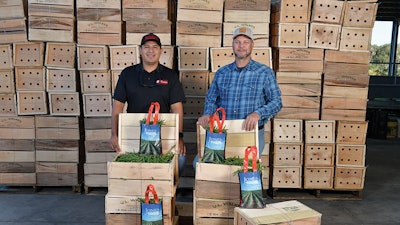 "While there will always be a place for great employees here in our facility, we needed a highly effective, reliable sorter to improve our operating efficiencies," Jones says.
The farm did its due diligence before choosing the Veryx system. Jones was familiar with Key Technology's reputation for quality equipment and service, as well as the supplier's expertise in green bean processing, and has had positive experiences with Key in the past. "We visited one of their customer sites to see Veryx sorting green beans in person," Jones recalls. "As soon as we saw it perform, we knew it was the right solution for us."
Inspection from all sides
The Veryx B175 sorter at Jones Potato Farm is a belt-fed system that can process up to 15,000 lb of green beans per hour on its 1,750-mm wide inspection zone. Equipped with top- and bottom-mounted off-axis cameras, top-mounted laser sensors, and Key's Pixel Fusion detection module, the Veryx achieves all-sided surface inspection of each green bean with no blind spots. By positioning bottom-mounted sensors, lightsources, and backgrounds away from product splatter, this system maintains its inspection performance throughout long production cycles.
---
---
Upstream of the Veryx system, green beans are graded and cleaned. Size graders remove small, curled, and broken beans, and small foreign material (FM). An air cleaner blows off stems, leaves, and other light material, while rocks and other heavy FM drop out of the production line. Veryx's ability to inspect product entirely in-air with top and bottom sensors enables it to find and remove more FM and the right amount of product defects to make grade while maximizing yield.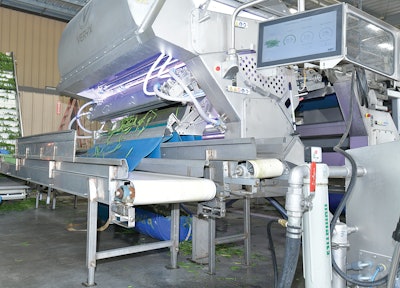 The Veryx at Jones Potato Farm features three-way sorting that separates product into three streams to maximize efficiency and yield. The "reject" stream collects FM and green beans with defects, which go to waste. The "accept" stream sends good green beans with no clusters or stems on to packaging. The third sort stream is dedicated to green beans with minor defects, such as attached stems. These green beans are sent to a separate two-way sorter from Key that separates rework from waste. Product needing rework is circulated back to the beginning of the line. "Separating rework helps us recover an additional 1% of product, which adds up," notes Ishmael Hernandez, production and farm manager at Jones Potato Farm.
Hernandez also notes Veryx's ability to be customized for the particular needs of green beans in the region where Jones Potato Farm operates. "Green beans can present a wide variety of defect types, depending on the growing environment. Here in Florida, green beans are grown in light sand, so wind damage and tip rot are the most common issues," he says. "We like that our Veryx can be programmed to focus on the specific defects common to our region. By fine-tuning its settings, we reject exactly what we want to and no more. It's entirely customizable for our specific application."
Adjustments are easy to achieve, Hernandez adds. "It's easy to adjust the settings so Veryx is programmed to remove all FM and the ideal amount of defects," he says. "The user interface is straightforward and intuitive. If you can operate a smartphone, you can operate Veryx."
Featuring next-generation four-channel cameras and high-resolution laser sensors, Veryx recognizes the color, size, shape and structural properties of every object. Pixel Fusion combines pixel-level input from cameras and laser sensors to produce higher contrasts between objects, which enables Veryx to identify the most difficult-to-detect FM and product defects without false rejects. This sorter finds and removes insects, animal parts, paperboard, wood, rocks, plastics, glass, and extraneous vegetative matter (EVM) such as weeds and other plant materials, as well as any product defects.
"Our Veryx is great at handling high defect loads without sacrificing good product to the reject stream," Hernandez says. "This means we're able to consistently achieve our final product specifications, regardless of incoming product quality, while we maximize yield."
High service levels
"This sorter is very dependable, which is good, because our line won't run without it," Hernandez says. "If we ever do need support, our Veryx features a remote monitoring capability, which allows Key service technicians to remotely access its settings and help our sorter operate at peak performance. Sometimes our shifts run until 4 a.m., and it's good to know that Key's remote services technicians are always available, even in the middle of the night."
Jones Potato Farm has seen tangible results since initiating production with the digital sorter. "Since we've installed our Veryx sorter, we haven't had a single customer reject a green bean delivery—that's a major marker of success," Jones says. "Plus, we've reduced our manual labor requirements and improved our yield."
Companies in this article
Videos from Key Technology, Inc.