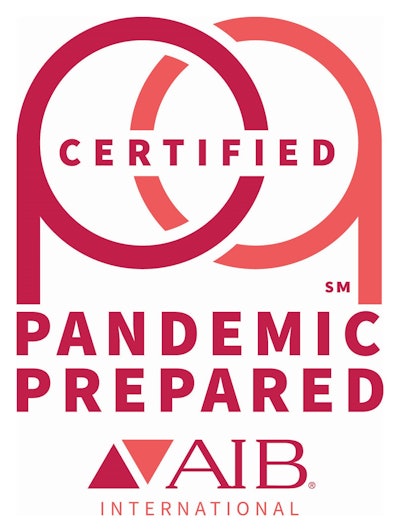 AIB International launched the Pandemic Prepared Certification, the first certification standard created for the food and beverage supply chain that elevates critical planning for people, facilities and production inputs and delivers significant social impacts, builds bottom line resiliency, and unlocks insurance benefits.
The certification provides assurance for the food and beverage supply chain and consumers that companies are committed to establishing and maintaining best practices. While the certification requires an investment, active risk management protocols and continuous refinement to remain certified, those operations are then recognized as bringing the highest standards of integrity to the global food and beverage supply chain, according to AIB.
AIB International collaborated with thought leaders from government, academia, international agencies, and the top brands to develop the certification standard. It contains five distinct areas operations will need to demonstrate proficiency in order to become certified:
1. Pandemic Crisis Management
2. Supply Chain Management
3. Intermittent Operations Planning Management
4. Health Crisis Mitigation Measures and Management
5. Pre-Requisite Program Review
Learn more at www.aibinternational.com.