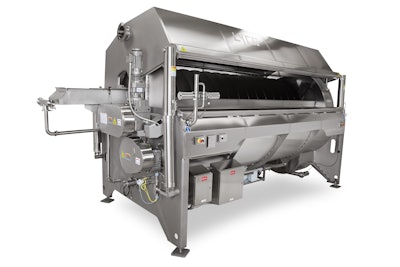 Inexpensive and widely available dry beans, lentils, and peas are a growing meat substitute choice as they are some of the most nutritionally-complete foods, being high in protein, fiber, and carbohydrates, and low in fat.
Market analysis prepared by The Good Food Institute and the Plant Based Foods Association–the trade association representing more than 160 plant-based food companies–reports that in 2019 the plant-based meat category was worth more than $939 million worldwide annually, with sales up 18.4% compared to the prior year, and more than 208 million units of plant-based meat were sold.
This success comes through achieving the desired taste and texture. Manufacturers prepare pulses through processes such as hydration, cooking, de-flavoring, pasteurization, and cooling. Varying product characteristics are achieved by altering these process conditions.
Continuous Processing
Continuous processing technology in the handling of pulses for cooking and cooling are beyond quality and throughput expectations of batch processes. Processing labor hours have reduced to a fraction of what batch systems require.
Continuous process systems move pulses through an enclosed perforated drum, submerging the product in water and using an auger or screw to control dwell times. The pulses are hydrated, cooked, and cooled to the same degree throughout their movement in the drum from entry to exit, ensuring uniform first-in/first-out (FI/FO) processing and a consistent end product. Pre-programmed PLCs ensure precisely-controlled process and recipe management.
The conventional method of continuous process uses a rotary drum, where the enclosed auger/drum assembly rotates as one cylinder. A more recent continuous design has the auger rotating while residing within a stationary wedge-wire screen.
The most advanced continuous-process systems provide a product damage rate of less than 1%. Supporting this is the development of two technologies that ensure more uniform processes and allow cookers and coolers to handle higher throughputs:
A gentle mechanical stirring action on the pulses as they progress through the machine
The Hydro-Flow system, which applies water injection, suspending the pulses more evenly across the width of the machine, uniformly treating each particle
Lyco Manufacturing (Lyco), a manufacturer of commercial cooking and cooling systems for food processors, has developed much of these technological improvements, such as Hydro-Flow, and has resulted in more than 50% of the dry bean market adapting to continuous over batch systems.
Hydration
Hydration is necessary to prepare the pulse for cooking or extrusion, by increasing water weight from a dry state of approximately 12% moisture to as much as 58% moisture.
"For hydration, continuous systems are much more effective than conveyor systems and static soak tanks of water," says Jeff Zittel, vice president of sales, marketing, applications engineering, and service at Lyco. "Hydration times are reduced from 4 to 12 hours, down to 1 hour or less."
Cooking and Cooling
Zittel expresses a growing need in the industry: "Food processors have become increasingly concerned about food safety, quick change-overs, and faster clean-up time and turn-around time. This trend is taking place around the globe to accommodate the needs of more diverse consumers, particularly with the manufacture of ready-to-eat meals, and cooking and cooling plant-based proteins for meat substitutes."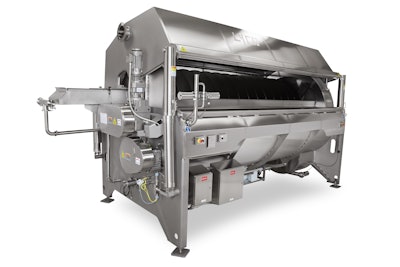 Lyco's Clean-Flow continuous-processing system addresses this need, designed with a screw auger similar to the systems mentioned prior using a stationary wedge-wire screen, encapsulating the screw from the 3:00 to 9:00 o'clock position. The tolerance between screw and screen is less than one-half a grain of rice. Suspended via Hydro-Flow, the pulse runs through the Clean-Flow cooking system, then the cooling system to stop the cooking process.
Clean-Flow reduces cleanup to minutes, with both screw and wedge-wire on a 360 rotation around the screw, alternately exposing the interior and exterior of the screen to clean-in-place (CIP) manifolds located in the cover of the machine. The CIP cleans more than 98% of the machine without manual intervention, says Zittel.
De-flavoring
De-flavoring removes the bitter taste from garbanzo beans, yellow split peas, lentils, and other pulses. The process is optimally accomplished by steaming.
Lyco's Vapor-Flow steam cooker uses an auger wrapped with a perforated screen to transport the pulse through the machine. Steam is injected at the base of the cylinder at multiple points. The rotating auger ensures uniform heat penetration throughout the product load depth.
The recently released Pressure-Flow continuous cooker system also de-flavors pulses in 8 minutes or less. The system can hydrate, par-cook, or fully-cook pulses, grains, and other particulates. It provides a continuous FI/FO pressure cooker, while offering the latest in fully-automated Clean-Flow technology in a pressure vessel.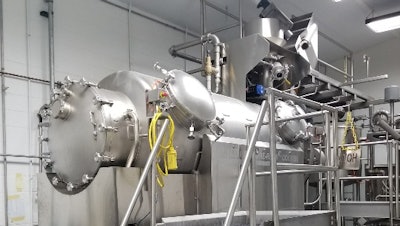 Pouch Cooling after Pasteurization
Water is the most economical and efficient medium for removing heat during this cooling process. Cooling time depends on product, density, weight, and recipe, varying from 20 to 120 minutes. USDA Regulations dictate that final product temperature must be close to 40°F or lower within a given period of time. Pouches must pass through the danger zone (130°F to 80°F)– where bacteria tend to proliferate–rapidly, though gradual cooling is important to avoid freezing the exterior while the core remains warm.
Lyco's Chill-Flow system for cooling pouched plant-based proteins in the form of strips, burgers, sausages and crumbles functions as a rotating drum with an attached auger, and a perforated skin sheet wrapped around it, fixed to the auger flights, to eliminate pinch points. These flights move the pouches through the system. The pouches are carefully agitated with Hydro-Flow, turned over, and massaged, while submersed in 33°F water as they advance through the cylinder, for higher energy efficiency. Once through the system–in an FI/FO sequence–the pouches, now at 40° F, are deposited out of the system for packaging and storage in a freezer. Product damage is near 0%.
The preparation of these dry beans, lentils, soy beans, and peas for processing into plant-based meat substitutes is increasingly becoming standardized with the use of continuous-processing systems. These highly-automated systems maintain precise control over time, temperature, and moisture, enabling higher throughput, a better ROI, and most importantly a more standardized and better quality product.
Jim McMahon writes on industrial, manufacturing and technology issues. His features have appeared in more than 2,500 business and trade publications worldwide.
Companies in this article