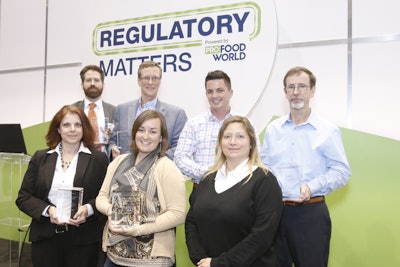 Sponsored by PMMI's OpX Leadership Network, the Sustainability Excellence in Manufacturing Awards are peer-reviewed awards and honor companies that go beyond simple environmental compliance to achieve sustainable ways to drive improved business performance. The 2016 awards are based on projects and programs conducted from 2015 through 2016.
The 2016 winners in the Project category are:
Snyder's-Lance, Perry, FL, Project, 1st Place: Reclaiming process water
Pepperidge Farm, Bloomfield, CT, Project, 2nd Place: Clean power from fuel cells
Keystone Foods, Camilla, Georgia, Project, 3rd place: Antibiotic-free hatchery.
The 2016 winners in the Program category are:
Smithfield Foods, Arnold, PA, Program, 1st Place: Reducing chemical use
Smithfield Packaged Food Group, Kinston, NC, Program, 2nd Place: Protecting water quality
Sierra Nevada Brewing Co., Mills River, NC, Program, 3rd Place: C02 recovery and reuse.
The awards were presented on April 4 at a special ceremony during ProFood Tech 2017. Honorees included (see photo above, first row left to right): Donna Laviolette of Keystone Foods and Cheri Chastain of Sierra Nevada Brewing. Amber Brovak of Sunny Delight Beverage moderated the awards ceremony. Second row left to right: Ryan Postlethwait of Smithfield Foods, Harry Pettit of Pepperidge Farm, Wesley McGhee of Snyder's-Lance and Charlie Prentice of Smithfield Foods.
Please visit www.profoodworld.com later this year for information about the 2017 Sustainability Excellence in Manufacturing Awards. Details about the submission process will be announced in the Fall of 2017.
The next ProFood Tech will take place March 26-28, 2019 at McCormick Place in Chicago, IL. Mark your calendar now.