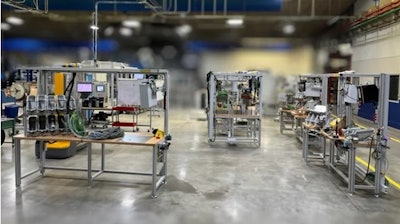 Since the pandemic, supply chain issues have been a problem for companies worldwide, leaving no company unscathed. Some companies have weathered this storm a little better than others because of their flexibility and willingness to adapt to the necessary complexities encountered. Grundfos, a multi-national company, that delivers products, solutions, and services all over the world to tackle some of the world's most difficult water challenges has recently announced it is in the process of launching a new production line in Fresno, Calif., for their Grundfos smart digital dosing pumps closer to where customers are asking for the product. Digital dosing pumps help companies ensure accurate chemical injection and dosing and are perfect for any industry or industry sector, including food and beverage, mobility, energy, pharmaceuticals, biotechnology, municipal water and wastewater treatment, irrigation, and more.
According to Irwan Mukmin, the regional product manager, dosing & disinfection for Grundfos, this line will have a similar production set up as the Grundfos' digital dosing production line in France with upgrades to the current sensor, driver, and electronic technology. With local demand growing for digital dosing pumps and dosing systems, Grundfos is equipping themselves to better serve these customers developing the capacity to meet future growth.
"We are continuing to build our ability to deliver high-quality product to the market. We are seeing a lot of growth in recent years for our Smart digital dosing pumps. Having the extra capacity is going to help…we currently get the components from a long supply chain to assemble our dosing pumps. Producing them in the U.S. allows us to improve our resilience in the supply chain. We will fully assemble the Smart digital dosing S pumps in Fresno, Calif., where we have partial assembly today. We will also locally source wet end parts like the pump head, check valves, and other similar components in the U.S.," says Mukmin.
The plant in France, from which the U.S. will be modeling their operations, has been in business since 2011. Smart digital pumps are always built to order, allowing customers to customize their order, taking advantage of multiple options available to them. For example, the dosing head is available in PVC, stainless steel, or PVDF, and all pumps are available in different sizes. Once the customer selects and orders their desired pump, it is developed directly on the production line.
Because it is important to produce their pumps with zero defects, Grundfos tests each of their products regularly delivering on the reliability and accuracy expected. Data about the pump to be produced is saved on an RFID tag, which follows the pump all the way through production and testing. When the trolley reaches a workstation, the workstation scans the RFID tag and shows the operator which components to select. The Pick-to-Light system emphasizes quality, instructing which tools to use and even sets the angle and maximum torque of the screwdriver. Even though Smart Digital pumps are available in thousands of variants, every single pump gets exactly the parts the customer requires, and all parts are assembled correctly, in the right order. After production and testing, the digital dosing pump requested is ready to be sent to the customer, made with high-grade materials and strict attention to quality to ensure long-term reliability and durability.
The production line in France was developed in close cooperation with the operators who work there every day. Fresno intends to continuously improve and apply lean principles to the operation in the U.S. to ensure ergonomic design and production efficiency.
Companies in this article