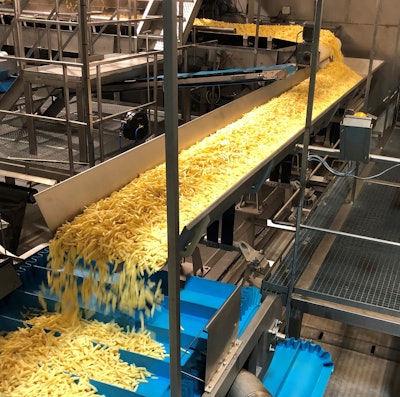 Photo courtesy of Key Technology
As with many systems in food and beverage manufacturing, the COVID-19 pandemic has put several demands on mechanical conveying systems throughout plant operations. Increased need for flexibility, monitoring and reporting capabilities, reliability, and enhanced sanitation are just a few examples. The technologies that help with these requirements can also help control costs.
When COVID-19 vaccines started rolling out, getting dry ice in the right amount to the right place became critical—it kept the vaccine cold and ensured its integrity during high-volume transportation. The discharging solution developed for this project illustrates some of the ways that conveying systems are tackling challenges in the food and beverage industry as well.
One way is through increased automation, which also comes with greater monitoring and reporting capabilities. Every sensor in the dry ice discharging system used in the vaccine project reports back to a server, providing a wealth of information about the operation of the system and its health, according to Scott Nyhof, president of Material Transfer, the system integrator on the project.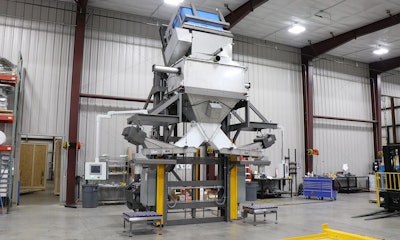 This is data that a food plant operator can use. "They know when something is not running right," Nyhof says. "Is this bearing failing? They can probably figure it out by how long it takes to rotate the unit."
Such applications—along with frozen foods, pet foods, plant-based proteins, and other rapidly growing market segments—need an assist to flow freely and consistently. In the case of dry ice, that aid is mechanical and subjected to a temperature of -109 °F, Nyhof notes.
Although Material Transfer makes simple conveyors, the integrator called on Eriez to help achieve the required material movement for this dry ice application. A customized 65B Electromagnetic Vibratory Feeder handles the sub-zero temperatures and enables precise feed control, says Eric Confer, market manager for light industry at Eriez.
The feeder also readily incorporates into a highly automated system, Confer adds. "Eriez offers standard controls that can integrate into a variety of computer-driven processes, making automation as easy as flipping a switch," he says. "We also provide custom controls for intrinsic automation, such as closed-loop and standalone systems."
Addressing changing demands
Automation advances in conveying technology are also making it easier for food and beverage producers to weather shifts in production demands brought about by the pandemic. Prior to the pandemic, a customer of Key Technology produced bulk packages of frozen french fries destined for quick serve restaurants. That line of business came to an abrupt halt, followed by weeks of idle time. When the production line started up again, a wide range of potato products in retail packs replaced what had been a large volume of identical packets of frozen fries. A steady and predictable flow became much more varied, subject to change with little notice.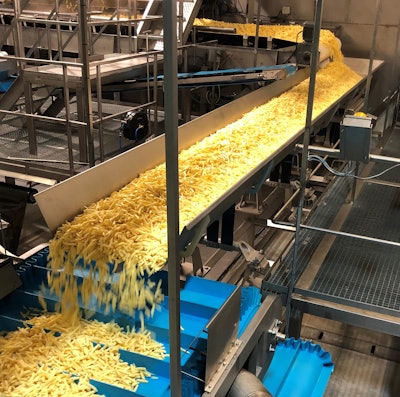 Automation helped the producer adapt to this new—and still evolving—environment, says Rudy Sanchez, process systems product development manager for Key Technology. The conveyors can fit into a plant's control systems, bringing additional benefits. "On a fully integrated line, data collected by the sensors on one machine can automatically trigger all the necessary adjustments to other machines on the line without human intervention," Sanchez says. "For example, if downstream equipment sends data about changes to product flow, it can trigger upstream gates or diverters on distribution shakers to control feed rates."
This monitoring and control can be done from a location within the plant or remotely. With the right setup, this oversight can even happen on a smart-phone, a tablet, or other mobile device.
Automation improves labor productivity
The increasing use and availability of automation can help with another prominent issue: varying workforce availability. Stay-at-home orders, absence due to COVID-19 quarantine protocols, and the impact of illness on individuals and families have all contributed to unpredictable swings in the number of staff present at any given time. Automation can improve staff productivity by taking over some tasks, making overall operation more efficient and safer in the process.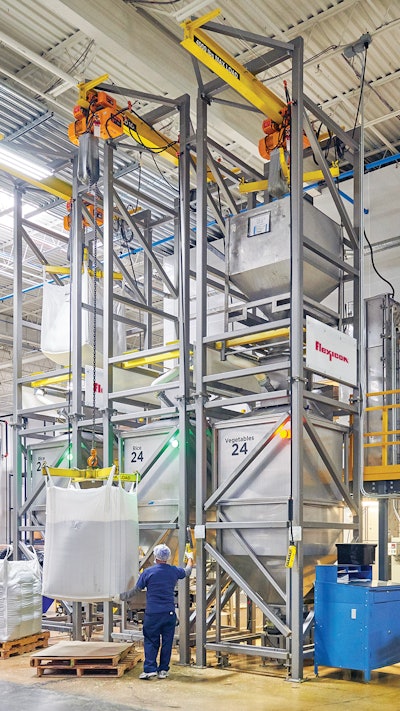 Hapman conveyors, for example, come in a variety of sizes and configurations. But one thing all of them have in common is a control system that eliminates challenges caused by manual links among other systems on the line. "Our conveyors all come with auto start/stop functions for downstream equipment," says Mike Zeluff, product manager for Helix flexible screw conveyors at Hapman. "Nine times out of 10, we're going to a hopper, to a packaging machine, or to a feeder that has a high-level sensor in it already. Our controls can work off of that sensor so that the operator is not starting and stopping the conveyor."
Automation protects against the challenges of a fluctuating workforce in several ways, according to Greg Slack, vice president of global sales for Flexicon. First, eliminating manual methods of conveying, bulk filling, dumping, and unloading equipment reduces the chance for job-related injuries. Second, automation can eliminate guesswork and a reliance on printed documentation or memory when setting up a transfer or conveying process. "Specific batch menus can be entered into the system and called up when needed, which saves time and assures that the proper sequencing occurs," Slack notes.
Virtually all of Flexicon's equipment is available with state-of-the-art control technologies for easy-to-operate interfaces, Slack adds. These can range from pushbuttons to customized human-machine-interfaces (HMIs)—technologies that also lead to a more productive staff.
Reliability, hygienic design go hand in hand
Aside from increased automation on the conveyors, two other key trends are improved reliability and enhanced sanitation. Like automation, these have taken on greater importance during the pandemic. "With fewer people available to work on factory floors, the value of automation, equipment reliability, easy sanitation, and great customer service have skyrocketed," Key Technology's Sanchez says.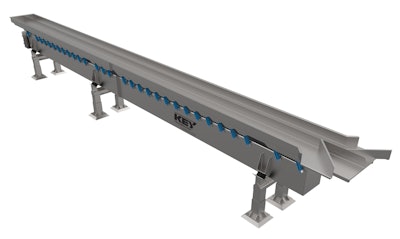 Reliability and sanitation go hand in hand, he notes. For example, many Key Technology customers choose vibratory conveyors over belt conveyors because they have fewer moving parts and an easy-to-clean bed surface, improving both reliability and sanitation. What's more, Key Technology's vibratory conveyors feature a monobeam construction, with a single structural member tucked under the conveyor bed. That improves sanitation because there are fewer parts to clean. Smart feedback improves system control, thereby enhancing product flow, reducing spillage from the conveyor, and further boosting sanitation.
This focus on sanitation begins with the design of the conveyors. Engineers use finite element analysis and flow modeling to simulate product movement on the conveyor and the operation of the conveyor itself. This analysis is followed by other design and construction practices.
"We slope surfaces to prevent standing water, minimize laminated surfaces and make 100% continuous welds instead of skip welds," Sanchez says. "We consider the sanitary design features within product contact zones as well as the splash zones and the structural supports supporting the equipment. All of our conveyors can be washed down with high-temperature, high-pressure water."
Wire Belt Company of America makes its products from stainless steel, which has always been safe for food contact. But the company has taken further steps toward hygienic design. "Wire Belt has recently introduced a line of enhanced hygienic conveyors that have many food safety-related features," says Rick Spiak, vice president of sales and marketing for the belt supplier.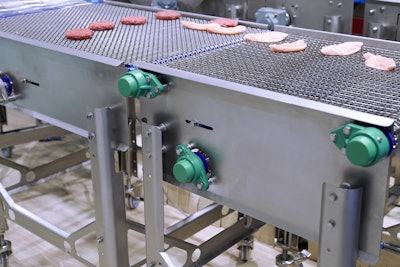 Features of the new Wire Belt line include simplified wash-through and open section leg frame construction, part of a clean-in-place (CIP) design that makes the conveyors easy to sanitize, clean, and maintain. The equipment also contains high-density blue plastic components. These materials, along with the design, leave no place for bacteria and allergens to hide.
"All our sanitary equipment is constructed of 304 or 316 stainless steel and finished to food and dairy standards, including 3-A certified and USDA accepted," says Flexicon's Slack. In addition, the equipment offers design features that minimize washdown time while eliminating contamination.
Sanitation and the ability to easily clean equipment seemed at one time a "nice-to-have" feature, comments John Strong, sales manager for Dynamic Conveyor. The need to maximize worker productivity during the pandemic changed the calculation with regard to throughput and sanitation. "Now speed and ease of cleaning is paramount," he says.
The company's DynaClean products help in this effort. Designed and fabricated to minimize places where contaminants can hide, they are easy to clean without requiring the use of any special tools, which saves time, he notes.
Food safety, conveyor quality, ease of wash-down, and sanitation all work together, Hapman's Zeluff says. These interacting needs impact everything from the finish on an industry standard material, like 304 stainless steel, to the welds that join different structural pieces together. Some welds must be continuous, polished, and blended into the base metal. At the extreme, customer requirements might mandate a full blending, which entails grinding and fine polishing that can make the welds disappear. These various construction procedures are all done to eliminate any cracks or crevices that can trap contaminants or lead to standing water.
But there is a limit as to what is possible, Zeluff says. "Sometimes the design doesn't allow for it because you have to build structurally to support your equipment."
The level of support required also includes the weight of the product, which can be in the thousands of pounds. In cases where the need for sanitation and structural support collide, lasers might enable fabrication that meets requirements for cleanliness and strength, according to Zeluff.
Flexible, modular, and portable equipment is now required
A final key trend involves adapting to change, which shows up in a number of areas. Cost and demand swings, for instance, have buffeted both the makers of conveyors and those in the food and beverage industry who use such equipment.
One way to overcome such situations is through equipment flexibility. Many of Flexicon's systems are available with frame-mounted casters that allow for in-plant mobility, a capability that pays off in several ways, according to Slack. "The system can be rolled almost anywhere in a facility, potentially eliminating the need for multiple examples of the same equipment," he says. "An extra benefit is that they can be moved to a designated cleaning or storage area between uses."
Dynamic Conveyor has conveyors that are modular, Strong notes, meaning that they can be changed in the field and modified in response to demand changes. He recalls one customer that opted for a sectional sanitary conveyor so that its length could be altered to accommodate demand that ebbed and flowed due to shutdowns and other external factors.
Strong also points to the company's portable conveyors. Food and beverage processors can move these from one bulk hopper to the next, dispensing different ingredients into the conveyor so that they form layers. The end result, in the case of one processor, was that the portable conveyor functioned as more than just a way to get material from one point to another.
"The conveyor became a multipurpose tool to collect product, and then transfer it, and then, as it unloaded, the layers of the product self-mixed, making it function as a mixing machine," Strong explains. "Three machines in one."
The need for more adaptability to handle changing conditions shows up in the making of conveying systems themselves, Sanchez says. Stainless steel is the biggest element in the Key Technology's systems, and this key component has seen large swings in pricing and lead times. With the World Steel Association forecasting continued growth in steel demand for 2022, and China, a leading supplier, cutting back on steel production for environmental reasons, the squeeze on the material is not likely to ease.
Conveying system makers are therefore implementing strategies to ensure that they can meet their customers' product needs. "We plan ahead and purchase stainless steel and other materials and components in more quantities than we used to, so we have the necessary supplies to minimize delays and interruptions," Sanchez says.
Other vendors report similar approaches, targeting different key components as a way to continue to provide the needed level of customer support. Wire Belt, for instance, has built up a raw material inventory, doing so at the beginning of the pandemic, according to Spiak. The company also works closely with and communicates frequently to key customers, he adds. This helps overcome supply chain challenges and demand swings.
Enhancing uptime and increasing flexibility
Looking forward, conveying equipment suppliers expect these trends of automation, reliability, sanitation, and flexibility to continue and to interact with each other. Automation, for instance, is being pushed into new areas in an effort to enhance uptime and increase flexibility. Customers want assurance that equipment will be available when needed, and so suppliers are putting technology to work to provide that reassurance.
"Remote diagnostics, which lets a processor know a machine is healthy and alerts them if it's not, is more popular now than ever," Sanchez says.
Processors are also increasingly asking for better precision in material movement. The need is to not only get the ingredient to the right point but also in the right amount, with the margin for error expected to continue to shrink over time.
"They [processors] need better accuracy. Accuracy is getting more and more important," Nyhof says. Automation will continue to play a key role in measuring material and controlling its movement.
Finally, these trends and what they require may also conflict. Zeluff notes, for instance, that demand is growing for both portable units, which provide flexibility, and a higher discharge height, which is needed for bigger hoppers, blenders, and the like.
There is a limit on how big a portable unit can be, though, with one constraint being worker safety and another being ceiling height. Once unit heights get to about 14 or 15 ft, Zeluff advises going with a modular, and not portable, design. This approach does require swapping equipment in and out, but with a toolless design, the time it takes to do the switch can be reduced by two-thirds, depending on the configuration.
As heights rise, processors, system integrators, and equipment suppliers need to think through how all critical tasks will be done, preferably doing so during the design phase of a project.
A conveying system will not always simply move goods along. There will be times when the product changes, and so a towering structure installed without taking changes into account could cause a problem.
Companies in this article
Videos from Key Technology, Inc.