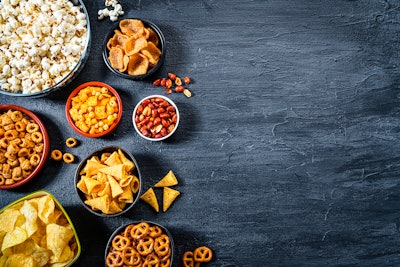 Getty
The multi-billion dollar snack market is projected to grow 3%-4% in 2021 according to SNAC International; still an impressive number after the soaring growth of 2020, when the pandemic had families in lock-down and snacking at home increased sales by double-digits in some categories.
David Walsh, VP of Membership and Communications at SNAC International, shared insights at the PACK EXPO Las Vegas Innovation Stage about the State of Snacking. SNAC also released their annual State of the Industry report, which was shared at the show.
COVID-19 Brought Big Changes
During the pandemic, consumers turned to snacking for comfort, often purchasing family-size or multi-pack snacks online. Of particular focus during this time was holistic health and wellness goals. During 2020, 10-16 oz, and 4.5-8 oz. sizes saw the most dramatic increase in sales. The SNAC report mentioned that 2020 resulted in slowed new product development due to the pandemic, but that should reverse in the second half of 2021 and into 2022.
Trends Today
Walsh said that there is less "on the go" consumption, but consumers are still snacking more times per day. Holistic and health immunity are top of mind, making functional snacks more important with ingredients such as: high fiber, protein, whole grains, calcium fortified, vitamins, minerals, antioxidants, probiotics, and collagen.
Millennials and Gen-Z consumers snack more frequently and are more likely to use snacks as a meal replacement. (92% report replacing at least one meal per week with a snack.)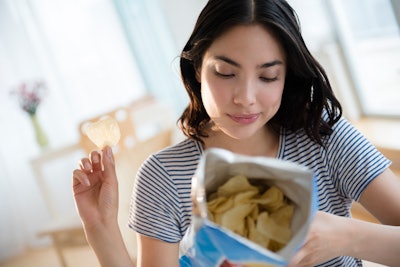 Consumers are demanding sustainability, and health is important, but taste is still the driving factor, as are price, packaging, loyalty, and reach.
Online snack sales and marketing are now crucial. However, since snacks are often an impulse purchase, "producers need to engage consumers differently to maximize online sales." Social media and online initiatives such as providing recipes that use snacks as ingredients are key to reaching and engaging with consumers.
---
---
The Market Today
According to the special report, 2022 will bring challenges to the industry from continued supply chain and labor challenges, as well as rising prices for commodities and oil. This will require companies to be innovative throughout their entire chain of operations, to increase efficiency.
Product diversification is key, and growth drivers are flavor, packaging, and sustainability. Walsh adds that to adapt to the evolving environment, producers must balance price, quality, and wellness, and pay attention to pack size and variety, while also building for online sales. Leveraging targeted media to reach consumers at-home, and taking advantage of more in-home celebrations, is key.
Some emerging trends are the addition of probiotics, functional late-night snacks, and lab-grown or plant-based protein, and collagen.
Key Category Insights:
Super-hot and spicy paired with sweet flavors
Hot with added nuance
Sweet flavors such as fruit, chocolate, maple, and nut butters
International flavors such as Latin American, Asian, Middle Eastern
Savory snacks are up 8.2% from May 2020 to May 2021.

"Other" Savory Snacks are up 14.8%, with $4.8 billion in sales. The 'other' category features many 'better-for-you' snacks and includes examples such as Veggie Straws, Veggie Crisps, or Green Pea Snack Crisps. Fruit chips overall are up 7.1%, and apple chips are up 18%. This category also sees the growth of incubators and start-up companies that are supported by co-manufacturers across the U.S.
Tortilla chips were up 6.3% to $4.9 billion, and come in new shapes, sizes, and flavors. Popular choices include chips made with peas, carrots, plantains, and feature spicy flavors, or protein-added ingredients.
Protein was popular in other areas too, with meat snacks/jerky up 24% so far in 2021, and 17% in 2020. Category innovations include meat and cheese combos, and "clean" products with no added ingredients or sugar. Companies are touting environmental friendliness with sustainable sourcing and free-roaming herds.
Pork rinds were up 11% in 2020 and are up 7% so far in 2021, with some producers seeing double-digit growth. A popular option for Keto diets, new flavors such as dill pickle, hatch chile, and apple cinnamon have come to market.

Cheese snacks are up 8.2% to $2.2 billion, with new spicy flavors, and formats such as parmesan cheese crisps or pepper jack crisps in demand. Another category that is Keto-friendly, some producers also saw double-digit growth from May 2020 to May 2021.

Ready-to-eat popcorn was among the top-selling snack in 2020, up 10.3% to $1.4 billion. By 2023 this category is expected to grow 8.3%, making it the fastest growing snack.
Pretzels are up 7.3% to $1.2 billion, and benefit from a "better-for-you" perception as formats such as protein-filled or grain-free. Popular alternative ingredients include cassava, sorghum, and root vegetables.
---
---