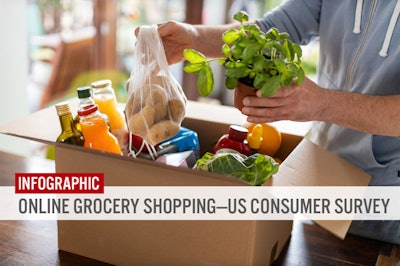 "US Online Grocery Survey 2022: Assessing Trends in Shopper Behavior, Quick Commerce and Meal Kits," conducted by Coresight Research for the fifth year in a row, reveals 54.3% of U.S. consumers bought groceries online in the past 12 months, a decline of 4.7% compared to last year. It also notes a slight decline, a dip of 2.6 percentage points, in consumers who say they are planning to buy groceries online.
The percentage of online grocery shoppers who collect their own order rather than wait for delivery (42.8%) rose 5.2 percentage points, as consumers try to dodge higher delivery fees and surcharges.
Even as pandemic restrictions ease up across the country, the study still predicts healthy growth of online grocery sales and suggests retailers should build on their pandemic-driven trends to position themselves for growth.
The study examines online groceries shopper behavior at Amazon Prime versus Walmart, Target, Sam's Club, and Costco.
Other data includes:
Five-year numeric comparison of grocery retailers shopped by consumers
Delivery's multi-year trajectory: Instant needs, rapid delivery, scheduled delivery, and the demographics of who is using them
How volume of grocery shopping done online has changed over the last five years vs. number of shoppers

Comparison of top retailers' share of omnichannel shoppers (online and in-store)
Leading online categories
A spotlight on Amazon/Whole Foods' five-year performance
Last mile and quick commerce: Delivery vs. collection preferences over five years
Meal kits and healthy eating preferences
The entire 25-page study is available here.