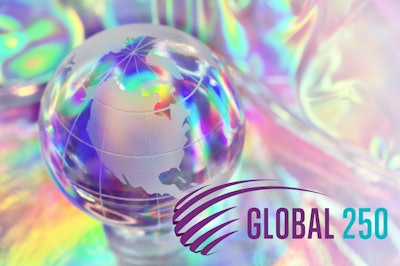 The COVID-19 crisis has upended the food and beverage manufacturing industry. However, unlike other sectors of the economy that have been decimated by the pandemic, most processors are not only surviving, but thriving during this unprecedented public health crisis. Many of the manufacturers in ProFood World's Global 250 Food and Beverage Manufacturers list are nimbly navigating the coronavirus pandemic with flexibility and resilience as they pivot their operations to focus on their legacy products and retail channels.
Consumers have changed their purchasing and eating habits in the wake of the worldwide COVID-19 outbreak. As businesses shut down, more people work from home, and countries around the world issue stay-at-home mandates, consumers are foregoing restaurant visits and limiting their shopping trips in an effort to avoid contracting the virus, prompting significantly more people to load up their grocery store baskets and eat at home more often.
---
Did you know more data is available for the GLOBAL 250? Use search and sort functions for the entire database here. Statistics on U.S. sales for each company, U.S. beverage sales by company, US package goods sales by company, global beverage sales by company and global package sales by company are available. Processing facility location information is also available. Don't miss the exclusive data for the Global 50 alcoholic beverage manufacturers here.
---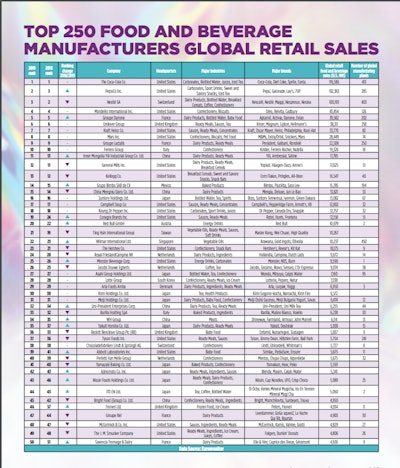 Home sweet home
At the height of the outbreak in the spring, food flew off supermarket shelves as consumers stockpiled pantry and refrigerator staples in preparation for extended stays at home. According to the Eating Occasions Compass research from the Hartman Group, a food and beverage research firm, at-home eating in the U.S. accounted for 88% of all eating and drinking occasions in spring 2020, an increase of 12% from 2019. Away-from-home eating occasions were cut in half this year, dropping to 12% in 2020 from 24% in 2019.
Although panic buying has abated as many countries have eased their lockdown restrictions and businesses have reopened, consumers will continue to pad their pantries at least for the length of the pandemic. According to a study of more than 1,600 U.S. consumers from PwC, a multinational professional services firm, 64% of respondents said they will continue to maintain their current rate of pantry loading for the foreseeable future. The survey found that 42% of respondents won't stop pantry loading until the COVID-19 crisis is fully resolved, while 24% said they will continue to load their pantries until grocery stores are consistently restocked. About 18% said they won't stop stockpiling.
COVID-19 will also continue to impact the foodservice industry, which includes restaurants, school and work cafeterias, and hotels, as consumers remain cautious about eating out. A white paper from foodservice consultancy Technomic found that 3 in 10 consumers said they plan on leaving the house less often, not go to restaurants, or not order food or beverages from away-from-home venues.
Taking center stage
The reduction in foodservice demand combined with consumers continuing to stockpile food have been a boon to Big Food. While the world's largest food and beverage manufacturers are experiencing a sharp drop in foodservice sales, they have been able to offset those losses with a surge in retail sales. Companies with established center-store brands have been reporting better-than-average results, including Nestlé, The J. M. Smucker Company, Kraft Heinz, Mondelēz International, and B&G Foods. Center-store sales have seen a resurgence, driven by consumers stockpiling frozen food and shelf-stable packaged foods as items that offer convenience and a longer shelf life take on renewed importance during the COVID-19 era. In addition, consumers are reaching for familiar nostalgic brands in this time of uncertainty. After years of seeing consumers flock to healthy, fresh, artisanal, and other trendy foods, this surge in center-store sales has breathed new life into iconic legacy brands, including Kraft Macaroni & Cheese mix from Kraft Heinz and Conagra's Chef Boyardee canned pastas, which experienced flat or sagging sales over the years.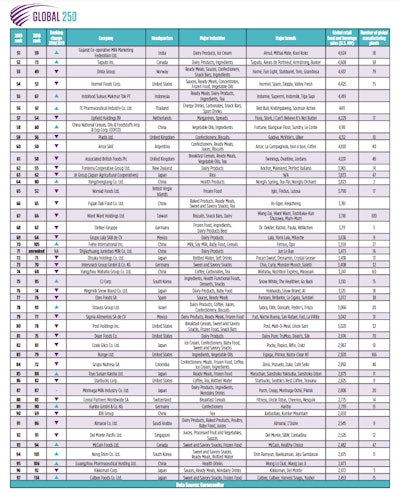 In addition, lifestyle changes consumers have made as a result of the COVID-19 crisis have further fueled demand for these old standbys. About 85% of consumers have changed the food they eat or how they prepare food because of the pandemic, according to the International Food Information Council's 2020 Food and Health Survey. The survey found that the biggest change is that 60% of consumers are cooking at home more. Additional consumers are indulging in snacking as well: About 26% of respondents say they snack multiple times a day and another third snack daily. Snack food consumption has increased more than 8% during the pandemic as consumers turn to savory and sweet snacks for comfort and enjoyment, according to the Snack Food Behaviors in Challenging Times study from market research firm The NPD Group. Building on that need for comfort, analysts and experts say that consumers are reaching for these established brands from Big Food because they provide nostalgia and familiarity as consumers deal with stressors, such as work demands and financial hardships, during this time of uncertainty.
---
See it Live at PACK EXPO Connects Nov. 9-13: 15 Minutes Format Changeover – The Flexibility of Form, Fill and Seal Machines (FFS), by SN Maschinenbau GmbH. Preview the Showroom Here.
---
To meet this sudden shift in consumer demand and keep store shelves stocked, many processors have cut back their SKUs. They have been focusing on producing top-selling, popular products in order to streamline operations and maximize efficiency in their supply chains. This is a strategy Campbell Soup Co. had already been executing pre-pandemic when it divested its international and fresh divisions in 2019 in favor of bolstering its core Meals & Beverages and Snacks divisions. The company accelerated the plan during the pandemic, refocusing production on its classic canned soups and snacks. The strategy paid off. In the third quarter of fiscal 2020, earnings before interest and tax rose 11% to $273 million, while net sales increased 15% to $2.24 billion. The company attributes the growth to a 35% increase in quarterly soup sales as well as strong gains with its Prego pasta sauces, V8 beverages, Campbell's pasta, Pace Mexican sauces, and Swanson canned poultry. It says comfort foods like soup and Prego pasta sauces cater to "quick scratch cooking," which allows home cooks to assemble meals quickly. "Consumers have gravitated to our brands because of the comfort they bring," said Mark Clouse, Campbell's president and CEO, during the company's third-quarter earnings call with analysts. "Think of tomato soup paired with grilled cheese or family spaghetti night with Prego pasta sauce or the fun of sharing SpaghettiOs with your kids. All of them have seen significant consumption gains during the crisis."
Net sales of snacks increased 9%, driven by strong gains in fresh bakery products, Goldfish crackers, Pepperidge Farm cookies, Kettle Brand and Cape Cod potato chips, Pop Secret popcorn, Snyder's of Hanover pretzels, Lance Sandwich crackers, Late July Snacks, and Snack Factory Pretzel Crisps.
"In this quarter, we experienced unprecedented broad-based demand across our brands as consumers sought food that delivered comfort, quality, and value," says Clouse. "Campbell's products were purchased by millions of new households, with total household penetration increasing over 6 percentage points in the quarter compared to the third quarter of fiscal 2019."
Back to basics
Frozen foods are also making inroads with consumers during the COVID-19 crisis, thanks to their long shelf life and ease of preparation. The Frozen Food Sales Amid COVID-19 survey from the American Frozen Food Institute found that 86% of consumers have bought frozen food items, such as pizza, vegetables, and entrees, since early March. Nestlé has benefitted from the frozen food boom with double-digit growth from its DiGiorno, Hot Pockets, Stouffer's, Jack's, and Tombstone brands. The J. M. Smucker Company had a strong fourth quarter, aided by strong sales of its Uncrustables products. The sales of the frozen, hand-held sandwiches surged to $365 million in fiscal 2020, ended April 30, from $289 million in fiscal 2019. And Kellogg's North American frozen foods business saw sales for its Eggo frozen waffles increase 45% in the first quarter and 26% in the second quarter of fiscal 2020. Sales for its MorningStar veggie line rose 66% in the first quarter and 31% in the second quarter. To continue to meet demand for these and other mainstay products, Kellogg chose to delay the launch of Incogmeato, a plant-based meat alternative for its MorningStar brand.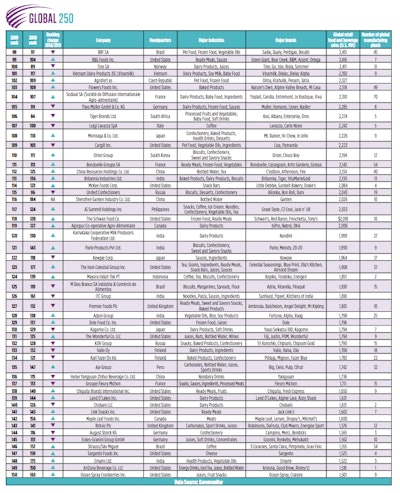 With more people cooking at home to save money and avoid exposure to the coronavirus, many processors are ramping up production of products that facilitate those culinary endeavors. For example, as General Mills trimmed its SKUs to make its supply chain more agile, it focused on key high-volume products that let consumers bake at home. In its fourth quarter, General Mills' U.S. meals and baking operating unit generated a 68% growth in sales, driven by strong gains from brands including Pillsbury refrigerated baked goods, Betty Crocker desserts, and Gold Medal flour.
McCormick & Company is also capitalizing on the shift to home cooking. The seasonings and spices company posted an 8% sales increase it the second quarter of fiscal 2020 compared with the same quarter a year ago. Sales to consumers rose 26%, with high volumes in the Americas, Europe, Middle East, and Africa. But it also saw sales drop with its foodservice clients by 18%. To promote its products with consumers, McCormick plans to launch a marketing campaign that educates consumers on how to use its products in the kitchen.
---
See it Live at PACK EXPO Connects Nov. 9-13: Magnetic Separation for Pneumatically Conveyed Products, by BUNTING. Preview the Showroom Here.
---
"Our results for the second quarter were significantly impacted by a shift in consumer demand resulting from the COVID-19 pandemic," says Lawrence E. Kurzius, chairman, president, and CEO of McCormick. "Our exceptional consumer segment growth was driven by the substantial increase in demand as consumers were cooking more at home. In our flavor solutions segment, our results were significantly impacted by sharp declines in demand from restaurant and other foodservice customers as away-from-home dining was significantly curtailed. Taken together, these impacts demonstrate the strength and diversity of our offering."
Consumers in Latin America are mirroring the eating and buying behaviors of Americans and other consumers around the world as Latin American countries become hotspots for the pandemic. As they quarantine themselves in their homes and limit grocery store visits, Latin American consumers are also stockpiling food staples. For example, while Grupo Bimbo saw net sales rise in the second quarter to 19.9% primarily due to strong growth in North America, the multinational bakery company also increased sales in Latin American countries by 13.3%. The company credits volume growth to both retail and e-commerce channels, helping it to gain market share across bread, buns and rolled breakfast, sweet baked goods, and snacks categories. These gains helped to offset some of the weak volumes Grupo Bimbo experienced with its foodservice and convenience store channels due to the COVID-19 outbreak.
Foodservice vs. retail
Europe-based food processors are also depending on retail sales to help make up for losses in foodservice sales. For example, Unilever's second-quarter sales dipped only slightly by 0.3%, thanks in part to consumers buying the company's ice creams and soups during the pandemic, offsetting its massive plunge in foodservice sales. Foodservice sales dropped 40%, and out-of-home ice cream sales decreased nearly 30% in the first half of the year as restaurants, hotels, cafes, theaters, and bars closed or operated in limited capacity. However, the consumer goods giant says it attained double-digit growth in its Foods & Refreshment division with an uptick in sales at retail channels. Its Knorr soups and Hellman's mayonnaise lines proved to be strong performers with consumers in quarantine. In addition, sales of Breyers, Magnum, Klondike, and Ben & Jerry's ice creams rose during the period to boost Unilever's at-home ice cream sales by 15% in the first quarter and 26% in the second quarter.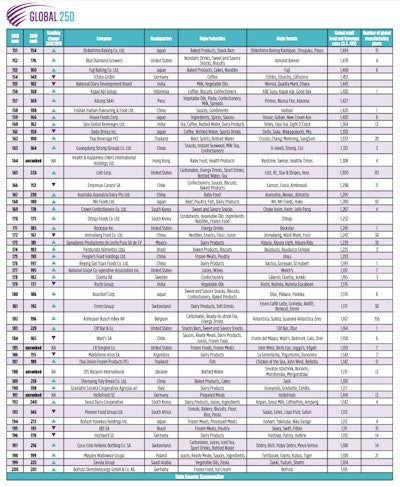 Despite weathering the first half of the year relatively unscathed, Unilever still faces challenges ahead. Some analysts say that the ongoing pandemic could put the company at risk. Unilever experienced a 2.4% growth in the first half of the year led by developed markets in North America and Europe. But the company relies on about 60% of its annual sales in emerging markets. As the coronavirus expands in Africa, Latin America, and other parts of Asia, Unilever's overall revenue could take a hit.
---
See it Live at PACK EXPO Connects Nov. 9-13: Are Your Materials More Specialized and Expensive Now? by Cablevey Conveyors. Preview the Showroom Here.
---
Like Unilever, Danone has been dinged by a decline in foodservice sales in the first half of the year. After posting a 3.7% increase in sales in the first quarter thanks to pantry loading and panic buying, Danone was unable to maintain the momentum. In the second-quarter, the French company was hit with a 5.7% drop in sales. The weaker second-quarter sales reflected less pantry loading by consumers and a 28% decrease in net sales in Danone's bottled water division, which depends on foodservice and on-the-go consumption.
But Danone's second-quarter financials did have some bright spots. The company's Specialized Nutrition business, which includes infant and adult nutrition products, saw sales rise 2.7% in the first half of the year. Danone's Dairy & Plant-based division posted a net sales increase of 3.1% in the first half of the year, with solid growth in North America and Europe. To ensure it can keep shelves stocked with its dairy and plant-based brands in Europe and North America, Danone is focusing on producing only top-selling SKUs and packaging them in larger formats. Building on the success of its dairy, plant-based, and nutrition products, Emanuel Faber, chairman and CEO of Danone, says the company will develop affordable, healthier versions of comfort foods, predicting that consumers will want to rebalance their diets as the pandemic continues.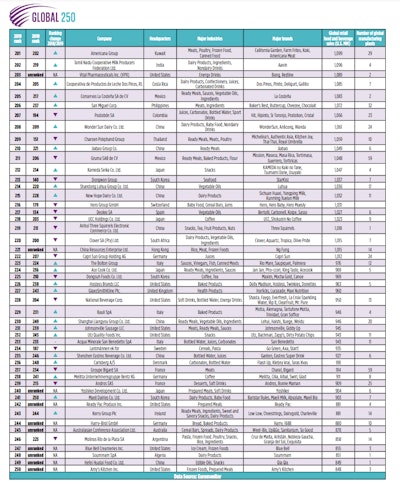 Cheers to beer
COVID-19 has taken its toll on the alcohol segment as well. Although more people are buying booze for at-home consumption compared to last year, those retail sales won't be enough to prevent a downturn in the industry, according to research from IWSR Drinks Market Analysis. The study says that global alcohol sales will drop 12% this year because of the worldwide shutdown of bars, restaurants, travel, and live events, and predicts that the industry won't return to pre-pandemic levels at least until 2024.
To prevent sales from collapsing further, Big Alcohol is focusing on lower-cost products to help cut its production costs and meet consumer demands for less expensive alcohol products in this tightening economy. For example, Anheuser-Busch InBev, the world's largest brewer, saw revenue from its top three brands—Budweiser, Stella Artois, and Corona—drop 11%. But some of its inexpensive beers, like Lion Lager, were performing well in certain markets, like South Africa, and growing at a double-digit rate in the first quarter. Meanwhile, Asahi, Kirin, Suntory, and Sapporo Breweries—Japan's four biggest brewers—saw their beer revenue in Japan fall in the first half of 2020 compared to a year earlier. However, sales from their low-malt happoshu beers and so-called third-segment quasi-beers made from cheap malt alternatives grew in the same period as people drank at home while reducing their spending on alcohol.
---
See it Live at PACK EXPO Connects Nov. 9-13: Choosing the right Vacuum Technology for your Food and Packaging Applications, by Busch Vacuum Solutions. Preview the Showroom Here.
---
Although the beer category has taken a hit in 2020, IWSR predicts beer will recover better than the wines and spirits sector, led particularly by growth in low- or non-alcoholic beers, forecasting an 8.1% compound annual growth rate from 2019-2024. Both Heineken and Carlsberg will continue to invest in its alcohol-free beers, fueled by consumers' heightened focus on health and well-being during the coronavirus pandemic. While Heineken saw net revenue decrease 16.4% and beer volumes fall 11.5% in the first half of 2020, the Dutch beer maker posted double-digit growth for its Heineken 0.0 alcohol-free beer brand across all regions, with strong performance in the U.S., Mexico, and South Africa. Its Danish rival, Carlsberg, has long focused on low- and no-alcohol beer as a key growth driver, citing demand from younger people focused on healthy lifestyles. Prior to the pandemic, Carlsberg was experiencing a 16% volume growth in its alcohol-free beers compared to 1% growth from its core beer products. The company launched its latest no-alcohol beer, Tuborg Zero, on May 1 in Denmark. After just one month, Tuborg Zero became the best-selling alcohol-free beer, according to Carlsberg.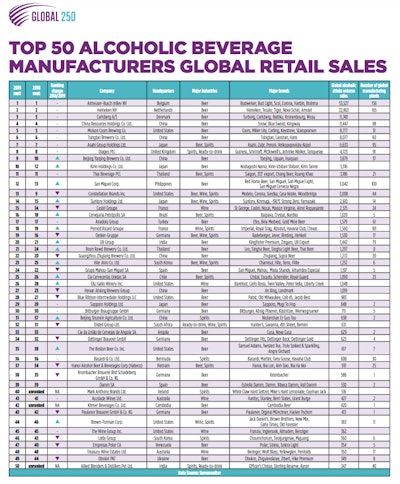 Charting the course forward
The COVID-19 crisis has certainly been both a boon and challenge for processors. While this unprecedented public health crisis has put strain on their supply chains, hurt foodservice sales, and set new product development on the back burner, the pandemic has also helped Big Food stage a comeback and fuel sales growth as consumers take a second look at their iconic legacy brands. As these processors look ahead, the challenge is to maintain this momentum in a post-pandemic world—whenever that will be.
Other articles you may like:
Processors Enhance Safety Protocols to Keep Workers Safe During the Covid-19 Pandemic
How To Broaden Use of Remote Access
Companies in this article