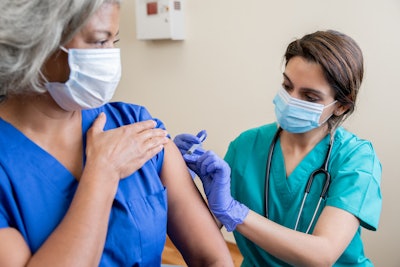 The U.S. Department of Labor's Occupational Safety and Health Administration (OSHA) has announced a new emergency temporary standard (ETS) to protect more than 84 million workers from the spread of the coronavirus on the job. Under this standard, covered employers must develop, implement, and enforce a mandatory COVID-19 vaccination policy, unless they adopt a policy requiring employees to choose to either be vaccinated or undergo regular COVID-19 testing and wear a face covering at work.
The ETS covers employers with 100 or more employees—firm or companywide—and provides options for compliance. The ETS also requires employers to provide paid time to workers to get vaccinated and to allow for paid leave to recover from any side effects.
---
---
In addition, the ETS requires employers to:
Determine the vaccination status of each employee, obtain acceptable proof of vaccination status from vaccinated employees, and maintain records and a roster of each employee's vaccination status.
Require employees to provide prompt notice when they test positive for COVID-19 or receive a COVID-19 diagnosis. Employers must then remove the employee from the workplace, regardless of vaccination status; employers must not allow them to return to work until they meet required criteria.
Ensure each worker who is not fully vaccinated is tested for COVID-19 at least weekly (if the worker is in the workplace at least once a week) or within seven days before returning to work (if the worker is away from the workplace for a week or longer).
Ensure that, in most circumstances, each employee who has not been fully vaccinated wears a face covering when indoors or when occupying a vehicle with another person for work purposes.
The ETS does not require employers to pay for testing, although they may be required to pay for testing to comply with other laws, regulations, collective bargaining agreements, or other collectively negotiated agreements. Employers are also not required to pay for face coverings.
The ETS is effective immediately upon its publication in the Federal Register. Employers must comply with most requirements within 30 days of publication and with testing requirements within 60 days of publication. The ETS also serves as a proposal for normal rulemaking for a final standard. OSHA is seeking comment on all aspects of this ETS and whether the agency should adopt it as a final standard.
OSHA is offering robust compliance assistance to help businesses implement the standard, including a webinar, frequently asked questions and other compliance materials.
Tyson's efforts result in outstanding success
Some companies have already made remarkable strides in ensuring the safety of their employees. One of these is Tyson Foods, which recently announced over 96% of its active workforce is vaccinated.
To better protect its team members and their families and communities from the impact of the COVID-19 virus, Tyson Foods announced on August 3, 2021, that it would require COVID-19 vaccinations for its U.S. workforce by November 1, 2021. The decision made Tyson Foods the largest U.S. food company, and the only one in the industry, to require such vaccinations.
Tyson President and CEO Donnie King recently released a note to the company team members, in which he said: "Throughout the pandemic, your health and safety has been our top priority. We have used every tool at our disposal to help keep you safe. And getting vaccinated is the single most effective tool to protect you, your families, and our communities against the COVID-19 virus.
"We couldn't be happier to let you know that, as of today, over 96% of our active team members are vaccinated—or nearly 60,000 more than when we made the announcement on August 3. This is an incredible result—not only for our company, but for your families and our communities across the country.
"Has this made a difference in the health and safety of our team members? Absolutely. We've seen a significant decline in the number of active cases, companywide. The pandemic is not over, and we haven't yet won the race. But we know we're in it together, and our future is bright."
Companies in this article