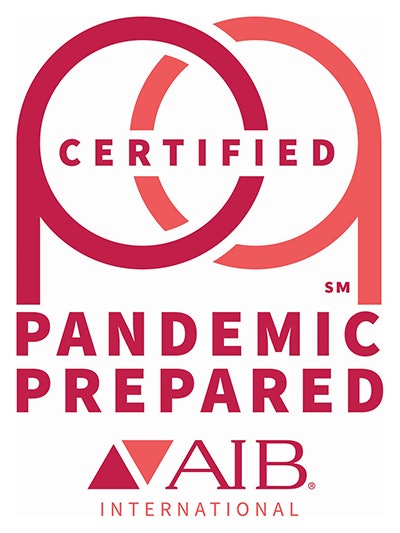 The food and beverage supply chain was ill-prepared for a global pandemic and the associated disruption it created in business operations worldwide, according to AIB. To help food companies prepare for the future, AIB International created the Pandemic Prepared Certification.
Developed in collaboration with some of the world's top brands, this is the first certification standard created for the food and beverage supply chain that elevates critical planning for people, facilities, and production inputs, according to AIB International.
Benefits of becoming certified
The Pandemic Prepared Certification is designed to be practical, vetted, auditable, and prescriptive in nature. It is meant to provide assurance for the food and beverage supply chain–including employees, insurance providers, retailers, and consumers by demonstrating a commitment to establishing and maintaining best practices, resulting in business continuity.
"It also delivers significant social impacts. It builds a bottom-line resiliency and it unlocks insurance benefits as well," says Rodriguez, regional sales manager, East Coast/Canada Global Sales, AIB International, and primary contact for the Pandemic Prepared Certification.
The insurance-related benefits include lower legal risks in insurance premiums, and insurability and risk mitigation, which can be used to prove the company is lowering its risk of being negatively impacted by a future pandemic.
Standards and tips
Based off of best practices, fulfilment of common regulatory requirements, and food safety practices, the certification provides five distinct areas where a company needs to demonstrate proficiency in order to become certified.
1. Pandemic Crisis Management
This relates to managing supply chain and operational needs during a pandemic-related crisis to prove the manufacturer can continue to manufacture safe product while implementing measures that are protecting the workforce. This entails writing and reviewing your plan, completing a risk assessment, creating actionable items, and testing the crisis management plan. For example, users should review the Crisis Management Plan to include pandemic alongside fire, flood, and other crises, and plan frequent Crisis Management team meetings.
2. Supply Chain Management
This area consists of maintaining needed supplies to keep the facility operating and defining procurement responsibilities for raw materials and packaging, PPE, lab testing, sanitation chemicals, and contracted services. For example, supplier approvals must be applied to everything, including PPE; and employees must read labels on chemicals used for COVID-19 clean-up before purchase to ensure they are labeled effective for the destruction of COVID-19.
3. Intermittent Operations Planning Management
These are the best practices to protect the workforce and prepare equipment and the building for operation during the crisis, planning a shut down, and planning a start-up. Food companies should have a contingency plan for shutdown; use stock rotations, perishable material control, and insect susceptible tests; and inspect silos, ingredients, recleaning equipment, and the buildings to effectively plan for start-up after a shutdown.
4. Health Crisis Mitigation & Management
This comprises the mitigation measures to prevent disease transmission between workers, visitors, and contracted service providers in the facility. It shows the facility can optimize and maintain workforce health throughout the crisis, using health checks, PPE requirements, mitigation measures while working, and protocols for positive tests. For example, food companies should treat used PPE as if it were contaminated and dispose of accordingly; maintain control of and set expectations for the cleaning of reusable PPE; and ensure there is a procedure for where and how PPE is put on and taken off. In addition, food processors should be aware that some individuals are asymptomatic.
5. Prerequisite Program Review
Prerequisite programs require evaluation to determine what additional support for food and worker safety during time of crisis are needed. They include integrated pest management (IPM), a food safety plan, food defense, receiving, engineering, maintenance, and sanitation.
"Back to basics" is a good mantra for all food and beverage processors. Plant leadership should review all of the prerequisite programs with its food defense team, review its food defense plan, and train site employees. In addition, food plants should not overlook exposure to drivers during the receiving process, including handling paperwork, using pallet jacks, going into facilities for bathroom breaks, or using a porta-john etc. Plus, all employees must use the pest sighting log.
The COVID-19 site self-assessment is available as well as the onsite and online certification processes.
---
PACK EXPO Connects – November 9-13. Now more than ever, packaging and processing professionals need solutions for a rapidly changing world, and the power of the PACK EXPO brand delivers the decision makers you need to reach. Attendee registration is open now.
---
Other articles you might be interested in:
Meatpackers Accelerate Automation after Virus, but Lag Behind Overseas Counterparts
FDA Establishes the U.S. Agent Voluntary Identification System for Food Facilities
Processors Enhance Safety Protocols to Keep Workers Safe During the Covid-19 Pandemic
Companies in this article