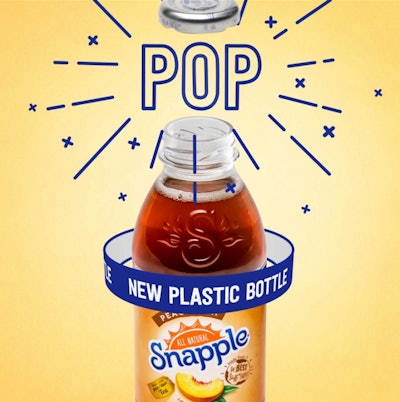 When it comes to package design, shape is one of the most important ways a company can create a distinctive and memorable brand identity. Unique label designs, graphics, and colors also add to the recognizability of the brand. And sometimes, a package offers that extra little "pop" that consumers come to love. For premium tea and juice brand Snapple, that pop is a literal one—the sound of the metal cap as it's removed from the bottle.
Snapple is part of Plano, Texas-based Dr Pepper Snapple Group, whose brands include beverages of every stripe: carbonated soft drinks, mixers, juices, dairy drinks, water, and more. Snapple, launched in 1972 in Brooklyn, offers upwards of 30 different varieties of premium tea and juice. For its 20-, 32- and 64-oz sizes, Snapple uses a PET bottle. However the original — and most beloved — bottle is its 16-oz size, which until recently was made of glass.
Over the years, the iconic glass Snapple bottle built a strong relationship with its consumers through its heavy, premium feel, embossed logo on front and back, and metal closure that made an audible snap or pop sound when opened, ensuring consumers of the beverage's freshness. Adding a touch of personality, in 2002 Snapple began adding numbered "Real Facts"—fun and obscure factoids—on the underside of its caps. According to Snapple's website, it has now produced 1,504 Real Facts, the most recent being, "The longest MLB game went 26 innings."
For years though, Snapple felt switching to a lightweight and shatterproof PET bottle for its 16-oz size would offer consumers greater convenience for on-the-go consumption. But how to recreate the package's distinctive features, especially the pop of the metal cap, with a plastic bottle?
"The Snapple consumer is very, very protective of the bottle shape, they're protective of the pop, and they're protective of the under-the-cap facts," says Patrick George, senior director of engineering for DPS. "If you don't supply them with those three things, they're not happy."
To solve the technical challenges of creating a PET bottle that replicated the look and feel of the glass bottle and could be topped with a metal closure, DPS worked with longtime partner R&D/Leverage, a product design and mold manufacturer out of Kansas City, MO. After persevering for three years, DPS and R&D/Leverage presented to the market a PET bottle that is nearly indistinguishable from its glass predecessor.
Time to get it right
One of the pleasures of the package redesign project, George shares, was the freedom the DPS and R&D/Leverage team members were given to solve the problem. "Frankly, we had tried a number of times to get to the same bottle, and with most of our efforts, because of different circumstances, we ended up with design limitations brought on by timing or by the folks doing the design applying their predetermined ideas.
"For this project, we needed to be able to design a bottle that worked exactly the way we wanted it to without a lot of external influences. We wanted to go in and say, 'This is what we want to do, now how do we get there?,' take the handcuffs off their engineering team, and allow them to take us where we needed to go." He says DPS chose R&D/Leverage because "from a technical standpoint, R&D/Leverage is tops," and because they had no preconceived notions about what could or could not be done.
Project team members included George, DPS Director of Packaging Engineering Stephen Doerr, R&D/Leverage Project Engineer/Research and Development Brian Lefebure, and Galen German, manager, metal closure development, for Crown Cork & Seal.
To move from glass to PET for Snapple involved many technical hurdles. Among them, because the PET bottle needed to replicate the look of the glass package, it could not use panels on its body to absorb the vacuum created during the hot-fill process. In fact, vacuum was required to pull the metal closure down to securely seal the container and create the popping noise when opened.
"If we had put any panels in the bottle, we would have lost vacuum because they're made to deform to allow the bottle to move in an organized manner, whereas we didn't want that," says George. "We wanted to make sure we pulled as much vacuum as we could so the top of the button on the closure would be pulled down." Too much vacuum though could distort the bottle during filling.
The solution was the way in which the plastic was distributed in the bottle (details are proprietary) as well as an "abnormally heavy wall thickness" of 0.038 in., according to R&D/Leverage's Lefebure. But the heft of the bottle brought its own set of challenges.
As Lefebure explains, being able to mold and reheat a preform that produces a heavy-walled bottle in a reasonable amount of time was one. Keeping the wall thickness uniform was another. He says, "If the bottle wall varied, it would collapse and not hold enough vacuum to pull down the metal cap. Heavy walls are a challenge due to lower stretch ratios."
Trying to establish a more precise and consistent fill level in the bottle was a challenge too, he adds. "If the bottle was filled too high, the finish would begin to distort/deform/relax, which would then reduce the removal torque level required by DPS and would fail."
The bottle was just part of the challenge; the cap also needed to be redesigned to work with the plastic finish. According to George, to cap a PET bottle with a metal closure, you have to distribute the capping force via the lugs without distorting the finish.
"When you make the closure smaller, you have a lot more force," he says. "If you have a larger opening, say 63 millimeters, you can put a lot more connections on the finish so you're not pressing as much in one location. That's why plastic closures work really well, because you can consistently press all the way around the circumference of the finish. The smaller you get, the harder it gets, which is one of the things we had to solve." Closure supplier Crown, represented by German, worked closely with DPS and R&D/Leverage to design a four-lug metal cap for the Snapple PET bottle to fit the container's four-lead finish.
Bringing the bottle to fruition
Throughout the project, R&D provided a range of services, including ideation, product design and modeling, and Finite Element Analysis (FEA) simulation. It also produced preforms on its Arburg 84-ton ALLROUNDER 320-210-750 injection-molding press and bottles on its Sidel SBO1-LAB blow molder. The bottles were then tested in its QA lab for top load, vacuum, fill height, wall thickness, hot fill, cap torque, and pressurization.
In switching to PET, DPS already had experience using the material with its larger-size bottles. As with the larger bottle, the smaller one does not include a barrier. "We decided very early on not to include a barrier," says George. "We knew through our close monitoring of shelf life and of our product through warehousing that we wouldn't need it." Snapple beverages have a six-month or longer shelf life, depending on the variety.
While DPS blow molds some of its other packaging in-house, the Snapple 16-oz bottles are supplied by Plastipak and Graham Packaging Co. Meeting one of DPS's original goals, the new bottle fits seamlessly into its existing filling lines.
The 16-oz PET Snapple bottle was unveiled in February 2018. At first glance, it is identical to the glass package, but with a hot-fill base. Given its weight, it feels like a glass bottle in the hand, although George notes that it weighs 80% less. It also doesn't break—one of the major benefits to consumers for on-the-go consumption. And, the pop of the closure and the Real Facts underneath the cap ensure consumers have the same experience with the product.
Says George, "The whole key of what we were trying to do is change the bottle in a way the consumer never noticed. We wanted them to see this bottle as the glass bottle, which took a lot of time and effort. But I think we were successful in that there are a lot of people who are still surprised it's a plastic bottle."
Duncan Hardy, director of sales for R&D/Leverage, provides his company's perspective on the project: "Snapple worked really hard on their brand and the iconic look they've had over the years in the glass bottle. Being able to accomplish that same look in plastic and maintain the attributes of the iconic shape and the 'snap' feature was a technical struggle, but we achieved what Snapple required, including making the metal cap work."
Companies in this article