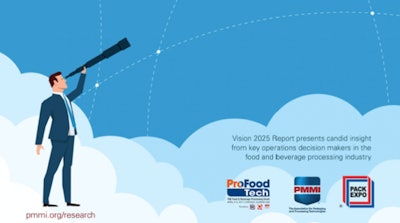 Earlier this year at ProFood Tech 2017, PMMI conducted focus groups with food and beverage professionals who have primary responsibilities in processing operations. Part one in this series of articles provides a snapshot of their perspectives in four key areas: consumer demands, internal operational challenges, workforce challenges, and regulatory requirements and their impact on supplier relations.
According to PMMI's Vision 2025 research project, one way to understand the "new normal" in manufacturing environments is to think about it in aviation terms, complete with headwinds, turbulence and smooth air. The ever-increasing demands made by consumers that reverberate upstream throughout the entire supply chain are the headwinds. As CPGs navigate these headwinds, internal operations face significant pressure, especially regulatory requirements and workforce challenges—this is where turbulence, chaos and disruption live for CPGs. To bring order to the chaos, CPGs are focusing on a variety of solutions to operational challenges, chief among them improved relations with OEMs and other suppliers.
Headwinds and icebergs
Typically, consumers are looking for products that enable their own personal supply chain. They want goods in specific formats where and when they need them and include:
Freshness
Preservative-free or use of natural preservatives
Gluten-free, GMO-free and allergen free
Clean labels, sustainable goods with an emphasis on organic, natural ingredients
Easy-to-read nutritional information
Packaged in a sustainable way that is also easy-to-use
Purchased online for convenience sake
Formulated to meet their specific tastes
This list represents tip of the iceberg, according to PMMI's Vision 2025 report. There are considerable variations within them in terms of age and demographics that further challenge a food or beverage company's response to consumers.
Because of the headwinds listed above, CPGs are dealing with internal operational, workforce and regulatory challenges on a daily basis. Focus group members report suffering from project "scope creep" as a result of poor planning at project onset. In fact, the ever-changing consumer is a double whammy for CPGs – the fickle consumer coupled with poor internal manufacturing processes makes it difficult to meet consumer demands. In addition, CPGs face unrealistic internal expectations as they move faster to meet consumer demands. Sometimes, third-party validations on equipment and processes can slow operations down resulting in a "hurry up and wait" environment. The speed-to-market pressures on CPGs result in expedited turnarounds, not enough planning and beta testing. This quick decision-making can often lead to product launch failures, according to the report. In some cases, CPGs are putting more products into the marketplace earlier and tweaking them along the way.
Assessing the challenges
According to the Vision 2025 report, CPGs need a wider range of options from OEM equipment suppliers and require greater efficiency from equipment that is modular, flexible for shorter runs, multi-functional and easy to changeover. But combining big line efficiency with small line flexibility presents a real challenge for CPGs. Some focus group members think processing and packaging lines have too much technology, leaving a weak workforce unable to keep up. In addition, aging infrastructures and legacy equipment are keeping manufacturers from gaining ground against current output challenges.
Departmental disconnects are also not helping the problem. Some processors report losing leading suppliers in favor of low-cost suppliers. Driven by procurement mandates, supplier relationships become transactional or "price only" versus ones that includes longer-term, total cost of ownership attributes.
Other challenges include:
Constant turnover in the marketing department, making it difficult for operations to develop good, cross-functional relationships
Pressures from big box retailers regarding products and packaging alternatives
Uncertainty about Amazon's multiple selling platforms and supermarkets such as Aldi and Lidl
Pressure regarding clean labeling versus packaging cost reductions
Varying definitions of "organic" and "natural" foods and ingredients.
Workforce woes and regulatory rules
For most CPGs, there are repeated challenges with associates who can't keep up with technology. In addition, finding new people and then training them remains as one of the biggest obstacles. Several CPGs report that automation solutions can intensify workforce challenges because even higher skills are needed to operate automated machinery. In fact, the report states, some companies must even put projects on hold due to a lack of skilled workers. In addition, some companies have difficulty meeting salary demands for workers due to competition from other employers.
Several CPGs note that while they are wearing many hats in their jobs, they are having difficulty getting coworkers to do the same. Most CPGs report challenges in working with Millennials just as Millennials report challenges in working with older associates. Issues creating havoc between the generations include the "turn and burn us" attitude of CPG companies toward Millennials as well as what CPGs see as demands by Millennials for instant gratification. On the other side of the table, Millennials perceive a lack of advancement opportunities inside CPG companies.
In addition to staffing headaches, CPGs also many regulatory challenges. Ongoing difficulties include keeping up with new technology and having to invest in training agencies on new equipment, components, processes, etc. Food and beverage manufacturers face ongoing challenges in getting and keeping their associates trained to meet regulatory requirements, especially related to FSMA. The report states they often must add resources to meet FSMA recordkeeping. While most recordkeeping is now done on paper, more CPGs are moving to automated record keeping to meet regulatory edicts.
Another challenge is managing the variation in interpretation of definitions, standards and processes by regulatory inspectors. And excessive audits continue to plague some CPGs with scrutiny coming from the FDA, USDA, state and local regulatory inspections, customer appraisals and other third-party audits.
Resources:
Part two of this series will focus on how innovation and technology can bring order to chaos for food and beverage manufacturers.
Fresh off a successful 2017 debut that brought together nearly 10,000 food and beverage professionals, ProFood Tech 2019 returns to Chicago's McCormick Place on March 26—28, 2019.
For more information about Vision 2025 and other PMMI reports, visit https://www.pmmi.org/business-intelligence.
Companies in this article