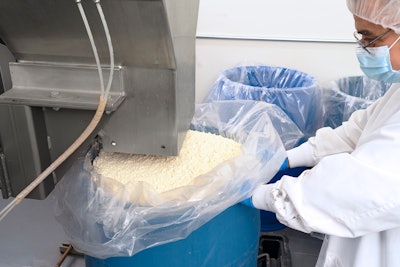 Munson Machinery
The market for nutritional supplements has grown substantially in recent years, due to many people prioritizing preventive self-care in their daily lives since the pandemic., The global market for supplements was valued at nearly $359 billion in 2021, and is expected to grow at a CAGR of 6.3% into 2030, according to Grand View Research
One of the major players in North America for nutritional supplements is Nutraceutical Research Sciences (NRS) in Tempe, Ariz. The contract manufacturer produces a wide variety of products for a number of clients, including anti-aging supplements, sports nutrition powders and drinks, vitamins, and meal replacements.
The company was founded by John Anderson, who spent more than 40 years in the dietary supplement industry before he passed away last October. Anderson had many innovative ideas and formulations that helped his company grow over the years. In 2020, Anderson identified an alternative use for a rotary batch mixer from Munson Machinery that had been used primarily in the baking industry. He thought the machine could help NRS process supplement powders with aqueous and oil-based liquids.
"We found that micro-encapsulating the particles in powders with certain liquids increased their potency, so we needed a fine spray when we were blending, but nobody was really doing that at the time. So, we got together with Munson and told them what we wanted to do," says Brian Martin, vice president of operations at NRS. "I believe we were the first nutraceutical company to customize this kind of mixer for nutraceutical production."
Because Munson's 50-ft3 rotary batch mixer was geared toward the baking industry to spray bakery products, the NRS R&D team tweaked the Munson mixer to work with some of the oils they were using. "We had to do a lot of R&D to figure out what spray nozzles and spray pressures worked best for us. It took a couple months to figure that part out, but once we did, it all came together," Martin says, adding that a dehumidifier was also attached to the mixer to remove excess moisture from the machine between batches.
Continuous blending
Prior to NRS purchasing a Munson rotary mixer, the company was using a V-shaped blender, which had several limitations related to what NRS was trying to achieve in production. "The way the [Munson mixer] is shaped, it actually scoops and tumbles our product, where the V blender kind of splits it apart and then brings it back together," notes Martin. "A rotary mixer is constantly flipping the powder, so, the rotary gives us a more consistent blend compared to a V."
That continuous blending also allows NRS to reduce downtime during production. "Because our mixer is 50 ft3, we can only fit about 500 kg into it at a time. But we can blend it for 20 minutes and unload it while it's running, and then load it with another 500 kg of product," Martin explains. "We can continuously run it and not stop/start like you do with a conventional blender."
The Munson mixer runs on a variable-frequency drive (VFD), which Martin says helps NRS save energy costs over time. "We use the VFD to soft-start or stop-soft very slowly during production. If we don't want to run it at full speed, we can actually dial it back down to half speed if we want to," he says. "That saves us energy by not having to run it at one speed and stop it completely every time we change batches."
Simple sanitizing
Cleaning the Munson mixer is another time-saver, with large doors allowing easy access to the interior, while the spray nozzles used for production double as a built-in washing mechanism. "We spray our cleaning agents through that, and then flush and rinse it clean," Martin says. "Our cleaning time with the Munson mixer is probably half of what it used to take for our V blender."
Anderson playfully nicknamed the Munson mixer Gemini 1 because it resembles a 1960s NASA Gemini space capsule turned on its side. Martin says NRS has had its eye on adding separate 90- and 300-ft3 Munson mixers at the company's 40,000-ft2 production facility, but those plans are still in progress. Martin says those mixers would be named Gemini 2 and Gemini 3 to keep Anderson's memory and innovative ideas alive at NRS.
"Right now, we're just contract manufacturing," says Martin, "but we're working on coming out with our own product lines in the future. John had hundreds of formulas, so we're going to use his library as our foundation."
Companies in this article