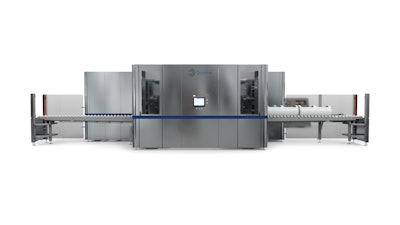 The Quintus Technologies QIF 400L high pressure processing (HPP) system meets the productivity needs of medium to large food and beverage processors.
Scalable from 4,000 lb to 7,000 lb per hr, the modular QIF 400L features an 18.5-in. diameter vessel, the largest available in the industry, for increased versatility and lower per unit production cost. Its compact footprint of 700 sq ft is designed for streamlined installation and robust operation, with fewer moving parts for less wear and an algorithm-based condition monitoring system that reduces the risk of unplanned stops.
"With its 18.5-in. diameter vessel, the QIF 400L represents a potential capacity increase of nearly 25% per load over 15-in. diameter vessels," says Ed Williams, general manager – Americas, Quintus Technologies. "This significant increase provides greater flexibility to accommodate large or bulk packaging, which is especially key for manufacturers who distribute through mass or wholesale merchandising channels. This, in turn, reduces labor costs, packaging expense, and the cost to produce per kilo, pound, or liter."
The QIF 400L is the second model in the Quintus HPP lineup, following the launch of the QIF 150L press in September 2021. This new-generation family incorporates advanced features, such as frequency-controlled motor drives for energy conservation; "SmartPress" cloud-based press management software; and easy access to all components requiring regular maintenance or inspection.
Companies in this article