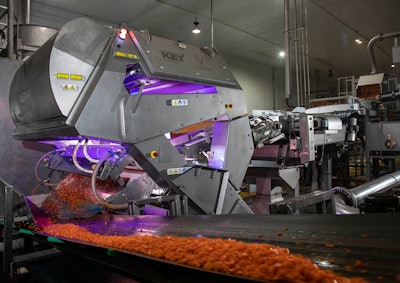 Photo courtesy of Key Technology.
Antarctic Foods has grown about 25% annually over the last few years selling frozen vegetables to baby food processors and others throughout Europe. The Roselare, Belgium-based company plans to maintain that growth in part by optimizing its inspection line. Antarctic installed two advanced digital sorters that not only remove foreign materials and defects from products but maximize the efficiency of its production process and elevate food safety.
Antarctic uses two VERYX digital sorters from Key Technology at its plant in Ychoux, France, to prepare carrots, green beans, and salsify of different types and various cut shapes and sizes. The belt-fed VERYX B140 sorter is located on the wet end of its processing line, while the chute-fed VERYX C140 is used for final inspection.
All-around inspection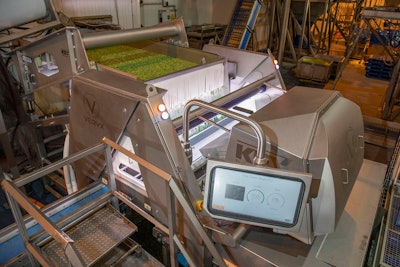 Both VERYX sorters feature technology that provide all-sided surface inspection. Top- and bottom-mounted off-axis, four-channel cameras recognize colors, sizes, and shapes. Two-sided high-resolution laser sensors detect structural properties, including the presence of chlorophyll. Key's Pixel Fusion detection module combines pixel-level input from the cameras and laser sensors, producing higher contrasts to find the most-difficult-to-detect foreign materials and defects without false rejects.
According to Key Technology, the VERYX B140 is the world's only belt-fed sorter that inspects product entirely in the air with top and bottom sensors. In addition, the bottom-mounted sensors on the VERYX B140 are positioned away from product splatter so full surface inspection is sustained throughout long production cycles without operator intervention.
With the cameras, lasers, and Pixel Fusion technology, the sorters remove foreign material, including insects, animal parts, paperboard, wood, rocks, plastics, and glass, as well as extraneous vegetative matter, such as weeds from the product stream. They also find and remove product defects to make grade.
"Weeds like nightshade and datura are a much bigger problem than they used to be. With farmers using fewer pesticides and herbicides on conventional crops and, of course, the enormous growth of organic farming, we see a lot more weeds coming into our factory with raw product," says Herwig Dejonghe, director general of Antarctic. "We work hard to be sure we get all the extraneous vegetative matter out. We use mechanical systems to remove as much as we can, and then we rely on our optical sorters to remove what the mechanical systems miss."
Efficient processing
The VERYX sorters have also helped Antarctic maximize production efficiency. Because Antarctic processes multiple seasonal products, the company needed a sorter that could handle product changeover quickly. THE VERYX sorters store recipes with sorting criteria unique to each product that allow changeover to occur in seconds with each new product that comes on the line. "Saving sort recipes to VERYX's memory eases use and helps us produce consistent results," Dejonghe says.
In addition, the VERYX sorters remove foreign material and defects from products before they reach the blanching and freezing stations, ensuring that facility only consumes energy and processes on high-quality products.
The belt-fed VERYX sorter also improves sort accuracy with three-way sorting. In addition to having one reject stream that leads to waste and an accept stream that moves product forward in the production process, the VERYX B140 has a third stream that diverts below grade product that needs rework. "By separating this third stream prior to blanching, it has more value because we can do more with raw product," Dejonghe explains. "Of course, the final primary objective of sorting frozen product immediately prior to packaging is to ensure final product quality."
According to Antarctic, the VERYX sorters have not only improved its product quality and production process, but have also set the company apart from its competition. "Because we sell our frozen vegetables as ingredients to other food processors, many of our customers also use digital sorters, so they know the technology," says Dejonghe. "Having two VERYX sorters on one line differentiates us. We're demonstrating our commitment to producing top-quality product."
"Since we installed our VERYX sorters, we've seen a big improvement. We measure the good-to-bad ratio and the defect removal rate in addition to tracking customer complaints," Dejonghe says. "These sorters enable us to achieve our quality objectives virtually regardless of the quality of the incoming material. That level of quality control—that improvement in quality—would be impossible without this technology."
Companies in this article
Videos from Key Technology, Inc.