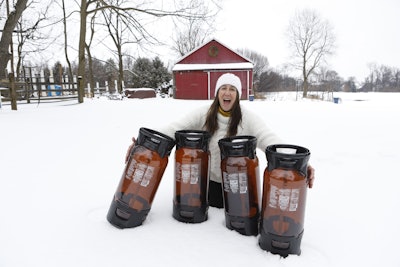 Photo courtesy of Nourish Juice Bar
Launching Heirloom Markets in various neighborhoods around Philadelphia, the Giant chain was looking to create an innovative grocery shopping experience. Placing them near like-minded stores such as Whole Foods and Trader Joe's, one of the novelties of the Giant Heirloom Market was to create tap bars—every store with a beer garden, but also other tapped beverages such as cold brew and kombucha. Francine Covelli saw it as an ideal vehicle for her cold pressed juice.
Nourish Juice Bar began in 2013 as a retail farm shop and cold pressed juice company based in Kennett Square, Pa., about 40 miles outside of Philadelphia. The company began national distribution in 2017. To take her juices to that next level and sell to key grocery stores, Covelli needed to extend shelf life from the few days typical for cold pressed juices to more in the range of 75 to 90 days.
Early in her company's development, Covelli heard about high pressure processing (HPP) as a way to provide the necessary shelf life. HPP is a cold pasteurization technique that increases shelf life by subjecting the product to high levels of isostatic pressure to destroy pathogens and microorganism without affecting taste, color, or nutrients.
She got her juices involved in a 90-day study in Canada, and through that found out about Hiperbaric, which provides HPP equipment. "The relationship was built over four years ago, when I was going under my validation study," Covelli says. Vinicio Serment-Moreno, the U.S. applications manager for Hiperbaric, wrote a validation study for Nourish's juice to achieve a 75-day shelf life. "Three years ago, we started to hit shelves. And these last two years, it's been really moving and scaling."
To get her juices out on store shelves, Covelli had her eye on a few key stores that she thought would help her reach the right customers. "I wanted to be at Whole Foods, I wanted to be at Sprouts, I wanted to be at all the high-end, family-owned, natural food stores," she says. "To my great surprise and perfect timing, I went to the grand opening of the first Giant Heirloom."
Covelli was invited to the grand opening by One Village Coffee, but she soon discovered an eager audience for her juices as well her philosophy for making an impact on her community. Before she knew it, Nourish juices were being added to the grocery chain's lineup.
"They've been such a great customer," Covelli says of Giant. "You think you've got your eye on the prize—I've got to go to Whole Foods. There are like 20 cold pressed juice companies on the shelf there." Instead, Nourish became the only cold pressed juice company when Giant Heirloom Market opened its doors Nov. 1.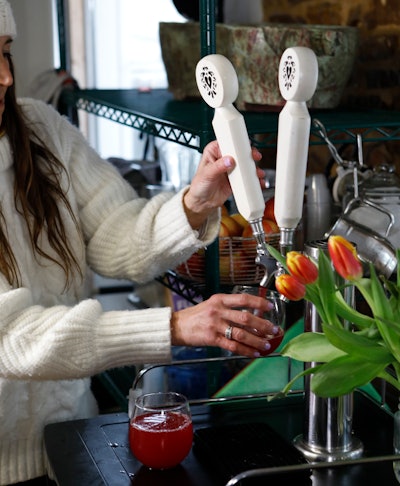 And the Giant grocery store is also the reason that Covelli decided to dig deeper—getting her juices not only into the standard plastic bottles that HPP could handle, but finding a way to put her juice on tap as well. It was at the first Giant Heirloom grand opening that a man walked up to Covelli and asked her why her juices weren't on tap. "It's the best juice ever. I'd love to get it on tap," Covelli says he told her. She wasn't sure whether she'd be able to run a keg under HPP. "You need to figure that out," he said.
Only later did Covelli find out that he was Nick Bertram, president of Giant. "That was two summers ago," Covelli says. "It took a good nine months, 10 months to really figure it all out—cold call all the right people, which took a long time. I had a lot of people say there's no way you can do it. I had people say it's never going to happen."
The Hiperbaric/Petainer partnership
But figure it out she did and, in the process, encouraged a successful relationship between Hiperbaric and Petainer—the company that makes the plastic kegs that are now able to undergo HPP and serve up Nourish juices without hurting shelf life. Originally aimed at the beer market, Petainer's One Way PET keg reduces the logistical complexity and cost of steel kegs. Unlike traditional kegs, which must be washed, sanitized, and purged with gas, and then sent back to the supplier once emptied, the One Way PET keg is already cleaned, sanitized, and purged with gas upon arrival. Once emptied, it gets recycled rather than going back to the supplier.
---
---
In addition to beer, Petainer had been reaching alternative beverage markets as well, including carbonated drinks, water products, juices, cold brew coffee, kombucha, cider, wine, and spirits. One Village Coffee was putting its cold brew in the Petainer kegs for distribution at Whole Foods as well as Taprooms at Giant Heirloom Markets, and shared information about the technology with Covelli.
Putting cold brew—or beer or kombucha—on tap is much easier than putting juice on tap, however. "Kombucha is fermented and has a lifespan and a shelf life of almost 120 days, which is a lot," Covelli notes. "Cold brew is the same; it's not fermented, but it's cold brew and it's not raw, so they could be in a keg on tap."
Juice, with all its natural sugars, is another matter. Although Petainer's keg has a 12-month shelf life for oxygen purposes, that shelf life does not apply when live organisms in the juice itself corrupt the beverage. "It's only going to have five days if it doesn't go under high pressure processing," Covelli says.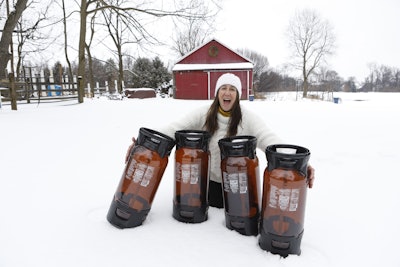 To make this work, Nourish needed Petainer to partner with Hiperbaric, working to ensure that its PET kegs could stand up to the technology, thereby increasing shelf life of the juice to months rather than days. Not only was the PET keg strong enough to withstand the HPP pressures, Petainer worked to develop a way to offset the valve that is a necessary part of dispensing product into a keg.
If the keg were put as is into the Hiperbaric pressure chamber, the pressure would open that valve. "We needed a way of blocking that off, so we designed a plug that basically goes onto the valve, similar to how a coupler would go on, and it seals it off," says Andy Brewer, Petainer's director of technical services for North America. "So even though pressure may build up, there's no way that pressure gets to the valve."
COVID delays
At its HPP toller 30 minutes up the road, Nourish successfully ran two kegs through their paces on the Hiperbaric equipment. Covelli had visions not only of the Giant Heirloom Taprooms and other natural food markets, but bars and restaurants as well.
"We were so excited, and then two weeks later, COVID hit. And then two weeks after that, all the taps went off everywhere," Covelli recalls. "And at the end of March, all the restaurants closed, all the bars closed."
---
---
Everyone kept connected through the COVID-19 pandemic, however, and figured out what steps needed to come next. "During COVID, we actually innovatively created and achieved successfully our juice in a keg with a 75-day shelf life with the help of Hiperbaric in Miami and Spain in their headquarters," Covelli says. "And then I introduced the president and the CEO of Petainer to Hiperbaric, and then they went off and had their own conversations and they went into a partnership."
There was one other technical difficulty that needed to be overcome to make Nourish's cold pressed juice work in the PET keg. "If you look at a bottle of juice that's fresh pressed with vegetables and fruit, you'll see a little sediment sitting at the bottom," Covelli notes. "So that's going to happen in a keg."
To fix that issue, Petainer custom-made an agitator that goes into the keg's tap line and pushes air into the base of the keg to keep the juice mixed. "So when you go to tap it, it will always be consistent," Covelli adds.
The right environmental impact
Nourish Juice Bar is certified organic by the U.S. Department of Agriculture (USDA), is a Certified B Corp., and is also a member of the One Percent for the Planet, indicating that the business donates a percentage of its sales to environmental causes. So it should come as no surprise that the environmental footprint that the company leaves behind plays a role in its choices for packaging.
Covelli would like to be able to bottle her juices in something other than plastic, but for now at least, that is what is available to her with HPP technology. "We'd love to be in glass, but we cannot be in glass because of the pressure that the product has to go under. But we're really lucky that Petainer is also a sustainable plastic keg," she says. "As a B Corp., we're doing everything we can in the process to really make an impact and do everything that we can, given that we have to be married to a plastic bottle."
The keg, though it is plastic as well, provides an opportunity to eliminate thousands of single-use bottles from the equation. "One of the reasons why we really are excited about this keg now more than ever is because we want to be able to bring kegs and juice on tap to larger venues like music festivals, like Coachella or Firefly, to the convention center where there'll be 50,000 people a day at an expo," Covelli says. "Instead of having all the waste of bottles, we'll have the kegs on tap."
Companies in this article
Videos from Hiperbaric - High Pressure Processing