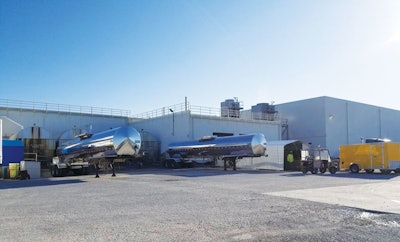 In 2019, Conagra Brands' Saint Elmo, Ill., facility implemented an innovative way to more efficiently unload tanker trucks of corn syrup and oils. The new system eliminates ingredient waste, minimizes transfer costs, and results in fewer total tanker loads. The switch to air pressurizing the tankers, instead of using tanker truck pumps, resulted in nearly 100% of product to be emptied from each tanker load.
"This eliminated the costs of pumping, the fuel required for the pumps, and hot water needed to thaw the pump in the winter," says Casey Watts, manager of environment, health, and safety. "The system required new hoses, fittings, and pressure release valves, but for a facility
that receives an average of 15 loads per day, the project resulted in an estimated $1 million of annual savings."
The supply chain sustainability team at the Saint Elmo plant reduced 18,000 gal of waste that can now be used in current production. The plant's vendor can use significantly less water and chemicals to sanitize the tankers as well as less transportation and fuel.
"These effects are outside of our direct footprint, but are included in our holistic impact on the environment," says Tracy Kayhanfar, senior director, environment.
Waste reduction was realized through additional inventory after the switch because the tankers would haul away wasted food ingredients. If fact, 70-100 gal of food waste were left in the tankers per unload, with a typical day averaging 15 loads. In addition, the team was able to reduce tanker washing from daily to weekly and eliminate the pump cost of $200 per load.
"Eighteen thousand pounds of wasted ingredients per year is now being utilized," says Penni Pratt, manager of supply chain. "We identified this through recurring cost savings with management and collaboration with our vendor. We have been already passing this best practice along to all our other sites that use similar ingredients."
For this project, Conagra brands received a third place honor in the Project Category of ProFood World's annual Sustainability Excellence in Manufacturing Awards. The awards ceremony will be held at PACK EXPO International.
Other sustainability articles you may like:
Smithfield Foods Facility Reduces Solid Waste by 10 Million lbs
Continuous Energy Improvement at Hiland Dairy
Compressed Air Upgrade at McCormick & Co. Provides Excellent Energy Savings