Early results from ProFood World's online survey show most food and beverage manufacturing employees are still going into the plant or office, but a majority of plant floors worker are not receiving hazard pay. In addition, many companies are concerned about not having enough personal protection equipment (PPE) to keep employees safe.
Just a few days ago, ProFood World began an online COVID-19 state of the industry poll and so far has received more than 100 detailed responses. Nearly two-thirds of respondents told PFW they are still working in the office or plant.
Despite multiple general media reports of food companies providing hazard pay to plant floor workers, PFW's poll says otherwise. A 70% majority replied that their company is not offering increased pay or other incentives to keep plant floor workers on the job. One respondent said his company's biggest challenge is keeping enough workers to operate all lines. "There is increased demand for food, but keeping a trained workforce is getting more difficult," he states.
Other respondents are concerned about keeping plants free of the virus, while some stated they are concerned about bringing the virus home to loved ones who are immune compromised.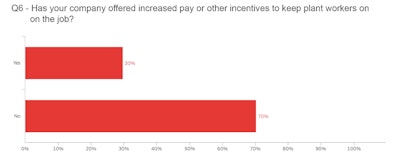 Several respondents cited challenges in keeping up with production demand, getting paid by customers and not having enough gloves and hand sanitizers.
A meat processor told PFW that orders are far exceeding capacity "We are running six days a week to fulfill as much as we can. Employees are fearful and wondering why they are at work instead of being at home."
Another respondent said his company's biggest challenges was dealing with anxiety and stress and is offering mental encouragement. While another said a challenge was "keeping equipment running and following state regulations to keep six-feet distances."
When respondents were asked about their department's greatest challenge, one person stated that restrictions of plant visitors such as contractors and overseas travel bans are putting capital projects on hold. "We are unable to install new equipment because outside contractors and vendors are not allowed in our facilities," an engineer told PFW. "This impacts installation of new process and packaging capacity as well as new innovations. We are on hold!"
Part 2 of COVID-19 series of articles coming soon
PFW's survey says supply chain disruption is evenly split on whether or not processors are experiencing problems, but intense pain prevails for those affected. In part two, PFW will also explore what food and beverage manufacturers predict if the pandemic continues into the summer months.
PFW will continue to monitor all incoming poll responses and will update the results in the coming days as the nation and world continues to try to contain the virus and keep supply chains open.
Other stories you may like:
JBS USA Temporarily Cuts Production at Meatpacking Plant Due to COVID-19
FDA Provides Temporary Flexibility Regarding Nutrition Labeling of Certain Packaged Food
Cornell Creates COVID-19 Website for Food Industry
Packaging and Processing Industry COVID-19 Resources
Molson Coors Announces Updates to Policy Related to COVID-19