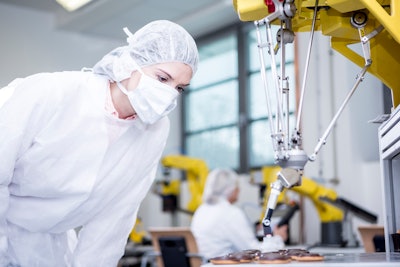 While states still differ on lockdown levels and what is deemed as an essential worker or business, most CGP companies and their suppliers are meeting production demands—for the time being.
According to a recent COVID-19 survey from ProFood World, 70% of food and beverage industry respondents are not offering hazard pay to their plant-floor employees.
In a recent PMMI Town Hall, Greg Flickinger of Green Thumb Industries (GTI) said his company is not offering hazard pay at this point. "We are managing people on a case by case basis," he stated.
Just like many other companies, GTI is asking employees to use paid time off (PTO), but has also been very attentive to those that have underlying health conditions. "We're addressing each site and each market the way their market needs to be addressed. We're finding that if we have an operation in Massachusetts, that scenario may be very different than our operation in Nevada," he added.
On the retail side of its business, GTI is offering hazard pay to employees. "That's primarily because they're customer facing, and they're seeing 500 to 1000 people rolling in and out of their doors every day," Flickinger explained.
Adam Pawlick of Wells Enterprises also says his company is not offering hazard pay to plant-floor employees. "Our standard policy is if you want to self-quarantine because you don't feel comfortable, that's a 14-day away from work with PTO first followed by unpaid leave," he stated during the Town Hall. "If somebody tests positive, we are doing a full map of who they had close contact with and forcing a quarantine for all those people that might be first-level exposure, to stop the spread of it throughout the plant."
On the equipment supplier side, again many are not providing hazard pay, but are following strict social distancing, temperature testing and other measures to keep personnel safe.
"We're trying to keep everybody gainfully employed," said Tom Ivy of F.R. Drake, CV-TEK and RapidPak. "If employees have virus concerns, they are free to take PTO."
According to Ryan Edginton of All-Fill, the machinery supplier gave all employees a matrix that explained their options. "It went from everything from like a voluntary layoff to a furlough, to using paid time off," he explained.
Heavy cleaning and sanitation of facilities was also mentioned as top priority of the Town Hall participants, who said their companies were very focused on taking care of people very sensitive to their needs.
While most in the industry say supply chains are not greatly disrupted now, employee absenteeism could be in factor in the coming month if more people get infected with COVID-19
Flickinger also says GTI is taking an abundance of caution. "We're doing things such as many other companies you've seen — taking temperatures of people coming in and asking questions about who they've been around."
In the end, it's all about taking care of people, Flickinger says. GTI has instituted split shifts, staggered work times, and more intense cleaning to keep not only its people feeling safe, but also its vendors.
"We have a contractor coming out of the New York City area that does flooring work. We're going to have them come in overnight when no one else is on the site, and we'll clean on their way out," Flickinger says. "That way we're not hindering the work, but yet we're protecting everyone."
As the number of positive COVID-19 cases rise, Edginton thinks the industry must start thinking about what to do if they get infected employees. "I think that's going to be one of the challenges moving forward for the OEMs," he stated.
See PMMI's COVID-19 Resource Page and register for future Town Hall Series. Past Town Hall Podcasts can be listened to as well.
Other stories you may like:
COVID-19 Survey: Nearly Half of Processors Have Supply Chain Disruptions
With Supply Chain Disruptions likely, CPGs, OEMs Swap Strategies
General Mills' Unique Plan to Keep Up with Demand During Virus Pandemic
JBS USA Temporarily Cuts Production at Meatpacking Plant Due to COVID-19
FDA Provides Temporary Flexibility Regarding Nutrition Labeling of Certain Packaged Food
Cornell Creates COVID-19 Website for Food Industry
Molson Coors Announces Updates to Policy Related to COVID-19
Companies in this article