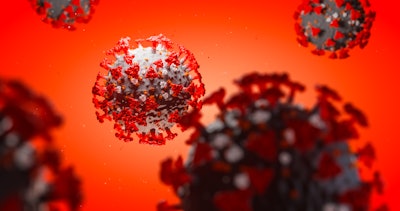 The following is a synopsis of information gathered from the Centers for Disease Control web page on Morbidity and Mortality as of May 5, 2020.
COVID-19 cases among U.S. workers in 115 meat and poultry processing facilities were reported by 19 states. Among approximately 130,000 workers at these facilities, 4,913 cases and 20 deaths occurred. According to the Centers for Disease Control and Prevention (CDC), factors potentially affecting risk for infection include difficulties with workspace physical distancing and hygiene, and crowded living and transportation conditions.
Nationwide, the meat and poultry processing industry, an essential component of the U.S. food infrastructure, employs approximately 500,000 persons, many of whom work in proximity to other workers.
By April 27, CDC had received aggregate data on COVID-19 cases from 19 of 23 states reporting at least one case related to the meat and poultry industry. There were 115 meat or poultry processing facilities with COVID-19 cases, including 4,913 workers with diagnosed COVID-19 (see Table 1 below). Among 17 states reporting the number of workers in their affected facilities, 3.0% of 130,578 workers received diagnoses of COVID-19. The percentage of workers with diagnosed COVID-19 ranged from 0.6% to 18.2%. Twenty COVID-19-related deaths were reported among workers.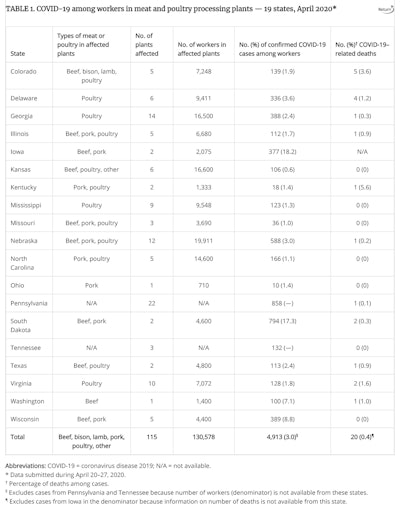 Sociocultural and economic challenges to COVID-19 prevention in meat and poultry processing facilities include accommodating the needs of workers from diverse backgrounds who speak different primary languages. In fact, one facility reported a workforce with 40 primary languages, according to CDC. This necessitates innovative approaches to educating and training employees and supervisors on safety and health information.
In addition, some employees were incentivized to work while ill as a result of medical leave and disability policies and attendance bonuses that could encourage working while experiencing symptoms, the CDC website says. Finally, many workers live in crowded, multi-generational settings and sometimes share transportation to and from work, contributing to increased risk for transmission of COVID-19 outside the facility itself. Changing transportation to and from the facilities to increase the number of vehicles and reduce the number of passengers per vehicle helped maintain physical distancing in some facilities.
To shield workers from various hazards in meat and poultry processing facilities, the preferred approaches are to eliminate a hazard or exposure source, install engineering controls, and implement effective sanitation and cleaning. Enhanced administrative measures might also be needed. Employee and visitor screening procedures, such as temperature monitoring and symptom screening, are important to prevent the introduction of COVID-19 into a facility from symptomatic persons.
Whenever feasible, the workplace should be organized, so that workers can be at least 6 feet (2 meters) apart. The nature of workplace modifications that might be needed to accomplish this will vary in each workplace; modifications might require changes in production practice, and feasibility will vary by workplace, CDC states.
Additional engineering options include stationing workers, so that they are not facing each other and positioning fans, so that they do not blow air from one worker directly onto another. Maintaining recommended hand hygiene requires access not only to handwashing stations, but also the sufficient availability and use of alcohol-based hand sanitizer in areas where handwashing is not feasible.
Other stories you may like:
Triumph Foods Reports 373 Workers Positive for Coronavirus
Tyson Resumes Operations at Logansport Facility, Rolls Out On-site Health Care Services
Trump Employs Defense Production Act to Ensure Meat Supply
Smithfield Foods Closing Additional Pork-Processing Plants
Leprino Foods Shuts Down Plant
COVID-19: The Voice of Latin American CPGs
The Hershey Company to Make Disposable Facemasks