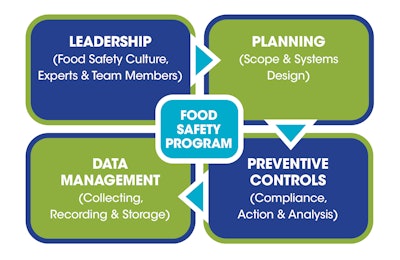 When it comes to developing a world-class food safety program, the most likely factors that guarantee success are being knowledgeable and organized, and having a continual flow of both data and verbal communications. It should be obvious that without using all these skills, the program will probably be incomplete and, at worst, ineffective.
So the challenge is to define what constitutes a food safety program and then use those skills to develop the plans to create one. As an instructor of Hazard Analysis Critical Control Points (HACCP) and Food Safety Modernization Act (FSMA), my students often question the difference between a food safety program and a food safety system. A correct understanding of these terms lays a pathway forward to success. In food safety terms, a "program" can be the overall strategy to produce safe and wholesome food, whereas a "system" consists of the components, tactics, and tools to make the program work.
A good place to start is to develop a program that incorporates the current regulatory requirements. For most products regulated by the U.S. Food and Drug Administration (FDA), these regulations are outlined in the FSMA rules. For products regulated under the U.S. Department of Agriculture (USDA), HACCP rules apply. These food safety requirements must be developed satisfying the minimal rules. In practice, many consumer packaged goods (CPG) companies go well beyond these minimal requirements in their programs. Unfortunately, some CPGs might mistakenly believe their food safety program starts at the loading dock and ends at the shipping bay.
The FDA generally looks at food safety from "farm to fork" and, therefore, it seems appropriate to develop a total program using that same lens. In light of this broad scope, CPGs should consider where all their ingredients and packaging materials come from (even including local water as an ingredient), who their consumer is, and every step of production within the supply chain.
The heart of any food safety program is the FDA or USDA required Food Safety Plan. This written plan is based on food safety principles and incorporates a system of hazard analysis, identification of preventive controls, and action steps to ensure consistent production of safe and wholesome food. It should be noted that each facility might have different types of issues based on the ingredient and packaging suppliers, process flow layout, equipment use and location, and even the food safety culture of the facility.
The major components are the development and incorporation of current Good Manufacturing Practices (cGMP), HACCP and/or FSMA into working food safety plans and the supporting prerequisite foundational activities. A facility might also have a food defense plan that covers the security of the plant, visitors, and the employees. There are many tools available to help build a food safety plan such as that provided by the FDA called the "FDA Food Safety Plan Builder." Also, the FDA has provided a "Food Defense Plan Builder v2.0" to assist CPGs in food security needs. These software programs can be obtained as downloads from FDA's website. Additionally, many certification and software companies and consulting firms have their version of plan builders, which can be helpful if that skill does not exist in-house.
The plan is necessary and required, yet today's program should expand to become a more comprehensive program approach and should also include the aspects of leadership and data management. Remember that a food safety plan is a living document and must be re-evaluated periodically, and when changes in ingredients or production occur that could alter the risk analysis conclusions.
For CPGs, packaging typically has a different meaning than the topic of this article. To be clear, this discussion is about making certain a food safety program is constructed (packaged) to contain the food safety systems that are legally required and effective, and that accomplish food safety goals. The system components to consider for the program are shown in the sidebar below.
In the past, many food safety activities were related to the planning and preventive controls part of the package. Packaging these four components (Leadership, Planning, Preventive Controls, and Data Management) into the program will accomplish three goals.
First, it gives the program more depth by expanding the input and influence of personnel other than just those directly handling the manufacturing of the product. Next, it brings in the concepts being promoted by the FDA through its New Era of Smarter Food Safety Initiative, announced in July 2020, that outlines operational goals to enhance traceability, improve predictive analytics, respond more rapidly to outbreaks, reduce contamination of food, and foster the development of stronger food safety cultures. Finally, it emphasizes the importance of collecting data and managing it for the company as well as for the agency.
Today's FDA is taking a new approach to food safety, leveraging technology and other tools to create a safer and more digital, traceable food system. These concepts are outlined in more detail in the FDA's New Era Blueprint and include the ones that are most relevant to this discussion of a food safety program package. Specifically, the new concepts in Blueprint Core Element #1 (Digital Data Control and Management for Traceability) and Core Element #4 (Food Safety Culture) should be included in the program. These New Era activities are now added to the basic principles and plans to expand and modernize the scope of a food safety program.
In this world of global food sources and supplies, the expanding, reconstructing, and repackaging of a food safety program is both timely and essential to remain competitive in global markets. A properly packaged program will satisfy the needs of all involved in the production chain, while a well-developed and organized program will add to corporate goals of safety and profitability as well as meet current regulatory requirements.