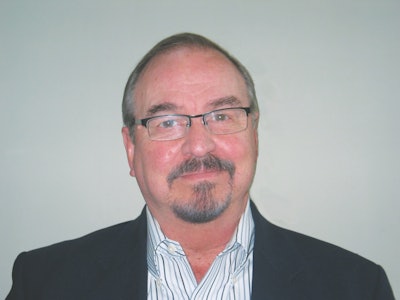 With today's online shopping experience, consumers can basically know how, where, and when purchases get from the manufacturer, through the distribution chain, and to their front door, amazingly with a delivery picture to prove they reached their destination! Many retail sellers provide a fully transparent tracking experience, using a unique tracking number and a link to a package carrier where buyers can watch the product's path along the national or even global distribution chain. This customer service traceability benefit is so common, we tend to take it for granted and expect the seller to routinely provide us with a tracking number as a condition of our purchase.
The Food and Drug Administration (FDA) is now proposing an enhanced level of traceability for consumer packaged goods (CPG) food products as they move through the supply chain. For certain high-risk covered foods (see image below), it is up to companies to develop and maintain electronic records from farm to retail outlet. Until now, the required level of track and trace has only been the one step forward/one step back approach derived out of the Bioterrorism Act of 2002 (Fed Reg, 2004) with further advanced recordkeeping requirements found in the Food Safety Modernization Act (FSMA) of 2011 (Barach, 2017). Now, the FDA has proposed implementing additional rules, based on FSMA Section 204(d), to mandate developing, keeping available, and providing to FDA records with much more detailed information about a food's journey along the entire food chain. These proposed rules are outlined in the September 2020 Federal Register Notice (Fed Reg, 2020) announcing new "Requirements for Additional Traceability Records for Certain Foods."
The driving forces behind these new proposed rules are twofold. First, it's an initiative from Frank Yiannas, FDA deputy commissioner for food policy and response. Since he joined the FDA two years ago, Yiannas has been eager to bring blockchain technology to the food industry (Yiannas, 2018), as noted in a previous ProFood World article (Barach, 2019). This strategy is outlined in the FDA's newly released New Era of Smarter Food Safety Blueprint. Secondarily, the U.S. food industry continues to struggle with foodborne illness. The Centers for Disease Control and Prevention (CDC) estimates that one in six people in the U.S. gets food poisoning each year—leading to 128,000 hospital stays and 3,000 deaths. In recent years, the CDC has seen an increase in foodborne illness outbreaks that span multiple states (CDC, 2020). The timing of the proposed rule is further driven by a number of recent foodborne illness outbreaks involving high-risk foods, notably produce.
The FDA's current list of covered foods was developed using a high-risk food ranking model. It includes seven specific criteria (such as biological and chemical characteristics, but not allergens), and it identifies risky foods based on the frequency of outbreaks and the occurrence of illness associated with them. The list of covered foods is slanted toward produce because it can be difficult to rapidly and effectively track and trace their movement in the food chain. As seen with outbreaks in fresh leafy greens and other foods over the past decade, anonymity and lack of traceability in the food system are factors that hinder significant progress in rapid traceback efforts to identify contaminated foods.
Although the CDC has developed tools to identify possible multistate outbreaks and investigate their causes, both the FDA and the CDC need tools that provide accurate and specific information to better communicate with CPGs in the event of an illness outbreak. That is where this traceability initiative proposes to overcome barriers and give the FDA accurate, timely, and comprehensive information about a food's manufacturing history to track and trace a hazardous food, preventing further distribution and resolving a public health crisis during a recall.
The problem is outlined in the FDA's New Era of Smarter Food Safety Blueprint section on "Tech-Enabled Traceability" (FDA, 2020a). The blueprint describes the current situation of limited transparency in today's food chain system and the inability to rapidly track and trace foods and ingredients in the event of a public health emergency recall. It explains that the food industry still has a way to go regarding the establishment and maintenance of records.
For many CPG companies, the records involved in moving food through the food chain are still largely paper-based. This old-school system can work when it is necessary to take one step forward to identify where the food has gone and one step back to identify the previous source. However, this approach is insufficient for identifying the product along the supply chain because it creates an inability to rapidly track and trace food in the event of a recall.
Unfortunately, when an outbreak occurs, this limitation can cost lives, millions of dollars in product losses, and damage to consumer trust and brand confidence. Limited data and slow data retrieval also stand in the way of the transparency needed to gain a better understanding of the scope of the affected supply chain in the event of public health crises. The result of having paper-based, limited-step systems is that many foodborne illness outbreak investigations have been slow, resulting in more illnesses and economic loss. Improved traceability, as envisioned by the proposed rule, should allow the FDA to more quickly identify the source of a contaminated product, reduce the scope of product recalls, and conduct more timely investigations to learn the root cause of the problem and more about how the contamination occurred. It also should allow the FDA to develop approaches to prevent future outbreaks.
The current Bioterrorism Act and FSMA record requirements form a baseline for traceability recordkeeping, but they provide only limited information to effectively and rapidly connect shipments of food and ingredients through each link in the food chain. The proposed rule requires CPG companies and others (domestic and foreign entities) that manufacture, process, pack, or hold a food described on the covered foods list (shown above) to establish and maintain records associated with specific critical tracking events (CTEs): growing, receiving, transforming, creating, and shipping.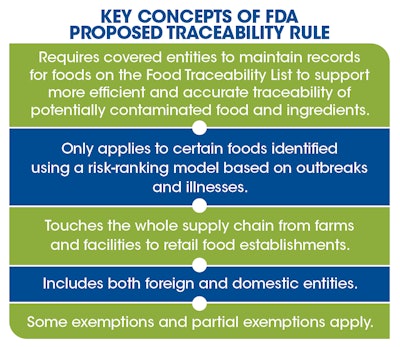 For each CTE, entities would be required to establish and maintain records containing key data elements (KDEs). Examples of KDEs include the traceability lot code, the date the product was received, the date the product was shipped, and a product description. The traceability lot code is an important KDE throughout the supply chain, intended to establish critical linkages that will help facilitate rapid trace-back and trace-forward investigations during foodborne illness outbreaks and recalls. In addition, those subject to the rule would be required to create and maintain records related to their internal traceability program, which would help regulators better understand a firm's recordkeeping practices and traceability operations. The proposed rule contains exemptions, such as farms selling directly to consumers, and a proposed exemption for transporters of food.
The traceability initiative would require records to be maintained as either electronic, original paper, or true copies. In addition, the proposal states that, in the event of a foodborne illness outbreak, a product recall, or other threat to public health, the FDA could require that firms submit, within 24 hours, an electronic sortable spreadsheet containing relevant traceability information for specific foods and date ranges. More generally, the FDA encourages all food businesses to maintain traceability records electronically, whenever possible, to expedite the identification of traceability information when needed to address public health threats.
The requirements of the proposed rule would apply only to foods that are on the covered foods list, which also includes foods that contain listed foods as ingredients. The proposed rule includes several exemptions; for example, additional traceability records would not be required after a kill-step (a process that significantly minimizes pathogens in a food) is applied to a food, but documentation of the kill-step application would have to be established and maintained.
In summary, the Food Traceability Proposed Rule is a key component of the FDA's New Era of Smarter Food Safety Blueprint and would implement Section 204(d) of FSMA. If finalized, the rule would standardize the data elements and records companies must establish and maintain, and the information they would need to develop the traceability lot codes used in the supply chain to facilitate rapid and accurate traceability. Though limited to certain foods, this proposed rule lays the foundation for a new standardized approach to traceability recordkeeping, paving the way for industry to adopt, harmonize, and leverage more digital traceability systems in the future. Where possible, the FDA has drawn on existing recordkeeping standards that industry members might already be using.
Existing FDA regulations require much of the food industry to establish and maintain records to identify the immediate previous sources and the immediate subsequent recipients of foods. In the future, certain high-risk foods will require an added level of traceability that covers food from farm to retail outlet. Ideally, the outcome will be new traceability systems that allow CPGs to provide the FDA with data in a timely, accurate, and efficient manner, resulting in better management of food and ingredient recalls to help protect public health in a smarter way.
>>Other content you may be interested in:
Extended Shelf Life Key to Lidl's Latest RTE Line
Automation Trends in Food Processing and Packaging: vFAT
Empathy & Authenticity Steer Bumble Bee through CHAOS