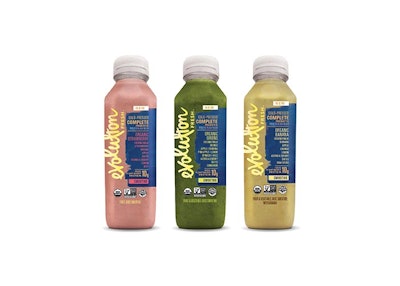 When Jack Aronson and his wife, Annette, founded Garden Fresh Gourmet nearly 20 years ago, high pressure processing (HPP) was just a blip on most food and beverage companies' radar screens. "Eighteen to 20 years ago, I was intrigued with the HPP process," Aronson told the attendees at the Cold Pressure Council (CPC) Annual Conference in June. "I tried talking to my wife and my partners then, and it wasn't easy." Aronson says they thought he had gone mad when he tried to sell them the idea of purchasing a $4 million HPP machine for his burgeoning salsa business.
As the business grew, Garden Fresh Gourmet made its way into major Midwest retail outlets and, eventually, Costco. In the meantime, the company was adding hummus and dip products to its portfolio. "We continued to invest in HPP, adding a second machine, and even a new HPP-dedicated building," states Aronson. He got a call from Campbell Soup when his third HPP machine was on order. In 2015, Campbell's purchased the company, which is now part of the Campbell Fresh division. Today, hummus, dips, soups and chips, in addition to salsa, bear the Garden Fresh Gourmet brand.
Fresh taste, extended shelf life and clean labels are propelling interest in HPP applications, but the process doesn't come cheap. Aronson says HPP is worth the investment to ensure products are safe for customers, free of pathogens and have longer shelf lives: "Whether you realize it or not, you're making a huge difference and having a critical, positive impact on consumers simply by adopting HPP." Today, Aronson is chief visionary officer at Clean Planet Foods, which produces fully cooked proteins delivered directly to the consumer's home.
Fresh alternatives
While its juice products have been around for 30 years, Evolution Fresh decided to adopt HPP technology in 2010 to expand distribution beyond California. Starbucks purchased Evolution Fresh in 2011, and today the brand also includes juice smoothies.
According to Mike Durbin, engineering and maintenance manager at Evolution Fresh, the company opened the largest juicery of its kind in North America in 2013, where five HPP machines produce juices for the United States and Canada.
Durbin told CPC conference attendees that quality, flavor, shelf life and clean labels are the driving forces behind the business. On the plant floor, having properly trained maintenance staff is essential for HPP processing, he says. Operators running HPP equipment must be thoroughly trained on HACCP plans; understand standard operating procedures, product quality and food safety; and have the ability to review cycle charts to ensure the product has been safely processed.
"We've partnered with Hiperbaric for in-depth training and to make sure we understand the machines, and what's needed on a regular basis for preventive maintenance or rebuilds," says Durbin. "You need to keep very good records on calibrations or verifications for pressure." FDA wants to see those records, know they were calibrated and requires proof your HPP equipment is properly maintained, he adds.
While Durbin agrees HPP can be pricey, he also advises potential users to be aware of infrastructure issues when installing this very heavy machinery. "You want to make sure that you have the properly designed concrete pads to set your machine on. You need a lot of electricity to run a larger machine, which includes glycol for cooling water and air for pneumatics on the machine," he states. Water treatment is also a key component of Evolution Fresh's operations. The processor uses soft water and prechills it to make sure it is running as cold as possible to ensure quality.
Food and beverage manufacturers should also consider the ongoing costs, such as the baskets needed during processing and spare parts. Durbin advises that processors keep high-frequency spare parts on hand. "I found that having the right inventory is really critical to a successful HPP operation," he explains.
Performing regular maintenance is required to keep HPP machines running in peak condition. "We partner with Hiperbaric to provide additional maintenance support as we're running several machines," says Durbin. "I've seen decreases in maintenance costs from five years ago to today as far as just parts. They last longer, they don't have as much of a dispersion as far as the failures go. For components that might cost a lot, we'll run those to failure, and then just replace them as needed."
Evolution Fresh ensures every product undergoes HPP by counting and serializing all its carriers. The company's quality team reviews every batch and makes sure they are reconciled. "I think those are important steps you need to take to protect your brand, customers and the public," Durbin states.
To further improve its products, the juice processor made that transition from HDPE bottles to PET. "HDPE just doesn't provide the closures that you want for the HPP process. You want to have that cap sealed to the neck. I think it's very important to run juice in a PET package," he adds.
The barrier properties of packaging film can also affect HPP, Prem Singh, president and chief technology officer of Teinnovations LLC told CPC conference attendees. With some films, barrier properties will slightly increase; others will not.
Air, headspace, water activity and pH need to be considered during HPP, adds Daniel Tein, founder of Teinnovations LLC. If your staff does not know how food interacts with the packaging and especially how HPP forces it to really interact with the packaging, you may end up with some failure or leakers, he explains.
Improper material handling, loading and orientation in the HPP baskets can cause challenges. "When you're talking about pouches or bags, or sometimes even bottles, it doesn't matter that much. When you're talking about cups or trays with a film seal on it, try it, because oftentimes it does matter," Tein states. It may take longer to load the HPP baskets, but in many cases, Tein says proper orientation of the packages can increase capacity.
Advancing the HPP industry
According to its mission statement, CPC facilitates industry standardization, user education and consumer awareness of high pressure processing. At the June 2018 CPC annual conference, 130 attendees from 75 companies participated in sessions on consumer trends, new products, the High Pressure Certified (HPC) logo, validation studies, regulatory matters and business success using HPP.
The first use of the HPC logo was for juice, and CPC recently launched the logo for ready-to-eat meats and deli products, such as guacamole, hummus, salad dressing, salsa, dips and spreads. The next certified logo on the horizon will be for seafood.
"We really want to be a resource for the industry," says Joyce Longfield, chairperson of CPC. "We want to create standardization and uniformity with use of the technology to meet regulatory and food safety requirements for the use of HPP."
CPC consists of nine founding members: Good Foods Group, American Pasteurization, Avure HPP Food Processing, Campbell Soup, Evolution Fresh, Hiperbaric, Suja, Universal Pure and West Liberty Foods. The other current members are: Berry, JoeFroyo, Hydrofresh HPP, HPP of Virginia, Printpack, Certified Laboratories, Sandridge Food Corporation, Wegman's, HPP Fresh Pasteurization, Star Fresh Foods, NutriFresh, Lineage, Great Lakes HPP, Teinnovations, KFS and Dora's Naturals.
Processors that use the HPC logo must have validation studies to confirm that they are using HPP the way that it is written in their HACCP plans. They will undergo an auditing process and be confirmed by the council to use the logo. According to Longfield, the HPC logo helps consumers understand what HPP is doing for the product.
CPC plans to create a website focused on educating consumers about why a company uses the HPC logo. "Most consumers are fearful of the word 'process,' so we really want to work toward how do we make them not fearful of it, and how do we make them start to seek out products that have the High Pressure Certified seal on their food," Longfield states.
CPC developed guidelines based on juice HACCP, which focused on beverages with a pH of 4.6 or less. This particular guidance does not include low-acid beverages, and separate guidance may be created for these products in the future.
When a processor has an audit, it can download CPC guidelines and have an addendum in the audit. Once the audit confirms the processor's validation study meets its HACCP plan, the auditor should write a summary letter confirming it. When CPC receives that confirmation, processors will be allowed to use the logo.
"We're not policing anyone," Longfield says. "If it's at the state level, and submitted to the inspector, and the inspector has accepted that the validation for the HPP parameters used achieves the necessary log reduction, we have no reason to argue that because, if that inspector has accepted that publication as their validation work, then we would, too."
Global Food Safety Initiative audits would most likely confirm validation, but CPC put these guidelines in place to ensure that everyone has done the confirmation. This is starting to create the uniformity and standardization, Longfield says.
CPC logo usage is reviewed on an annual basis, and each product is charged a fee by individual SKU.
Reaping the benefits
Eighty-five percent of retailers say their companies are affected by the demand for fresh food, and 78 percent say they favor companies that produce fresh product options, according to a 2017 survey conducted by Universal Pure. More than 60 percent of retailers say they're stocking more refrigerated and fresh products, while 48 percent say they're expanding their refrigerated section.
Further survey findings conclude HPP is favored by producers and retailers among other food processing methods on measures such as food quality (67 percent), food safety (59 percent) and food waste (56 percent). The main reason producers say they use HPP is for shelf-life extension (73 percent), along with food safety benefits (63 percent), nutrient preservation (58 percent) and cleaner label enablement (54 percent). In addition, 94 percent of food producers say they could expand distribution range if their products had a longer shelf life.
According to Kurt Penn, founder and CEO of Good Foods Group, HPP was one of the cornerstones of his business. "I made a decision early on that every product that we produced had to be HPP for food safety and for the benefits you get with clean labels and shelf life," he says.
Good Foods Group has six HPP machines in its two plants. Last year, it opened a facility in Michoacán, Mexico, to be closer to the products it makes, such as guacamole.
"I've seen firsthand where clean label products are going," says Penn. "More consumers are reading labels than ever before. Many of the larger food companies in the U.S. and globally are scrambling to clean up their labels. It just so happens that HPP allows that. It's a perfect device for us to deliver what the consumer wants."
Companies in this article
Videos from Hiperbaric - High Pressure Processing