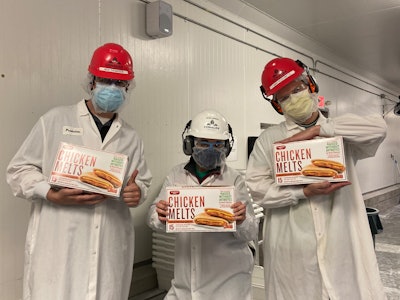 In September 2019, Conagra Brands' Milwaukee team initiated a program to limit cheese yield loss. Initially, identifying and justifying the project capital was difficult. Gathering, separating, and weighing cheese waste throughout various production processes appeared to be a daunting task.
But through an intense process investigation, many loss points were identified and corrected. The team discovered that a large contributor to food waste was cheese miss-cuts, and it rectified the problem through editing standards, optimizing run settings, and conducting preventive maintenance on machinery. This program resulted in approximately $530,000 in annualized savings and the avoidance of 130 tons of edible cheese waste per year. Also as a result of the program, the facility was able to increase production with the same amount of incoming ingredients.
---
See it Live at PACK EXPO Connects Nov. 9-13: Increase Line Performance with Packer for Bulk, Variety, Display and Single Flavor Packing, by BluePrint Automation (BPA). Preview the Showroom Here.

---
"In the three months prior to the program implementation, the site would have produced close to 1,900 tons of solid waste," says Tracy Kayhanfar, senior director, environment. "Through continued efforts, the plant is now saving 130 tons of or almost 7% of total waste produced by the facility per year. With an initial investment cost of $111,545, the solution yielded annual savings of $537,055, with a [return on investment] of less than a year."
The program is part of a problem-solving process that is being implemented across all Conagra Brands manufacturing facilities. The issue at the Milwaukee facility was identified during regular yield loss and operations meetings at the plant as well as comparisons with a similar sister facility.
Conagra Brands is committed to diverting waste from landfills as well as reducing its total waste footprint. By implementing corporate best practices, the Milwaukee facility achieved the highest tier in EPA's Waste Management Hierarchy for source reduction and reuse.
"We were able to remove over 32 tons of solid waste that would have gone to landfill over the first three months of the program," says Xiomaris Mendez, manager of plant continuous improvement. "Also, there are intense greenhouse gas emissions associated with the production of dairy products, and by limiting our waste of these products, we are reducing our total emissions footprint."
For this project, Conagra Brands received a second place honor in the Program Category of ProFood World's annual Sustainability Excellence in Manufacturing Awards. The awards ceremony will be held at PACK EXPO International in November 2020.
Other sustainability articles you may like:
Continuous Energy Improvement at Hiland Dairy
Smithfield Foods Facility Reduces Solid Waste by 10 Million Lbs
Sustainability Update: COVID-19 Changes the Plastics Conversation, but CPGs Still Innovating
Perdue Farms Creates Pollinator-Friendly Habitat
Companies in this article