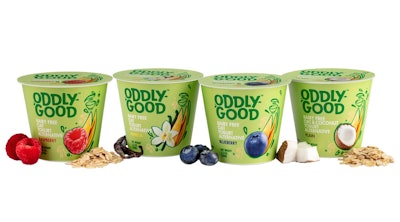 Valio USA
As the plant-based alternative yogurt market grows in popularity, Valio USA debuted their new line of Oddlygood oat yogurts at Natural Products Expo East in late September.
Released in recyclable, 6.5-gram injection molded cups, the Oddlygood cups are an 18% reduction in plastic over standard 6 oz. IML cups that weigh 7.9 grams. The graphics are an adaptation of a global design that typically has a different color for each variety: For the U.S. version the brand chose a color blocking to create more visibility on the shelf.
Valio USA is a division of Valio, based in Helsinki, Finland. The company is owned by dairy cooperatives comprising 4,300 dairy farmers and has been named Finland's number one sustainable company for the past eight years.
The new yogurts garnered top scores for flavor, texture, and aroma, versus leading U.S. oat milk yogurt brands in a March 2021 consumer taste test conducted in Northern California by Curion, a consumer product testing firm. Flavors include Plain, Vanilla, Blueberry and Raspberry, and 5.3 oz. single-serve portions are sold in 12-pack cases.
"Our Oddlygood yogurt alternatives are dairy free, gluten free and vegan, not to mention creamy and delicious," says Mari Meriluoto, director of marketing and business development for Valio USA, formerly known as Finlandia Cheese, Inc.