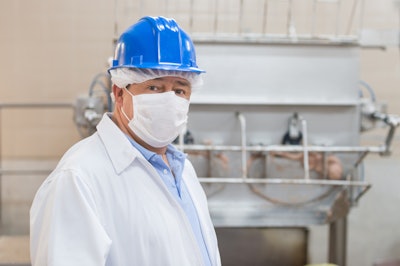 Over the past few months, ProFood World (PFW) has conducted multiple surveys to take the pulse of food and beverage manufacturers and how they are coping with the coronavirus pandemic. In the early days of the outbreak, many companies were optimistic about meeting production goals, according to PFW's reader survey in late March. While those responding to the next survey conducted approximately one month later are not all disillusioned, some of the prior enthusiasm seems to have diminished.
Half of respondents say their supply chains of ingredients, packaging materials, spare parts, and other plant needs have not been disrupted. This statistic remains the same from both past and current PFW pandemic surveys. One respondent tells PFW that ingredients and materials supply availability have impacted his company's production schedules. "We have been able to adjust our manufacturing schedule to meet short-term demand and are working on long-term options and solutions," he explains. Of those who experienced supply chain disruptions, 40% say the suppliers are in North America, 17% are international suppliers, and 43% are experiencing disruptions from both areas.
The not-so-good news is that shortages of personal protective equipment (PPE) persist months after the virus hit the U.S. About 70% of respondents report their facilities are spending less than $1,000 per month on masks, 25% spend between $1,000 and $5,000 per month, and 5% spend more than $5,000 per month on masks. More than half say that their current mask supply must be disposed of on a daily basis. "PPE is difficult to impossible to get on a predictable basis," according to a survey respondent.
The line flexibility to keep up with production demands as well as virus unknowns regarding the workforce are challenges for many facilities. "We continue to incorporate automation to offset labor cost and labor losses," states a respondent. "Thus far, we are keeping pace with the demand for products."
In contrast, another respondent says, "We will keep falling further behind unless we can make some emergency investments to make our lines and operations much more flexible."
One respondent tells PFW a new product mix based on current consumer buying habits cannot be supported by his company's supply chain. "[We have] shortages for some items, with other manufacturing lines 100% idled. [There is] no way to re-balance without multi-$100MM capital," but if the investment is not needed long term, then nothing can be done to fix the issues, he states.
Production efficiency will also depend on how the outbreak is controlled, according to other verbatim responses such as:
· "The biggest risk is that we might have a local outbreak that has impacted many meat processors."
· "The impact will depend more on if the number of positive cases would continue versus government restrictions. We're navigating through the restrictions, however, the unpredictability of the number of positive cases is a bigger challenge to maintain consistent manufacturing."
Less than 50% of survey respondents say their companies are now offering bonuses or extra pay to plant floor workers, a number higher than when the pandemic began. As of late March, only 30% offered these incentives.
By the end of April, more than 130,000 meat and poultry workers were affected by the coronavirus outbreak in 115 plants throughout the U.S. According to the Centers for Disease Control and Prevention (CDC), 5,000 workers have tested positive for the virus. In addition, the CDC reports that Nebraska, Georgia, and Kansas had the largest number of meat workers affected by the virus in April, while Pennsylvania had the most plants affected.
More than half of capital expenditures on hold
About 57% of survey respondents tell PFW that their capital expenditures are on temporary hold. Regarding future capital expenditures, close to 38% say they will do more or the same spending, 19% will spend less, and 40% say it's still too soon to tell.
One respondent says his capital equipment projects or other process improvement projects are not affected at all. "As a matter of fact, we are introducing more capital projects to aid in social distancing," he states. Because of labor losses due to health risks and issues with child care, capital projects that can result in labor reductions are now underway that might not have been on the books otherwise, he says.
The pandemic has caused inefficiencies in the way projects are conducted. According to survey respondents, some OEMs are reluctant to travel to support capital projects, and contractors are shutting down due to the governors' mandates. One respondent says his department is unable to support innovation, testing, and manufacturing for new SKUs and to keep networks running efficiently due to no travel and staff working from home.
Yet another respondent states, "As part of our distancing efforts, we are rapidly ramping up our automation projects. There are a lot of dynamics in play, and we are challenged to meet extremely short delivery expectations."
Keeping up with the ever-changing current government recommendations and writing plant policies is another challenge faced by many processors. "Trying to follow wishy-washy guidelines from our governor" is a complaint from one reader. "We have to be overly careful, and the governor of my state is opening churches this weekend. I am livid!"
Under the Defense Production Act (DPA), in late May, USDA and FDA announced a memorandum of understanding (MOU) to help prevent interruptions at FDA-regulated food facilities, including fruit and vegetable processing. As the country approaches peak harvesting season when many fruits and vegetables are sent to be frozen or canned, the MOU creates a process where USDA could exercise its authority under the DPA with regard to certain domestic food resource facilities that manufacture, process, pack, or hold foods, as well as to those that grow or harvest food that fall within the FDA's jurisdiction.
As processors, suppliers, and government agencies try to keep the food supply intact, no one can predict when things will return to normal. As one survey respondent succinctly comments, "We have to keep going until we can't go anymore."
Other stories you may like:
Supply Chains Race to Match Shifting COVID-19 Consumer Behavior
Meat Packing Companies Face Potential Federal Scrutiny
Europe vs. U.S.: How Consumers Are Spending Grocery Budgets During COVID-19
Triumph Foods Reports 373 Workers Positive for Coronavirus
Smithfield Foods Closing Additional Pork-Processing Plants
COVID-19: The Voice of Latin American CPGs
The Hershey Company to Make Disposable Facemasks
FDA Blueprint on 'New Era of Smarter Food Safety' Delayed