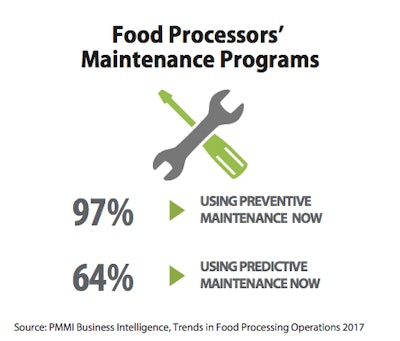 Sixty-four percent of those polled in beverage, bakery, snack, frozen foods and ingredients say they use predictive maintenance. The report also revealed that many of the respondents have just started using maintenance-based planning schedules.
PM programs are linked to tracking maintenance schedules, reducing downtime and labor, achieving target run rates, and linking issues with exact batch.
End users in the food processing industry are asking OEMs to change and improve equipment offerings with features such as tracking equipment run times (OEE), linking operating data to internal management systems, enhancing self-diagnostics, offering better user friendly reporting and better manuals, a system for reporting parts that fail frequently, and providing schedules on HMIs.
Seventy-seven percent of respondents also reported allowing at least some remote access. "In the next 10 years, almost all machines will have remote diagnostics linked to the internet so companies can access data and alerts from anywhere," said one director of engineering for a frozen foods company,
Source: PMMI Business Intelligence: Trends in Food Processing Operations, 2017.
Download the entire study here.