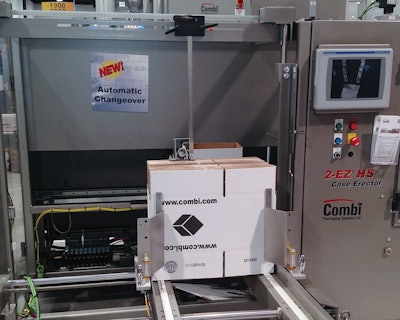 Next-gen equipment, a proliferation of servos, and the growing presence of Asian equipment builders—these were among the cosmetics and HBA highlights at PACK EXPO Las Vegas 2017.
Clearly noticeable was the extensive use of integrated systems comprising servos, robots, and recipe-based automatic changeover to firmly control the transfer of packages held securely in pucks or in multi- product carriers. So rather than products (or products in pucks) being carried loose on conveyors, the pucks are in the control of the servo transport systems, adding reliability to all operations and enhancing quality, even at high speed. This trend has been facilitated by the tremendous decrease in the cost of servo hardware and software. Who would have thought just 5 years ago that the combination of servo motors and servo drives can start at less than $400, as displayed at the show by Anaheim Automation and others?
Groninger, a long time equipment supplier to cosmetics manufacturers, announced their new cosmetics liquid and lotions filling line using eXtended Transport System (XTS) from Beckhoff. Groninger uses an innovative machine design that combines high filling speed (linear, 10 up etc.) with a compactly designed continuous closing system. The design concept of "product in control at all times" is very important for handling cosmetics products in order to maintain pristine aesthetics and assure proper assembly of all the package parts. The products are in pucks and the XTS synchronizes the movement of the pucks through various operations carried out on different machine modules, all without accumulation. So, for example, the ability to accelerate/decelerate product movements in a controlled manner, without any bumping into each other, facilitates the transfer of filled but still not capped bottles without splashing. Additionally, the synchronization reduces the real estate needed for the line.
Gerhard Schubert GmbH displayed a basic TLM line (gantry robotic picker modules connected together) with robotic picker modules and "Transmodules." These are transport robots that convey products and boxes in the TLM standard modules, and even act as carrier carriages for the deep-drawing tools for shipper cases, etc. The Transmodules concept has now been used in new TLM filling machines for liquid and lotion cosmetic products, and is equipped with automatic tool change. Schubert claims that the new lines are more compact, more flexible, and more efficient than conventional lines, and that they are capable of very frequent size changes. Some of the other claims are: low noise, a wide variety of bottle shapes and closure types are possible, one operator console for all sub-functions, careful and controlled feeding of package components to assure high quality, and quick size changes—about 50 % less time required in comparison to conventional systems.
'All-in-one'
Delivering "All-in-one" integrated solutions was another consistent theme at the show. Driving this development has been the expanded use of servo-based equipment, which is due in part to the organic expansion of capabilities at the equipment supplier. The second reason for the trend is the continued consolidation of companies with complementary expertise and equipment portfolios under one larger enterprise. Noticeable at this particular show, for example, was the growing number of companies now part of Pro-Mach, a holding company with many previously independent packaging machinery companies, to the point where they constituted a small "city" on the main PACK EXPO floor.
Other examples of equipment having this integrated "all-in-one" approach included these:
Combi Packaging Systems displayed its "all-in-one" 2-EZHS Ergopack® Hand Packing Station with automatic changeover based on Rockwell Automation Integrated Architecture. The use of servo motors facilitated automatic case changeovers at a very low additional cost, and the case size recipes can be stored on the HMI. Ergopack® combines a case erector, a hand pack station, and a sealer into a compact work cell. This ergonomically designed pick-and-pack system features a hands-free indexing system that positions cases and product for optimal operator comfort, minimizing repetitive wrist and arm motions. Variable speed product infeed and on-demand case presentation combined with available 1-, 2- or 3-operator stations provide ultimate flexibility.
A variation of "all-in-one" is "two-in-one." PKB Inc. displayed its new two-in-one high speed (80-120 bottles/min) Mass Flowmeter filling and capping machine for cosmetic liquids and lotions. The equipment takes a small foot print and has minimal moving mechanical parts. It is based on eight Massic flowmeters, which, combined with clean-in-place connections (provided on the machine), facilitates quick changeovers. The high speed is accomplished by the unique system of one set of nozzles alternating between two lanes of containers, thus hardly any time is lost for container movement in and out of the filler. The filled bottles are then capped and servo torqued. The bottles are in the traditional PKB adjustable pucks, thus no need for format change parts. PKB is targeting this two-in one flexible machine for Contract Packers.
Far East suppliers have arrived
PACK EXPO Las Vegas, having grown larger and being close to the Far East, has attracted a number of equipment suppliers from that region of the world. While there were many Chinese suppliers present in small booths, a number of South Korean equipment suppliers for the cosmetics and HBA industry made their PMMI debut at the Vegas show. This was not surprising, considering the fast-growing dominance of Korean cosmetics in the global cosmetics market. The exhibited equipment was bulk processing machines (compounding the actual product being applied by the consumer) and filling and assembly machines. The following are a few examples.
Processing of cosmetics powder products has been challenging not only because of evolving powder formulas and texture, but also due to the extreme plurality of colors. Woowon of South Korea displayed its quick-changeover powder blending/agglomerating and powder milling/de-agglomerating equipment, designed specifically for cosmetics powder. They also exhibited bulk processing equipment for lipstick and emulsions.
WJ Packaging Solutions exhibited its Spout All-In-One machine for small- to medium-size (50-mL to 280-mL) standing pouches with a spout. The availability of various materials, rich graphics, and the large printable surface of these standing pouches can make them ideal for the HBA market. The machine was made by Gumsung Precision, a South Korean equipment manufacturer, and it occupied a very small foot print. The machine provides complete processing from spout insertion into pre-made pouches to filling to capping—all at a respectable speed of 40 packages/min. With simple tooling changes the equipment can handle a wide variety of spouts and pouches.
An established equipment supplier for the last 20 years to Korean color cosmetics manufacturers has been Woojung Tech. The company displayed two of its latest automated Powder Pressing machines for single-color powders. These machines address the current technical challenge of how to evenly dispense powder in multiple cavities and get rid of the air, especially for very difficult-to-handle powders laden with pigments, pearls, and binders. All the machines featured all servo-based technologies and are claimed to have the capabilities to dispense and press any cosmetics powder. The high-speed large machine (up to 70 pressed pans/min) was exhibited with full automation—from auto pan feeding to collating and placing the pressed and cleaned pans in trays.
Woojung has supplied various machines to the U.S., mostly at contract packers, and at PACK EXPO Las Vegas the firm presented videos with the full range of machines sold in the U.S. for 15 years. They've included unique technologies such as patented side-injected wet powders (slurry), plasticine type powders, and multi-color lipsticks.
Multi pocket pouches are popular in East Asia for skin care. Shantou Dachuan Machines Co. LTD, a Chinese equipment supplier, presented a variety of machines to fill, seal, and custom trim these multi-pocket pouches. Dachuan specializes in all kinds of pouches but also makes equipment for filling other products, including lipstick filling machines.
Far East equipment is attractive when it comes to low cost and small size, and some Far East manufacturers clearly specialize in this field. So, for example, a cosmetics manufacturer that produces short runs of simple stick-type pouches can check out very affordable single-row Stick Back sealing machines made by Eastsign International. The Hong Kong-based company has exhibited a small machine (large night-table size) that is capable of speeds to 70/min (for liquid).
It appears that many Chinese equipment manufacturers offer the full range of standard equipment for cosmetics and beauty care products, from bulk processing to automation. While there is a plethora of machine types at low cost made by one company, the jury is still out on the acceptability of equipment made by companies that lack specialization in the cosmetics and beauty care market, or lack a supporting organization in the US.
Yes, cobots are coming
The trend of using collaborative robots, often called "cobots," is continuing. As I mentioned last year, CPG manufacturers can now afford to get into robotic packaging by deploying relatively inexpensive but amazingly simple-to-operate-and-program cobots, most of which sell for $35,000 to $45,000. These robots work side by side with people (without the need for guards), and, as seen in the show, the foot-print of the applications utilizing these multi robot cells is small. In discussion with various robot suppliers it appears that the penetration of the collaborative automation approach at small CPG manufacturers is slow, but progressing. What is clearly evident is that configuring cobot cells requires a paradigm shift in "machine design"—from hard, or even programmable, automation to thinking of a person doing a multi-tasking job with multiple hands. So far I have seen cobot solutions for cosmetics products provided by Far East companies, and I can envision proliferation especially for short-run manufacturing.
Needless to say, these are only the highlights that one traveler down the aisles of PACK EXPO was able to uncover. It certainly makes you wonder what we'll see at PACK EXPO International in Chicago.
Companies in this article