Photo courtesy of Hermes Boissons.
Approximately 30 miles north of Paris, there is a small city that bears the name Hermes. The town is home to juice and smoothie producer Hermes Boissons, a company that championed the world's first commercial in-bulk high pressure processing (HPP) equipment installation, allowing it to produce HPP premium fresh-like juices in a very effective and highly automated way.
Created by Hiperbaric, the HPP in-bulk system fits easily into Hermes Boissons' beverage production line, providing product stabilization through HPP followed by bottling, by simplifying the procedure with less steps compared to a traditional HPP in-pack process.
"With this major line changeover, Hermes Boissons has become the first in the world to implement a fully automated beverage line for squeezing, packaging, and bottling in-bulk high pressure processed juice at commercial scale," states Hermes Boissons President and CEO Tom François.
The processing facility encompasses approximately 13,000 sq ft of renovated space to accommodate the new Hiperbaric HPP equipment and juice extraction line from Bucher Unipektin, states François. The highly flexible and automated facility features a straightforward workflow, including reception, preparation and extraction, storage and blending, stabilization, cold filling, packaging, palletization, cold room storage, and distribution. A newly implemented enterprise resource planning system provides even more accurate production indicators, explains François, monitoring efficiency and improvements as well as eliminating paperwork.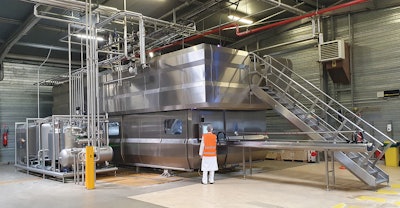 In-bulk process
With its innovative design, Hiperbaric's in-bulk technology eliminates the need for intermediate steps, moving the product through pipes and tanks directly to the extended-shelf-life-ultra-clean filling lines from Tetra Pak and Elopack at Hermes Boissons. The process optimizes traceability and drastically reduces labor costs, according to François.
In fact, the Hiperbaric 525 in-bulk machine processes twice the amount of beverage product per cycle than traditional in-pack HPP equipment, states Carol Tonello Samson, commercial and applications director for Hiperbaric.
By overcoming HPP's in-pack processing limitations, Hiperbaric's in-bulk system reduces processing and packaging steps from six to four. A batch of unprocessed beverage product fills the machine's inlet tank. From there, it moves into a processing bag inside the vessel that occupies 90% of the total volume, roughly double that achieved with HPP in-pack technology. Next, high-pressure intensifiers pump water to the vessel during a holding time. This step is the same for HPP in-pack machines. (In-bulk HPP is subject to the same regulations, specifications, and validations as existing in-pack HPP.)
When the pressure is released, water leaves the vessel, and the processed beverage passes to the outlet tank via sterilized pipes. With the bag completely empty, a new cycle starts. The processed beverage is now ready to be bottled.
Because the Hermes Boissons facility is located near a river with a weak soil structure, the processor had to reinforce the floor with a dozen 32-ft-long pillars to handle the 90 metric tons of weight of the HPP machine. In general, a well-compacted reinforced floor of 16 in thick is suitable to site a Hiperbaric 525 machine, states Tonello Samson.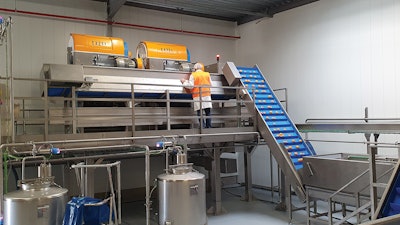 R&D investment
Last year, Hermes Boissons installed Hiperbaric's 525 Bulk system to begin HPP beverage processing. Hiperbaric customized the 525 system to Hermes Boissons' high level of manufacturing, traceability, and food safety standards, including clean-in-place connections, oxygen peroxide handling and elimination, and software.
Hiperbaric has been involved in the design of HPP technology since it was founded in 1999. More recently, the Spain-based HPP technology provider was part of a high-tech R&D project called BEVSTREAM, funded by nearly $4 million in European Union grants. The project spanned more than four years and involved over 40 people, including Hiperbaric staff as well as university researchers and consultants.
Commercially available for food and beverage processing since the early 1990s, the use of HPP technology has grown significantly over the last 10 years. Today, there are approximately 500 HPP industrial machines in place in about 50 countries at more than 300 companies, according to Hiperbaric.
Until now, industrial HPP machines have worked following an in-pack concept, processing already-packed or bottled products in their final packaging. Packaged food or beverages are loaded into baskets, which are introduced in the vessel obtaining a filling efficiency between 45% and 55% the nominal volume. After the required pressure and holding time, the packaged product is unloaded manually.
In-pack HPP requires product to be packed before being "cold pasteurized," but in the beverage industry, pasteurized products are bottled after pasteurization. In addition, packaging should be flexible enough to withhold pressure and recover its initial shape as well as include water-resistant properties. As a result, only plastic packaging like PET, PE, or PP bottles are appropriate for in-pack HPP processing. Carton bricks are damaged when they come in contact with pressurized water, for example, and glass bottles are broken into pieces.
With HPP in-pack units, products in final packaging must be manually loaded and unloaded from the baskets. These stages are now automated with Hiperbaric's in-bulk systems, where the liquid goes directly to the extended-shelf-life filling line. "This facilitates traceability and reduces the labor costs because one single operator can run the in-bulk equipment," says Tonello Samson. The Hiperbaric 525 in-bulk's throughput can reach 1,300 gal per hr compared to 900 gal per hr delivered by the biggest in-pack model.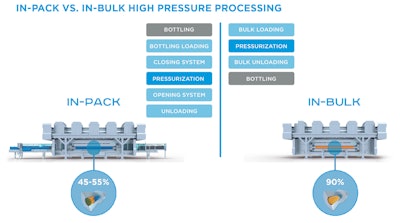 Nothing but the fruit makes the difference
Today, Hermes Boissons is able to produce sustainable juices while working with suppliers following France's high environmental value (HEV) certification requirements. "A major goal is to reduce our carbon footprint on the sourcing, transportation, and transformation of our raw materials," states François. "Our aim is to move away as much as possible from a supply outside of France to a regional supply. This means an adaptation of our products to the different varieties of fruits and vegetables produced in these territories with different climates."
Plus, Hermes Boissons now has the unique capability to offer HPP juices and smoothies in packaging formats such as carton bricks, carton bottles, PET bottles, pouches, bag in box, and even glass bottles in the future to the European market. In fact, it is the first producer to supply HPP products filled into cartons, a renewable and sustainable packaging format, according to François.
Hermes Boissons works with HEV fruit suppliers recognized by France's Ministry of Agriculture and Food for their environmental performance. HEV certification guarantees that these companies have a minimum impact on the environment in agricultural practices, such as biodiversity, conservation, plant protection strategy, fertilizer use, and water resource management.
"Our products are 100% pure fruits, nothing added, nothing retrieved. Nothing but the fruit makes the difference," François states.
The in-bulk equipment's capacity will also cut energy usage by more than 40% compared to traditional HPP in-pack machines. Plus, maintenance costs can be greatly reduced. In fact, the total cost of ownership of a Hiperbaric in-bulk HPP unit can be reduced by more than 50% compared to traditional HPP in-pack machines, states Tonello Samson.
Opportunity knocks
With this major plant expansion completed, the processor is considering further investments. In order to offer customers a wider choice of packaging, Hermes Boissons also plans to install a Serac bottle filling machine with a capacity up to 6,000 bottles per hr. If undertaken, the project could represent the world's most sustainable packaging alternative in the organic juice market when using rPET bottles, carton bricks, and carton bottles.
The current capacity of the Hiperbaric 525 Bulk installed at Hermes Boissons is 3,000+ L/h because the machine is equipped only with three double- intensifiers (instead of five). This equates to a maximum annual production capacity of about 4 million gal. With the processor's forecast for HPP beverages, full production volume should be reached in 2021.
In 2022, the company plans to expand HPP production capacity, likely with a two-stage investment. First, acquiring two more double-high-pressure intensifiers will help Hermes Boissons reach an annual production of 6.6 million gal with the machinery in place. After reaching this output, Hermes Boissons will need to expand its fruit squeezing line and invest in a second Hiperbaric 525 in-bulk. At that time, Hermes Boissons will install a Hiperbaric 1050 Bulk system (two Hiperbaric 525 Bulk working in tandem), providing up to 2,640 gal per hr.
"We strongly believe that it is our role as manufacturers to bring innovative process and technologies with the aim of bringing better products to the consumers," says François. "We have been looking for the different ways we could address the strong and increasing demand for fresher products coming from consumers and apply it to our product, the juice. HPP came out as a breakthrough."
The power of constant learning, always challenging oneself, and always being persistent were crucial to project success, according to François. "The project also challenged the status quo and habits we had and was an opportunity to improve our agility, accountability, and team spirit."
Hermes Boissons was able to support its customers during the COVID-19 pandemic. "To do so, we had to provide the safest work conditions for our employees," states François. "We spent an infinite amount of time keeping ourselves informed about the many safety measures, while implementing them as quickly as possible and communicating them with our teams. We have seen a great motivation among our employees, a strong sense of solidarity, and a lot of very constructive initiatives. I can say that I am proud of what we have done during this unprecedented period."
PACK EXPO Connects – November 9-13. Now more than ever, packaging and processing professionals need solutions for a rapidly changing world. The power of the PACK EXPO brand to deliver the decision makers you need to reach. Attendee registration opens September 15. Be notified when the site goes live by clicking here.
Here are some other stories about high pressure processing that you may want to read:
High pressure processing growing in awareness and usage
Giving in to the Pressure: Pulp Lifestyle Kitchen Grows with High Pressure Processing
High pressure processing: In lieu of pasteurization
Chairman's logistical case for HPP
The pressure points of HPP packaging
HPP: Production under pressure
HPP paired with bottle filling proves to be a powerful combination
Companies in this article
Videos from Hiperbaric - High Pressure Processing