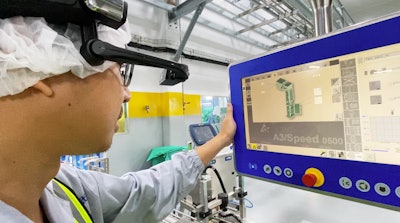 Photo courtesy of Nestlé.
To keep employees safe and adhere to travel restrictions during the COVID-19 pandemic, Nestlé has expanded its use of augmented reality (AR) technology to remotely support its production and R&D sites as well as connect with suppliers.
The Vevey, Switzerland-based company and its suppliers are using remote assistance tools, including smart glasses, 360-deg cameras and 3-D software, to work on complex projects at Nestlé facilities across the globe during the coronavirus crisis. Nestlé has used these various AR technologies to set up or redesign production lines and carry out vital maintenance with suppliers.
For example, R&D teams in Switzerland remotely worked with employees at the Nestlé factory in Navanakorn, Thailand, to upgrade existing production lines and install new production lines and technologies that make ready-to-drink dairy products. The project was completed ahead of schedule.
AR tools also proved useful in helping Nestlé install a new production line at its Shuangcheng, China, facility, which makes infant cereals, and a new pet food line in the U.S. In addition, the R&D team in the U.K. worked with suppliers remotely to successfully redesign Nestlé's new confectionery molds for its Kit Kat brand. The company has also used AR to help with maintenance at its factories in Colombia and Ecuador.
"To ensure business continuity, we accelerated the use of remote assistance and augmented reality technologies across our global R&D organization," says Thomas Hauser, head of Nestlé Product and Technology Development. "These innovative technologies enabled our experts to provide support to our factories worldwide for critical activities."
Nestlé is transforming its operations further by digitalizing its supply chain and manufacturing. The goal is to create a competitive edge through data, artificial intelligence, automation, and predictive analytics, according to the company
It is also looking to digitalization to meet its sustainability targets, such as cutting carbon emissions. Nestlé has committed to achieve net zero emissions by 2050.
"The remote support approach isn't just a response to COVID-19 though. Going forward, remote assistance will become a new way of working," explains David Finlay, global head of manufacturing at Nestlé. "It will increase speed and efficiency in facilities and reduce travel to Nestlé sites, helping us reduce our CO2 emissions across our operations. I am extremely proud that our teams have been able to expand our use of remote assistance technology so quickly to ensure we were able to continue to provide technical support. That has kept our factories running smoothly and delivered new investment projects on time."
Read more about how the COVID-19 pandemic is disrupting food and beverage manufacturing:
COVID-19 Survey: Production Demand Is Up, But Processors Lack PPE
The COVID-19 Outbreak and Food Production
COVID-19 Survey: How Processors are Coping with the Crises
Good Foods Manages Production Fluctuations during COVID-19 Pandemic
COVID-19 Survey: Nearly Half of Processors Have Supply Chain Disruptions
Supply Chains Race to Match Shifting COVID-19 Consumer Behavior
COVID-19 Brings Increased Visibility to the Role of Robotics
COVID-19 Update: Worker Welfare, Hazard Pay, and Cleanliness
For solutions and best practices on how to adjust operations during the COVID-19 crisis, check out PMMI's COVID-19 Resources here.
In a time of considerable uncertainty, a constant you can count on is PACK EXPO International and Healthcare Packaging EXPO. PACK EXPO this November is taking place, either as a live and virtual event combination, or an all-virtual event. Learn more at https://www.packexpointernational.com.